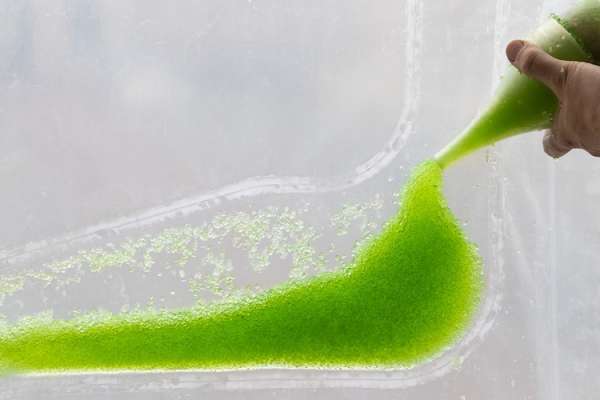 London-based architectural and urban design firm ecoLogicStudio has unveiled a large-scale "urban curtain" designed to fight climate change. "Photo.Synth.Etica" was developed in collaboration with Climate-KIC, the most prominent climate innovation initiative from the European Union, to "accelerate solutions to global climate change."
Photo.Synth.Etica, currently on display at the Printworks Building in Ireland's Dublin Castle, captures and stores one kilogram of CO2 per day, the equivalent to that of 20 large trees.
---
carnet de notes 462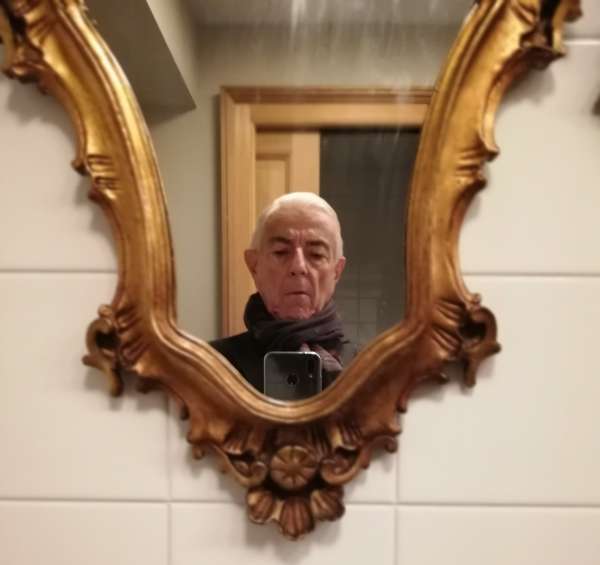 bloody selfie!
carnet de notes by paolo rinaldi, rinaldi.paolo@fastwebnet.it, 0039.3483577940, @paolorinaldi, https://www.facebook.com/paolrin
---
voyages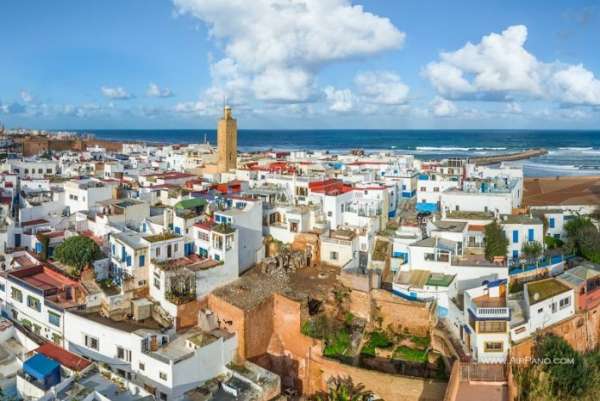 in aprile 2019 sarà inaugurata a Rabat, in Marocco, la prima edizione della biennale dedicata alla creazione artistica contemporanea. sarà una mostra tutta al femminile.
La prima edizione della biennale presenterà una serie di opere realizzate per l'occasione esclusivamente di donne di varie nazionalità e provenienti da diverse discipline. Il curatore è Abdelkader Damani, direttore del FRAC Centre-Val de Loire d'Orléans.
---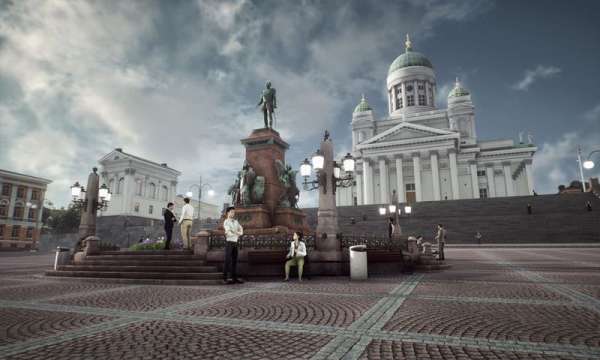 Helsinki is creating an internationally unique virtual city experience in co-operation with VR-studio Zoan. The project is called "Virtual Capital of the World"
The concept of the VR experience and the groundwork for a virtual Helsinki has been made by Helsinki-based VR studio Zoan, which also conducts the developer sprint. Many game houses, such as Ubisoft and Supermassive Games, are represented in the international team. The task of the team is to fine-tune the virtual experience and make it as realistic as possible.
According to the plan, virtual Helsinki will be made available next year in different parts of the world, for example in specific public spaces and arcades as well as in VR stores for VR headsets. ph Zoan
http://news.cision.com/helsinki-marketing/r/international-top-developers-are-turning-helsinki-into-the-virtual-capital-of-the-world,c2657812
---
architecture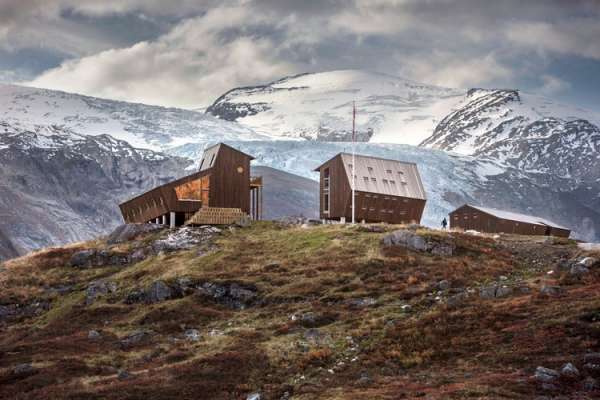 Calgary Central Library by Snøhetta
The building is sited within a complex urban condition, where a fully operational Light Rail Transit Line crosses the site from above to below ground on a curved half- moon path, dividing Downtown and East Village. In response, the design lifts the main entry over the encapsulated train line. Gently terraced slopes rise up to the heart of the building, allowing for people arriving from every direction to interact with the library.
Outdoor amphitheaters nestled into the terraces provide places for people to sit and for library programs to spill outside. Plantings that reference the native landscape draw Calgary's mountains and prairies into the cityscape, and line the plaza's surrounding streets with elms and aspen trees. Doubling as a portal and a bridge, the entry plaza heals the previously-split seam between the two neighborhoods and re-establishes visual and pedestrian connections across the site. The dynamic, triple-glazed fac%u0327ade is composed of a modular, hexagonal pattern that expresses the library's aims to provide a space that invites in all visitors. Aggregated variations on the hexagon form scatter across the building's curved surface in alternating panels of fritted glass and occasional iridescent aluminum. From these shapes emerge familiar forms: Parts of the pattern might resemble an open book, snowflake-like linework, or interlocking houses, anchoring the ideas of the collective and community. Most importantly, the entire building volume is enclosed in the same pattern, allowing all sides to function as the "front" of the building. This visual vocabulary continues inside, expressed in the design of CPL's new visual identity and wayfinding signage in the building, unifying the library's goals of inclusivity. Organized on a spectrum of 'Fun' to 'Serious,' the library program locates the livelier public activities on the lower floors, gradually transitioning to quieter study areas on the upper levels as one spirals upwards. At the street level, a series of multi-purpose rooms line the perimeter of the building, enhancing the connectivity between inside and outside. On the ground floor, a Children's Library offers playhouses that provide space for crafts and drawing-based activities, early literacy programs, and a full-body indoor play experience.
---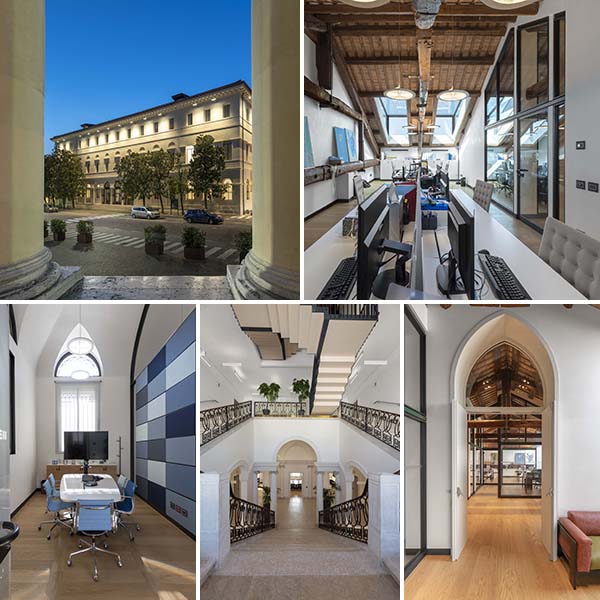 Dopo sessant'anni di abbandono le ex carceri asburgiche di Treviso hanno una nuova vita.
Il complesso restaurato alle spalle dell'ex tribunale di piazza Duomo da luogo di detenzione, chiusura, buio è stato trasformato in laboratorio vitale di idee, prospettive, ispirazioni per favorire sperimentazione, conoscenza e integrazione. L'opera di restauro voluta da Luciano Benetton è stata compiuta da Tobia Scarpa con due anni di lavoro e milioni di euro di intervento. "Abbiamo intrapreso una sfida pensando a cosa poteva diventare questo luogo rimasto sempre prigione – racconta Luciano Benetton – e abbiamo pensato di riaprirlo pensando alla cultura, alle esposizioni, alle scuole". Di qui il massiccio intervento di riqualificazione partito dall'ex tribunale e proseguito con le ex carceri di cui è stato conservato tutto ciò che raccontava il passato del palazzo: gli ingressi abbassati delle celle, le porte con i chiavistelli,i numeri dipinti sui muri per indicare le celle; le scritte che individuavano le sale "punizioni", "cesso", "infermeria", "officina calzolaio".
l'edificio ottocentesco ospiterà la collezione "Imago Mundi" di Luciano Benetton. Le collezioni del progetto, con le opere di oltre 25mila artisti, maestri e giovani talenti provenienti da più di 150 Paesi, saranno il punto di partenza per una serie di mostre che presenteranno opere pittoriche, sculture, installazioni, fotografie, performance, video realizzati da artisti internazionali, affermati ed emergenti. Alle esposizioni si affiancheranno programmi educativi e di ricerca, incontri, seminari. Diverse ispirazioni e aspirazioni per inediti viaggi visionari, per superare confini territoriali, politici, etnici in nome dell'Arte. alla ristrutturazione ha collaborato l'azienda Vimar.
http://www.spc-pd.it/exTribunale_Treviso.pdf
---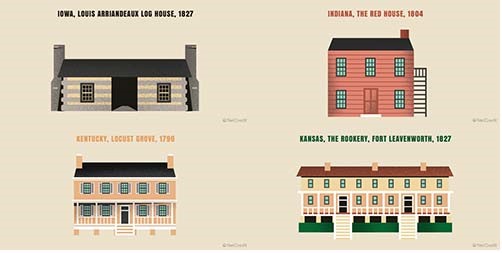 four of the Oldest Building in the US State
The United States is a comparatively young country, but one with a rich and diverse history. From the ancient villages of New Mexico's Pueblo people and the early Spanish settlers in Florida, to the Russian traders of Alaska and 19th-century missionaries in Utah, each of the 50 states has its own story to tell.
https://www.popularmechanics.com/technology/infrastructure/g22474951/oldest-building-50-states/
---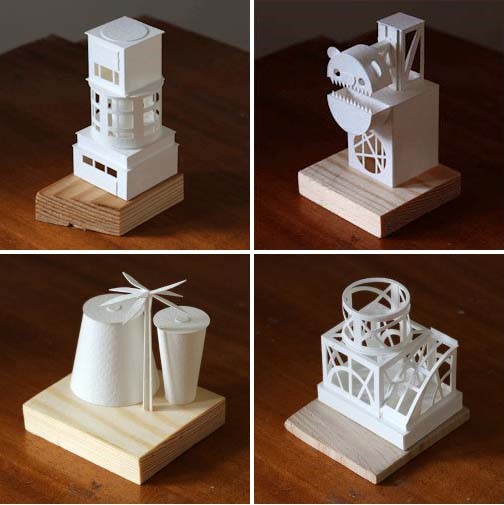 Paperholm, la città di carta, è un progetto individuale lanciato dall'artista Charles Young nel 2014.
Da allora, Young ha creato (prima con cadenza quotidiana, ora più sporadica) centinaia e centinaia di miniature in carta di edifici ordinari e assurdi, che hanno dato vita a un'immensa "follilandia" dove l'architettura e l'arte definiscono nuovi modi di intendere la quotidianità e le città. Ma non è tutto, perché la creatività di Young, negli anni, non ha dato vita solo a fari, osservatori, industrie, strade, grattacieli, infrastrutture, ma anche a miniature animate: enormi conigli che spuntano da edifici a cilindro, trivelle in movimento, persone che salgono con meccanismi a manovella…
---
interiors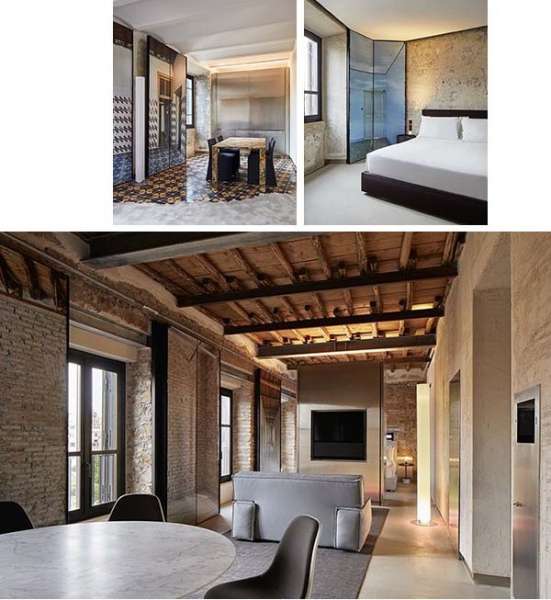 french architect jean nouvel has designed and furnished 24 apartments as part of 'the rooms of rome', a new hotel concept in the heart of the italian capital.
the location, which is housed within a historic palazzo, offers highly personalized stays with guests are able to select from a wide range of offerings. before check-in guests are able to choose everything from the perfume that scents their room to the beauty treatments they would like to receive upon arrival.
jean nouvel imagined 'the rooms of rome' as a series of bespoke steel boxes, designed to align with the architecture of the historic site. existing in stark contrast to the surrounding building, these 'openable areas' contain kitchens, bathrooms, or cabinets. units range from studio spaces to the superior apartment, which features a fully equipped kitchen. the 24 apartments are located in 'rhinoceros', a new cultural hub conceived by the fondazione alda fendi – esperimenti.
http://www.theroomsofrome.com/‎, http://www.jeannouvel.com/
---
design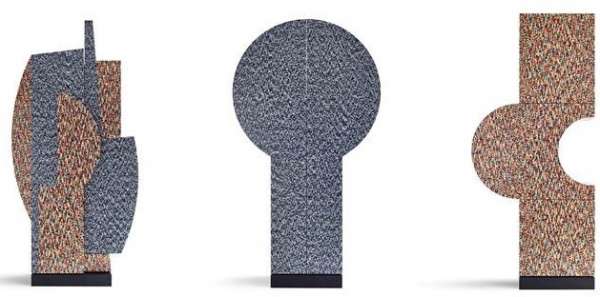 Tre forme arcaiche progettate da Alessandro Mendini – Qfwfq , Ayl e Luna & Sole –tre mobili realizzati con il nuovo legno Pointillisme COL e Pointillisme B/N di Atelier Mendini con Alex Mocika per Alpi
http://www.alpiwood.com/it/index.php
http://www.alpiwood.com/it/collezioni-prodotto.php?id=712
---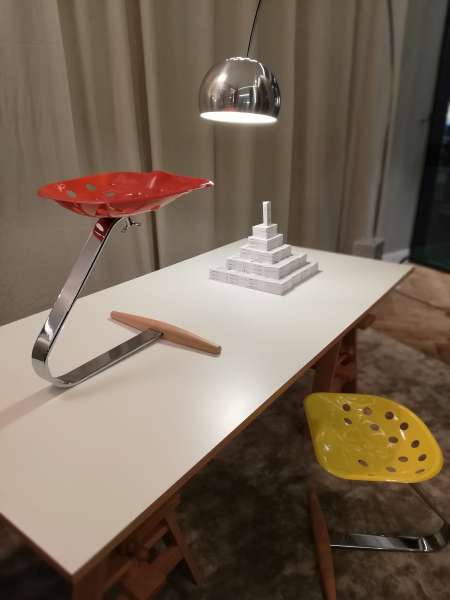 Zanotta e Salvioni rendono omaggio alla città di Milano con Interno Milanese, un ideale appartamento, una sequenza di scenari abitativi, un total living dove soggiorno, zona pranzo, spazio della musica, studio e camera da letto prendono vita grazie agli arredi Zanotta, selezionati tra le icone del brand e le collezioni più recenti.
http://www.zanotta.it/, http://www.salvioniarredamenti.it/it/
---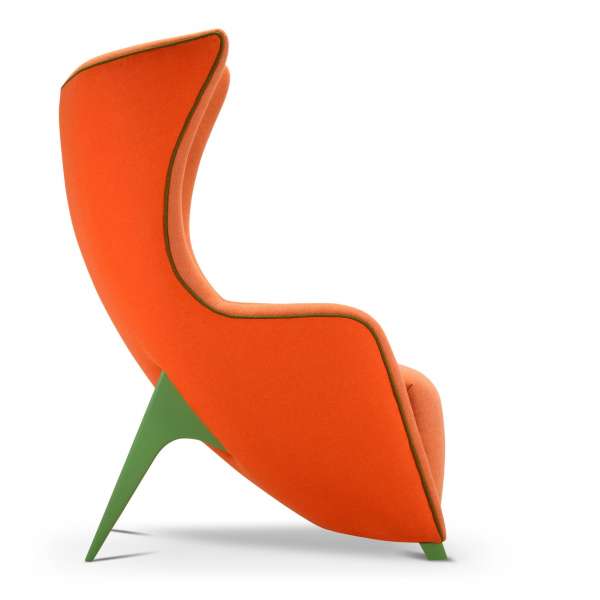 poltrona Gea, design Giovanni Tommaso Garattoni per Adrenalina
Questa collezione nasce dalla rivisitazione bolidista della Wing Chair, la poltrona con le ali, che in origine serviva per proteggere dalle correnti d'aria e a trattenere il calore del caminetto, che ha attraversato tre secoli di storia.
---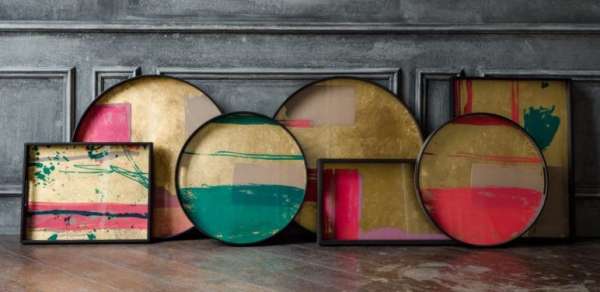 hand-painted trays with abstract designs by Dawn Switzer for Notre Monde
Each piece is made using traditional printing and hand-finishing techniques which result in an object that's all your own.
https://notremonde.com/en/about
---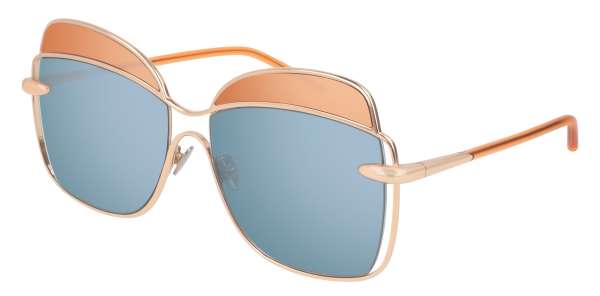 La nuova collezione Eyewear di Pomellato riflette lo spirito 'colorful and unconventional' del brand
---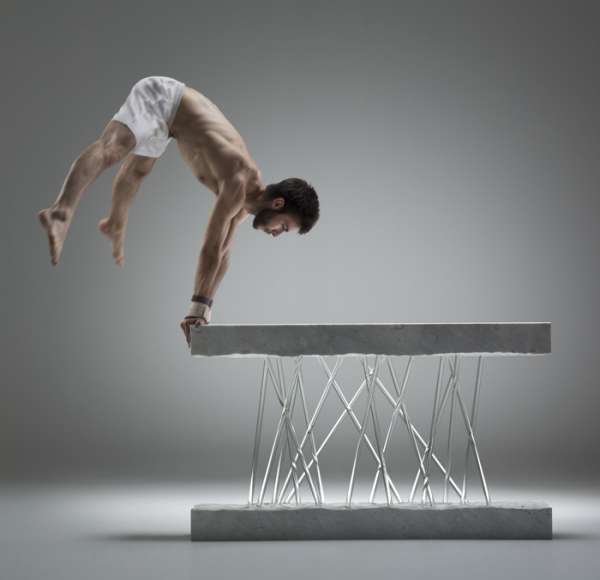 tavolo di marmo e vetro di Simone Cristani
nella console Audentes Fortuna Iuvat l'apparente fragilità di esili bacchette di vetro fronteggia la presenza sovrastante di una imponente lastra di marmo di Carrara: l'artigiano-artista spinge la materia oltre i limiti imposti dalla tecnica e suggerisce così allo spettatore una modalità di pensiero libera e fuori dagli schemi.
rigore e fantasia uniti insieme in oggetti dall'impronta surreale, eternamente sospesi tra arte e design: nei complementi d'arredo di Simone Crestani,maestro di soffiatura del vetro, artigiano-artista e designer – il vetro si esprime attraverso le infinite sfumature di una materia tanto affascinante quanto misteriosa.
https://www.dropbox.com/s/vqflm9xdngf6qti/Simone%20Crestani_makingof_bollicine.mp4?dl=0
---
books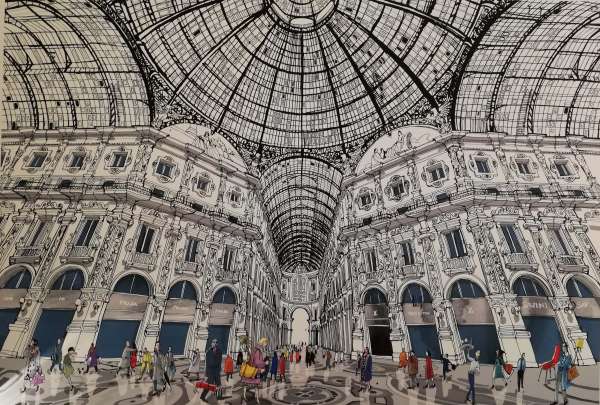 la galleria, disegno di carlo stanga tratto dal libro i am milano edito da moleskin
---
luci/lumières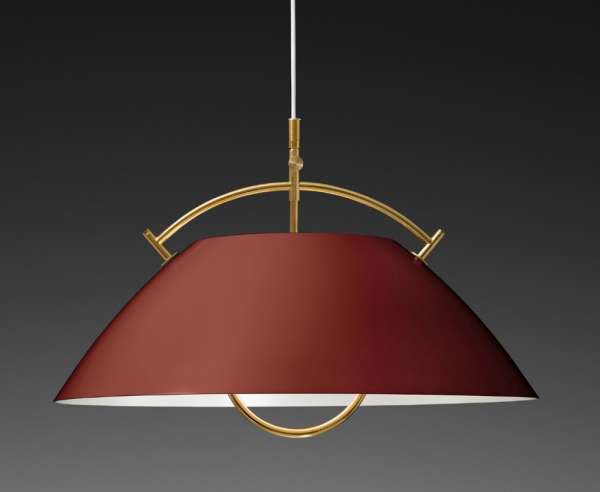 the pendant by Pandul, design Hans J. wegner
---
photos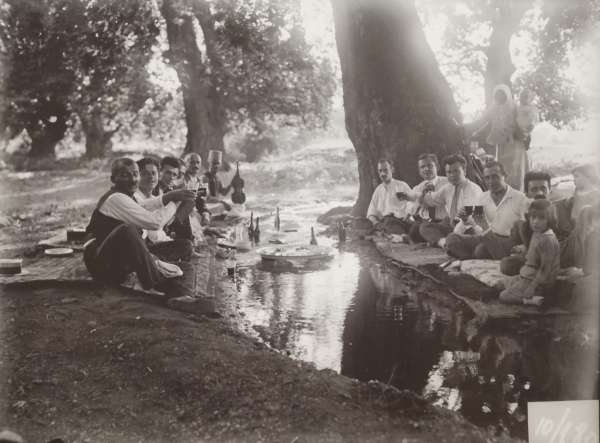 l'archivio Marubi, Marubi archive. Il rituale fotografico. Triennale di Milano
Tra quotidiano e rituale, le immagini della mostra L'archivio Marubi. Il rituale fotografico, a cura di Zef Paci , conserva non solo la memoria di oltre un secolo di vissuto albanese. Si tratta di una parte del patrimonio fotografico del Museo Marubi di Scutari, primo museo di fotografia in Albania, che dal 16 novembre al 9 dicembre 2018 presenta alla Triennale di Milano la sua prima esposizione nata dalla collaborazione con il Museo di Fotografia Contemporanea e la Triennale stessa.
---
mostre/exhibitions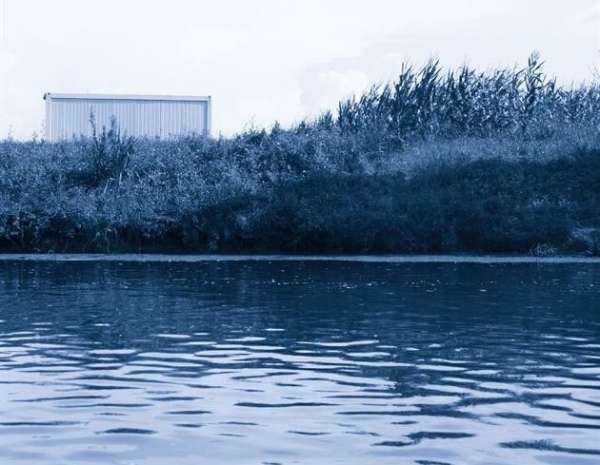 Living with Water – Southern Fringe of Ljubljana
Instead of fearing water and related threats, could we imagine a future where we built systems as flexible as the changing water levels? Instead of protective measures against environmental hazards, could we consider developing smarter, more inclusive human-natural living environments? MAO and Future Architecture platform present an exhibition that looks at alternative urban development scenarios that consider the synergetic relationships between humankind and the natural environment.
mao@mao.si
---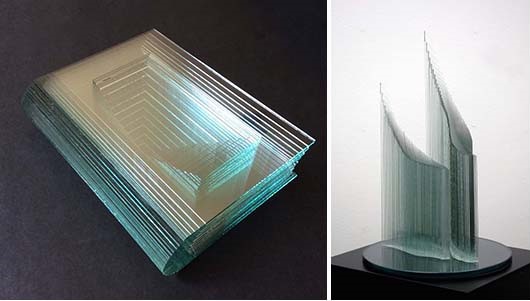 opere in vetro di Oki Izumi, Miro Persolja Gallery
http://free-magazine.info/arte/miro-persolja-connubio-tecnica-anima/
---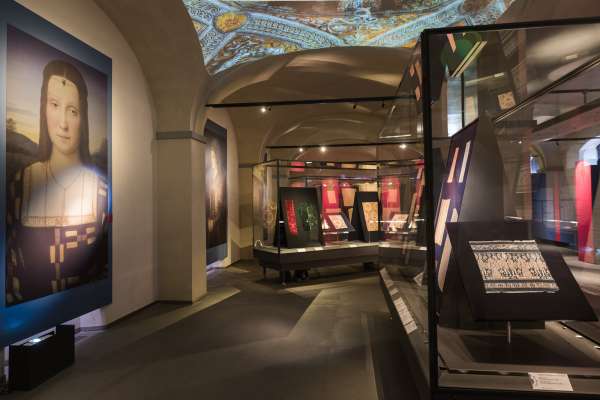 La mostra "Drappi d'oro e di seta" e il patrimonio museale del Museo del Tessuto di Prato è parte delle attività organizzate fino al gennaio 2019
---

left and center, Rebecca Forster, sculture Mappe in Testa, formagg@libero.it
right, Loretta Cappanera, cucire l'immagine, libro d'artista, cappazeta@virgilio.it
http://www.arte.it/calendario-arte/milano/mostra-indossare-la-citta-loretta-cappanera-amalia-del-ponte-rebecca-forster-arte-architettura-moda-56109
https://www.lualdiporte.com/it
---
left, art021 at shanghai exhibition center, david zwimmer, https://www.davidzwirner.com/
center, Frans Hiddema, gallery Oode, https://www.oode.nl/oode/
right, Wu Jian'an, 154 Color Balls (Heart Shape), Watercolor on paper, Chambers Fine Art, http://www.chambersfineart.com/
---
fashion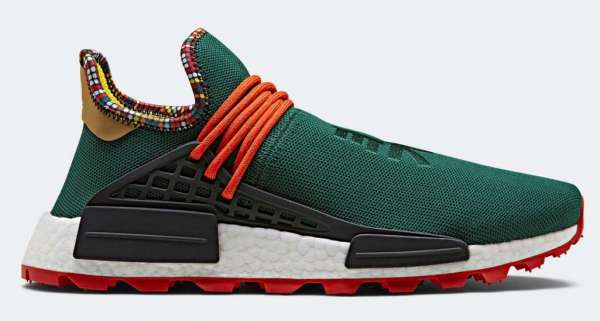 East African motifs inspire Pharrell Williams Adidas Solarhu capsule collection
The adidas Solarhu Capsule Collection is the epitome of global multiculturalism: a German athletic wear company partnering with an African American musical icon in the exploration of East African design motifs, each flourished with Chinese lettering.
---
etc.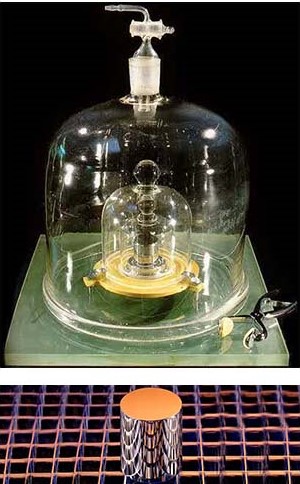 Gli scienziati hanno compiuto un passo fondamentale verso una nuova e migliore definizione del chilogrammo, grazie alla misura di una grandezza fisica fondamentale, la costante di Planck. Siamo così vicini a una nuova definizione del chilogrammo
https://www.ilfattoquotidiano.it/2017/10/19/il-chilo-non-sara-piu-lo-stesso-dal-2019-in-vigore-le-nuove-unita-di-misura/3923489/
carnet de notes by paolo rinaldi
online weekly magazine 26/11/2018
(travel, viaggi, architettura, interni, design, hotels, ristoranti, bar, luce, arte, mostre, foto, fashion, installazioni, musei, teatro)
carnet de notes 462 has been sent to/
è stato inviato a 15267 recipients/indirizzi
and posted to social networks:
facebook, twitter, linkedin and viadeo