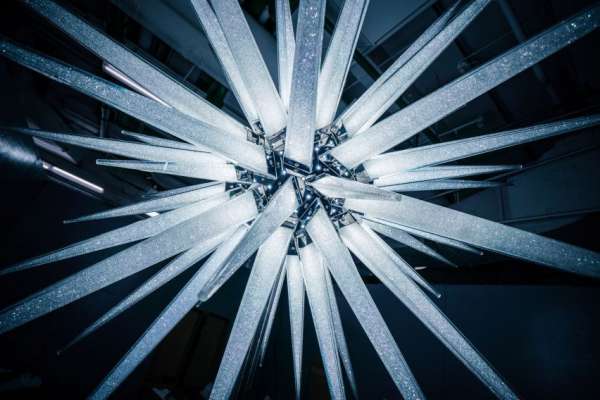 Architect Daniel Libeskind has used three million crystals to cover the Swarovski Star, which will top the Christmas tree at New York's Rockefeller Center this year.
https://libeskind.com/, https://www.swarovski.com/it-IT/
https://www.rockefellercenter.com/
---
carnet de notes 465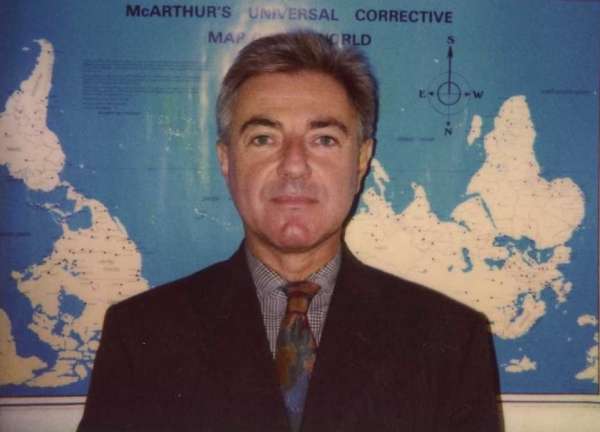 carnet de notes by paolo rinaldi, rinaldi.paolo@fastwebnet.it, 0039.3483577940, @paolorinaldi, https://www.facebook.com/paolrin
for many fetes
see you next year
---
voyages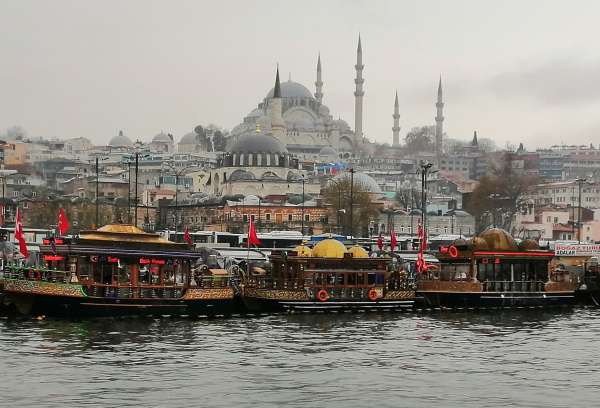 istanbul, december 2018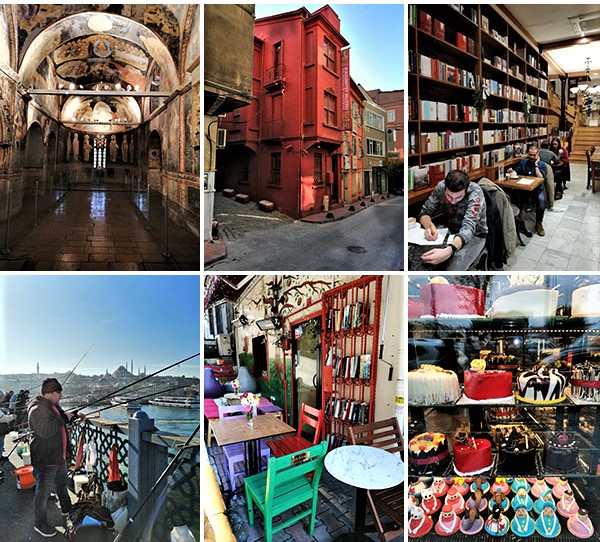 from top left, clockwise
kahriye camii san salvatore in chora, il museo dell'innocenza di orhan pamuk, turk-alman kitabevi, i dolci, bar di strada a beyoglu, i pescatori del ponte di galata
---
architecture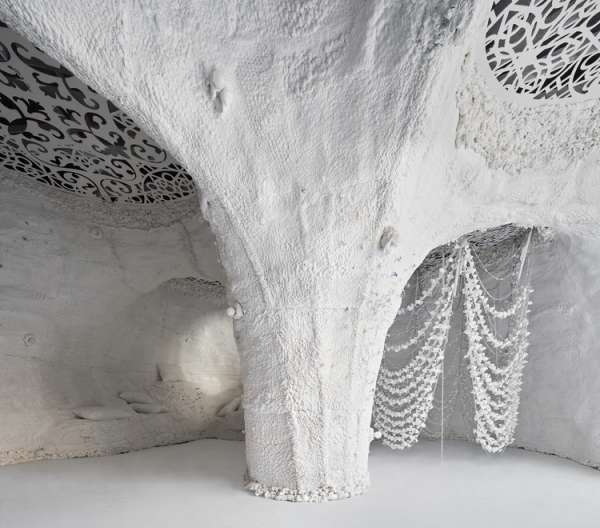 Grotto by Takk Architects, Madrid, Spain
the project tries to redefine the classic configuration of a store that is strictly intended to the sale of products and do a more complex proposal. "Grotto" is a space where, as well as seeing and buying the classical watches of the Swiss brand, the focus of its attention is to generate a place for meeting where propose other public activities such as lectures, workshops or debates. For that purpose a single, organic, soft, festive, and with geological references space is proposed. ph José Hevia
Coming to its construction, the project is organized in six domes that are concatenated around a central pillar and making space, function and structure coincident. The top part of these domes allows the access of light through a hidden lighting system behind a floral pattern that, if wished, it can cause the highlighting of the space through its projected shadows. The vertical dome walls are organically deformed so to absorb a part of the proposed functionality, using openings or holes as seats or improvised tribunes. Finally, the biggest dome is used as the main shopping space. A curtain specially built for the occasion through a catenary system made out of chains and foam pieces wraps the exhibition space for watches and achieves a unique experience of watching and selling in the complex.
http://www.takk-architecture.com/
---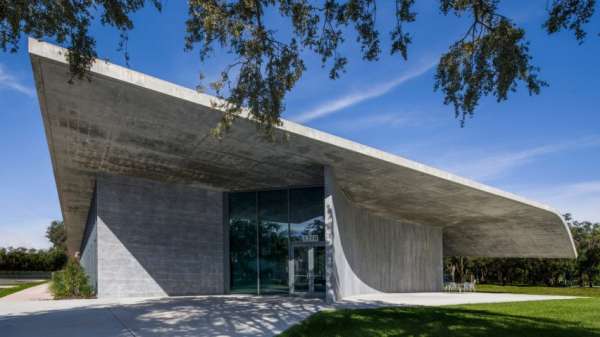 A massive curving slab of concrete covers the new school of architecture building at the University of Miami, by local firm Arquitectonica. The Thomas P Murphy Design Studio Building is the latest addition to the University of Miami campus in Coral Gables, Florida – southeast of Downtown Miami. The Thomas P Murphy building is toped with a bowed roof that swoops across the project in a wave-like manner, and extends far out to form a covered patio alongside floor-to-ceiling windows.
---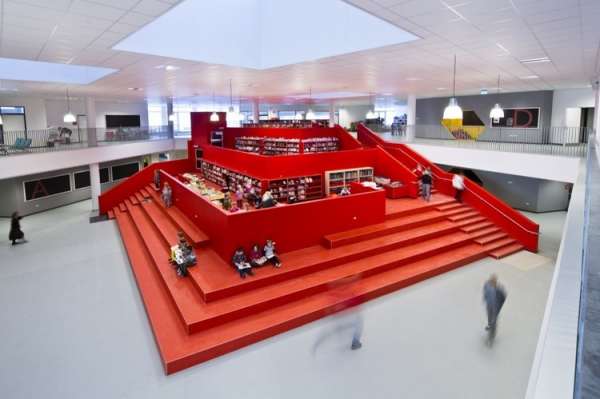 New City School, Frederikshavn / Arkitema Architects. Image Cortesía de Arkitema Architects
According to architect and academic Frank Locker, in architectural education, we keep repeating the same formula from the 20th-century: teachers transmitting a rigid and basic knowledge that gives students, no matter their motivation, interests, or abilities, little to no direction. In this way, says Locker, we are replicating, literally, prisons, with no room for an integral, flexible, and versatile education. "What do you think of when you're in a space with closed doors and a hallway where you can't enter without permission or a bell that tells you when you can enter and leave?" asks Locker.
---
interiors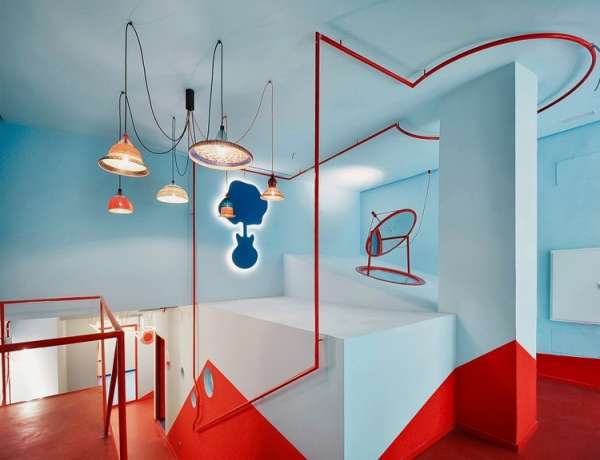 Musicality School/Manuel Collado Arpia, Madrid, Spain, ph Manuel Collado
The project for the musicality school is born from a great conversation about the processes of musical learning and creativity. As a result of this symbiosis, key concepts arose to which the architecture of the new space had to respond: awakening musical curiosity / discovery, the circle, collective practice and community, awareness of space and body plus sustainability.
The circle has been a constant in the idea of musical learning and works as a unifying geometry at different levels. As a symbol of community in the musical practice, transmitting the type of interactions in groups of this school. Then as an archetypal geometric symbol of unity, where by means of its repetition at different scales, from lighting to openings, it organizes a spatial form of musical composition. The environmental harmony is completed by the triangle that appears in the treatment of the sockets and the square / rectangle of the classroom form. These three geometries are considered foundational in all traditions of environmental knowledges.
https://www.plataformaarquitectura.cl/cl/907280/escuela-de-musicalidad-manuel-collado-arpia
---
hotels, restaurants, bars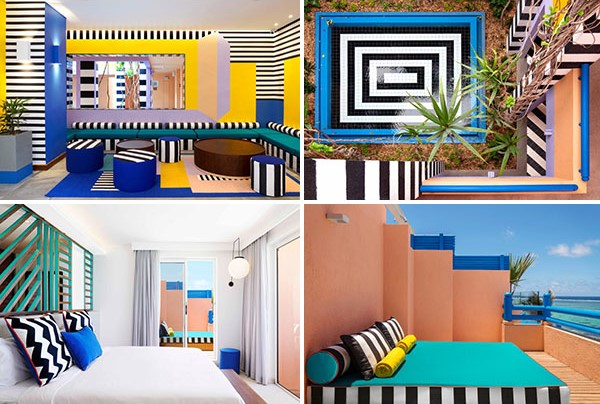 Sea blues, sunny yellows and bold monochromatic stripes appear throughout this boutique hotel, designed by artist Camille Walala to complement to the landscape of Mauritius.
The building's exterior, which was originally burnt orange, in now a lighter peachy shade, emulating the pastel facades of typical Mauritian homes. Meanwhile the outdoor daybeds, chairs, and cushions have are upholstered in shades of cobalt blue and turquoise to mimic the hue of thCopertinae Indian Ocean.
---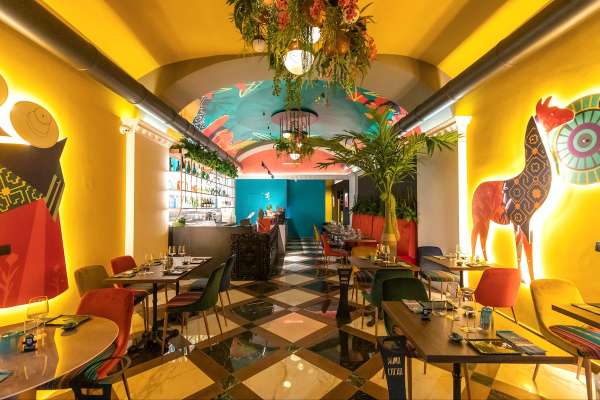 Mama Shelter Belgrado
Parla il linguaggio dell'ibridazione di stili e culture Mama Shelter Belgrade, ultima e più recente perla del brand nato dall'esperienza della famiglia Trigano e dalla creatività di Philippe Starck. Incastonato in una terra di mezzo in perenne divenire come la Città Bianca, la nuova location è fusion e multiforme, pensata per una clientela casual, ma attenta allo stile
Mama Shelter Belgrade, l'ottavo del brand, come i predecessori, porta la firma dell'interior designer brasiliano Amor Jalil, allievo di Philippe Starck, il cui progetto è tutto un omaggio alla storia millenaria della capitale serba. Sul telaio del concept ideato dalla famiglia Trigano – boutique hotel di design, ricercati ma informali, abbordabili e rivolti a ospiti di ogni generazione e cultura – Jalil ha intessuto un racconto materico e cromatico che ripercorre le mille suggestioni e gli influssi della capitale serba nelle reminiscenze orientali dei tappeti kilim e nei vivaci colori dei corpi illuminanti che ne impreziosiscono le aree comuni e la grafica rigorosa delle stampe vintage
https://www.mamashelter.com/en
---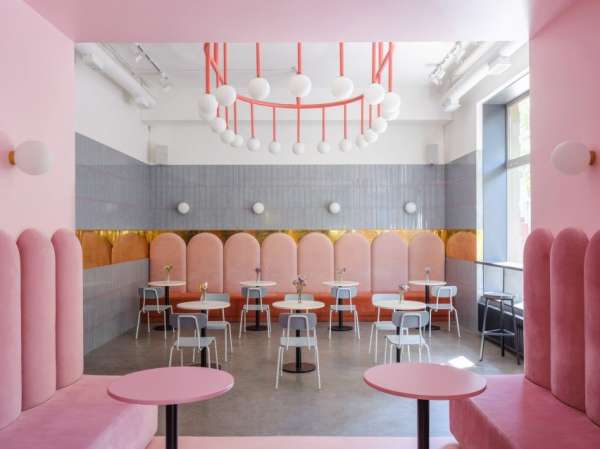 A colourful palette and custom furnishings outfit this cafe and bakery in Ukraine, completed by designers Lera Brumina and Artem Trigubchak. Breadway bakery is located in the historic port city of Odessa and features concrete floors, high ceilings and large windows, alongside a combination of soft pink and blue tones.
The layout comprises a counter and check-out area on one side, and a cafe on the other. A free-standing pink cube forms a corridor between the two, and houses extra seats and tables
https://artemtrigubchak.com/, https://lerabrumina.com/
---
installations
Studio Mieke Meijer designed a festive light installation for Coal Drops Yard, the new shopping quarter at King's Cross (London, UK) designed by Heatherwick Studio. The Space Frames respond to the architecture of their location; tracing the arches and mimicking the graphic outlines of Coal Drops Yard's industrial structure.
---

andreas angelidakis' DEMOS – a reconstruction is an installation of 74 foam modules created for visitors of toronto's museum of contemporary art (MOCA) to move and rearrange in any configuration possible. free to the public and for people of all ages, the soft and lightweight modules can be used to create a seat, a stage, or even a monument, while each configuration is demolished after use to make way for the next one.
https://www.documenta14.de/en/artists/945/andreas-angelidakis
---
design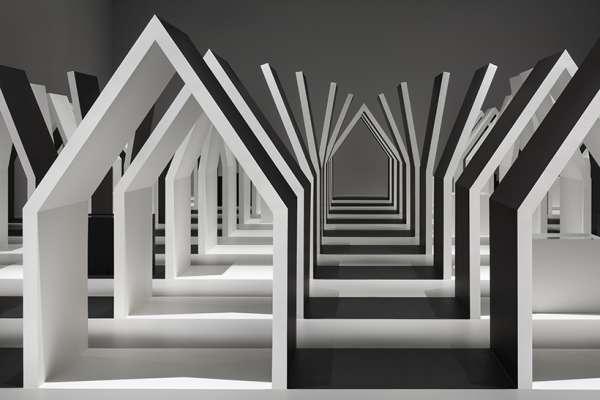 Escher X nendo | Between Two Worlds, until 07 April, 2019, National Gallery of Victoria (180 St Kilda Rd, Melbourne, Australia). Escher X nendo | Between Two Worlds is the first exhibition in the world to feature the work of renowned Dutch graphic artist M. C. Escher in dialogue with new site-specific designs created by nendo.
---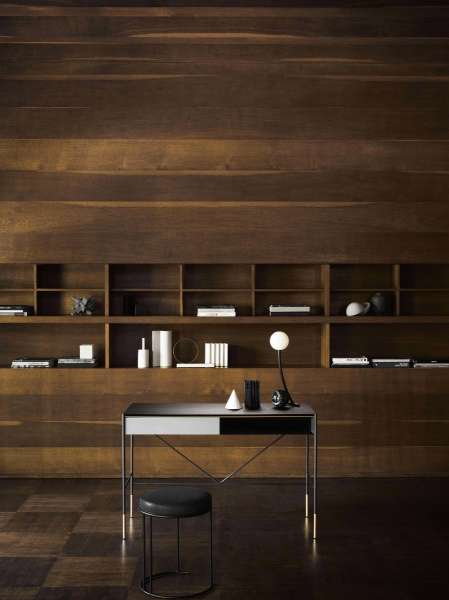 Continua la collaborazione tra Living Divani e il designer spagnolo David Lopez Quincoces.
La nuova Easychair e il Settee, divanetto a 2 posti compatto, sono ideali per gli spazi di attesa. Ispirazione vintage, gioco di pieni e di vuoti, leggerezza visiva contraddistinguono questi due pezzi con struttura verniciata grigio canna di fucile che regge fascia poggiaschiena e seduta imbottite e rivestite in pelle o in tessuto, per osare con i colori.
http://www.livingdivani.it, http://www.quincocesdrago.com/
---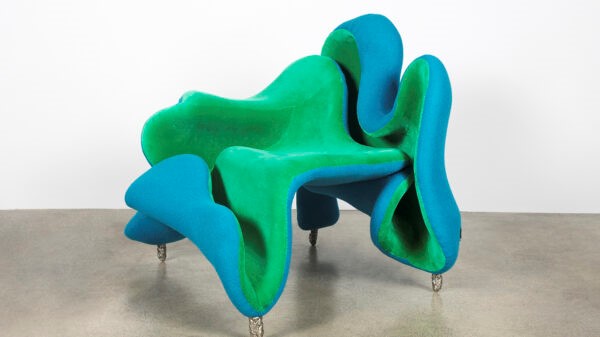 Misha Kahn creates Bellyflop barware and pool accessories for Miami Beach Edition
New York artist and designer Misha Kahn's playful signature style has manifested as a collection of items for use around the pool at the Miami Beach Edition hotel.
https://tlmagazine.com/misha-kahn-hyperbolic-fantasies/
---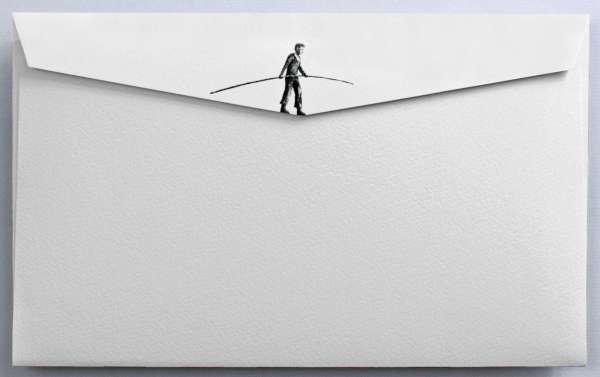 Love Letter is the newest time-limited release by Pejac.
Pejac will be offering the original Love Letter piece after the edition release, with all the proceeds from that sale going to Clowns Without Borders, an international organization dedicated to bringing smiles to places where they are most needed. By purchasing an original work the collectors will have a chance to directly help children with trauma to experience the social, emotional, physical and cognitive benefits of laughter and humor.
---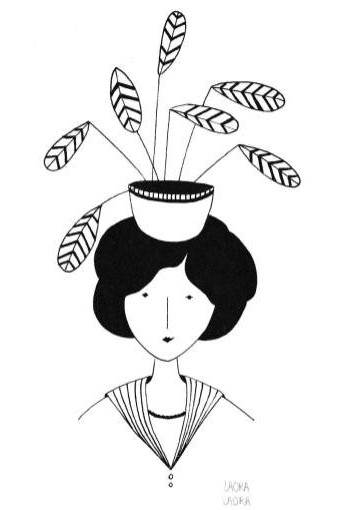 plant lady, illustrazioni by laoralaora
https://www.instagram.com/laoralaora/, https://www.etsy.com/shop/LaoraLaora
---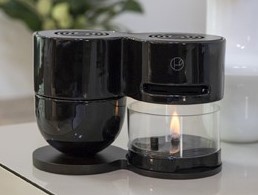 Pelty – Il suono dal fuoco: l'unico speaker bluetooth al mondo azionato dal calore del fuoco. Pelty è un oggetto intrinsecamente legato alla natura. Realizzato in ceramica, legno e vetro, Pelty utilizza il fuoco per espletare la sua missione: accesa la fiamma, riproduce la musica dei tuoi device. Nessun cavo elettrico lo lega. Nessuna batteria lo alimenta.
Pelty è composto esternamente da una base in legno su cui poggia la struttura in ceramica. Sulla base è presente un piccolo serbatoio ricaricabile di un qualsiasi combustibile comune – alcool domestico ad esempio, oppure bioetanolo, consigliato da Pelty perché inodore e per la bassa emissione di CO2. Basta accendere dunque lo stoppino collegato al serbatoio perché la cella di Peltier nascosta dentro la struttura, attraverso il suo differenziale di temperature, permetta che la magia abbia inizio: la riproduzione della musica che il device collegato gli invia attraverso la tecnologia bluetooth.
---
photos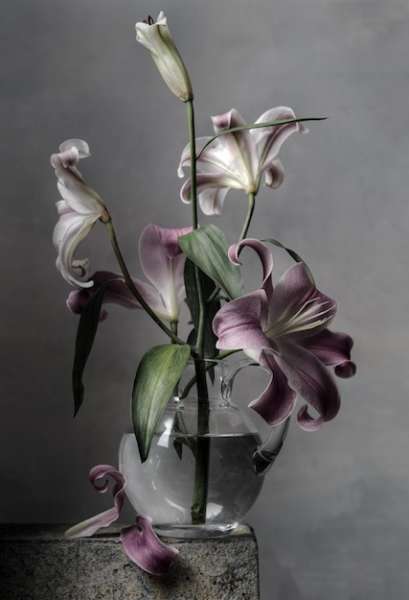 christopher broadbent, libro fotogafico, corso como 10
broadbent.it, fondazionesozzani.org
---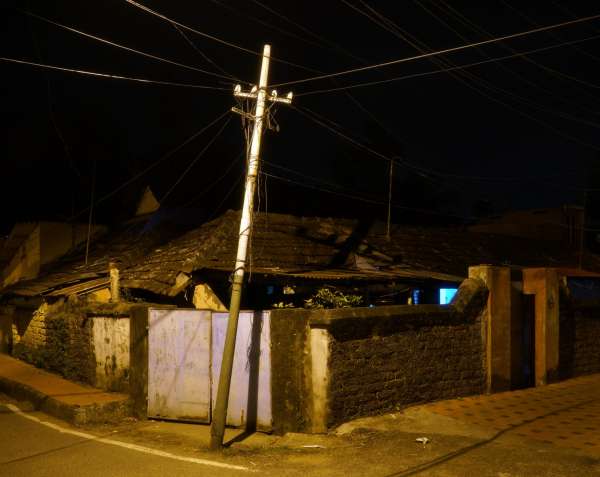 Kochi Nights by Hans-Christian Schink
http://www.hc-schink.de/, http://www.hc-schink.de/kochi_nights.html
---
Thorsten Brinkmann, "El Curtaisse"
http://www.feldbuschwiesnerrudolph.de
---
mostre/exhibitions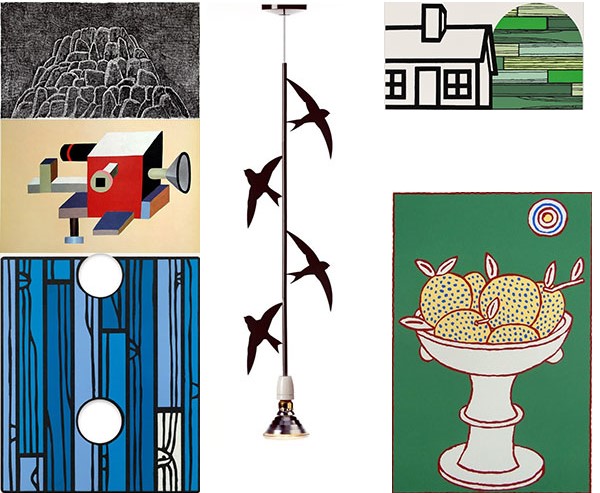 nathalie du pasquier, michele de lucchi, richard woods: imaginary landscapes, oneroom gallery
Imaginary Landscapes is an exhibition that brings together a selection of works by three world class artists whose work crosses over the boundaries of art, design and architecture. It's about domestic landscapes made of small objects that are in common use, as well as paintings and graphic works that investigate the same ideas but in different mediums.
---

katharina grosse, atoms outside eggs, museu serralves, porto
---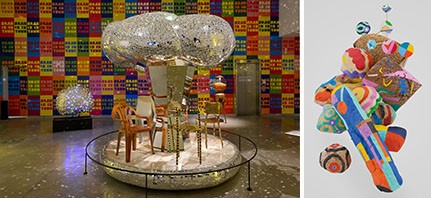 left, Hide & Seek by Maarten Baas at Design Museum Holon, ph Shay Ben Efraim.
http://www.dmh.org.il, http://maartenbaas.com/
right, Buoni come il Pane, mostra collettiva a cura di Alessandro Guerriero e Alessandra Zucchi (Tam Tam) in Triennale
http://www.alessandroguerriero.net/, http://www.triennale.org
---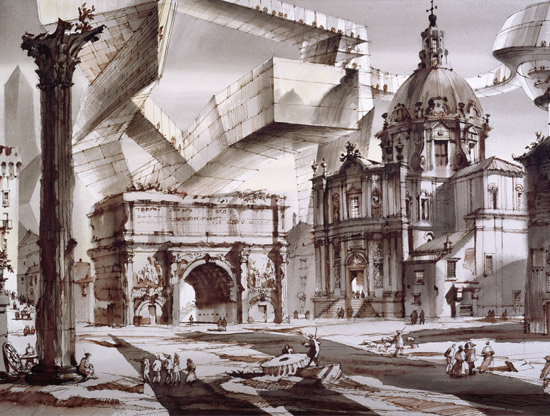 sergei tchoban, capricci russi at the biennale del disegno, rimini
https://sergeitchoban.com/exhibitions/, tchoban-foundation.de
---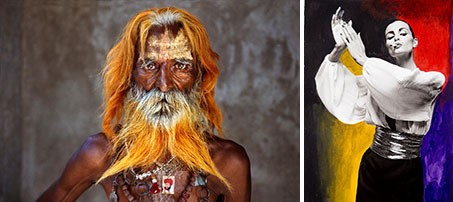 left, rajahsthan, india, steve mc curry
right, rainbow, giampaolo barbieri
masters photographers, Whitelight Art Gallery – Copernico Milano Centrale
---
theater
il nuovo spettacolo di Bruni e De Capitani, Lo strano caso del cane ucciso a mezzanotte, in scena all'Elfo Puccini di Milano fino al 13 gennaio.
---
etc.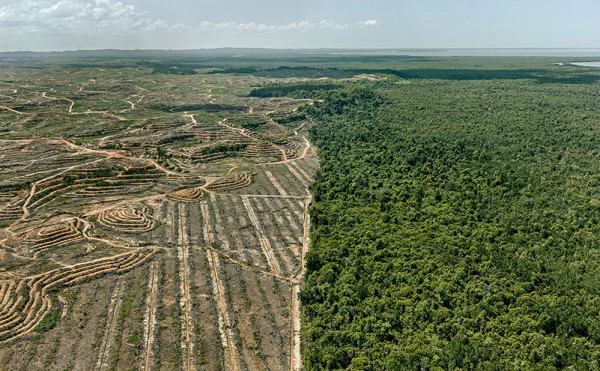 Aerial Photographs Convey Humanity's Devastating Effects on Nature
carnet de notes by paolo rinaldi
online weekly magazine 17/12/2018
(travel, viaggi, architettura, interni, design, hotels, ristoranti, bar, luce, arte, mostre, foto, fashion, installazioni, musei, teatro)
carnet de notes 465 has been sent to/
è stato inviato a 15376 recipients/indirizzi
and posted to social networks:
facebook, twitter, linkedin and viadeo