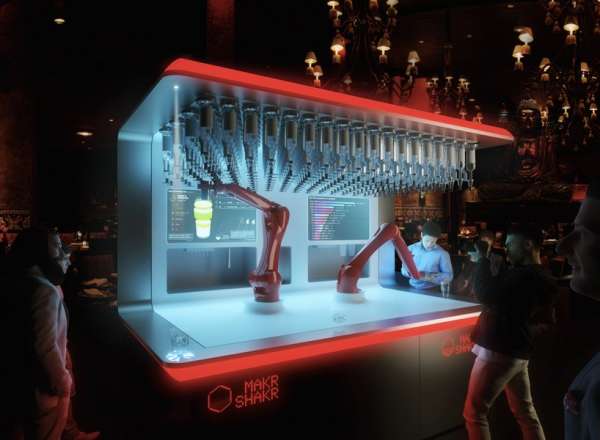 carlo ratti associati makr shakr launch nino, the first mass-market robotic bartender. the machine features two mechanical arms which can precisely prepare and serve any drink in seconds
http://www.carloratti.com/project/makr-shakr/
---
carnet de notes 439
by paolo rinaldi, rinaldi.paolo@fastwebnet.it, 0039.3483577940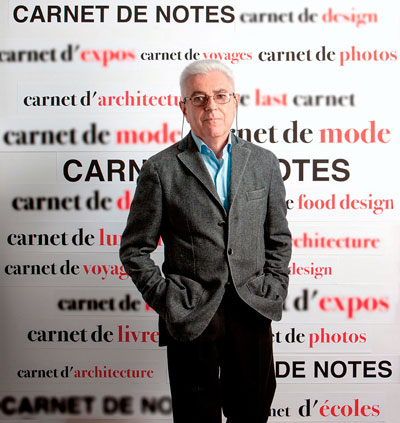 portrait by marirosa toscani ballo
---
voyages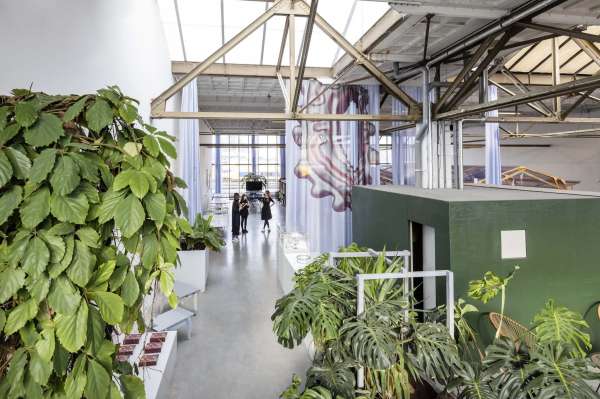 olanda/holland
---
barcellona. fundació antoni tàpies
---
architecture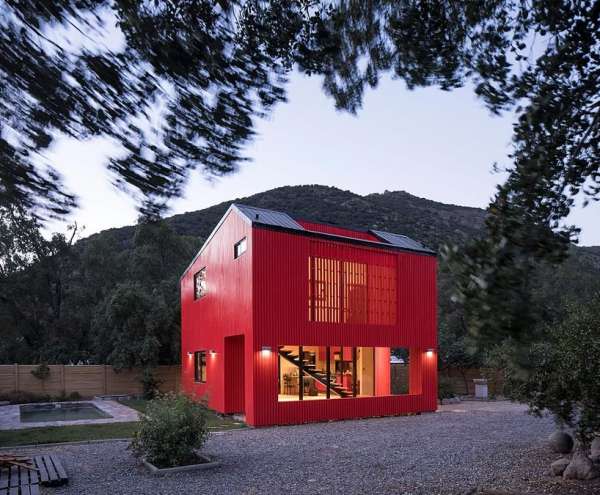 santiago-based felipe assadi arquitectos' bright red home is designed to contrast and compliment the green landscape of san josé de maipo, chile. la roja is a cube-like home that comprises two floors made up of two prefab modules each. ph fernando alda/felipe assadi
---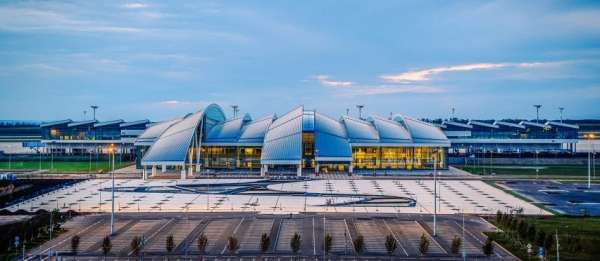 platov airport in rostov-on-don, designed by twelve architects, has completed ahead of the 2018 fifa world cup, when the city will be hosting games
http://www.twelvearchitects.com/
---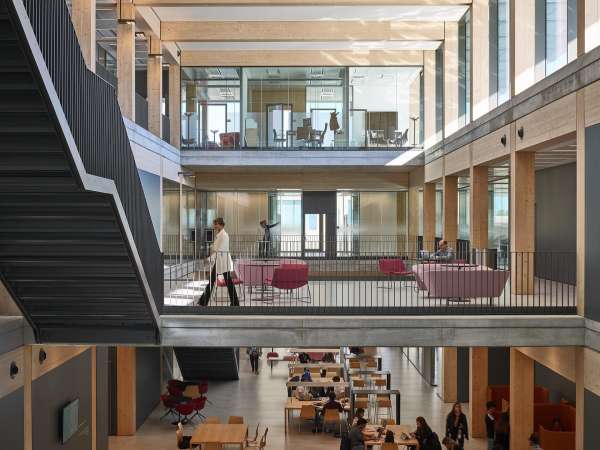 la design week è stata anche l'occasione per trattare temi più ampi. lo ha fatto l'architetto filippo taidelli dello studio fta con cells, un progetto che ha messo in scena alla statale di milano il futuro della sanità. attraverso una tavola rotonda e un'installazione site-specific, taidelli ha indagato il rapporto tra architettura, uomo scienza e tecnologia nell'ospedale di domani
http://www.filippotaidelli.com/
---
interiors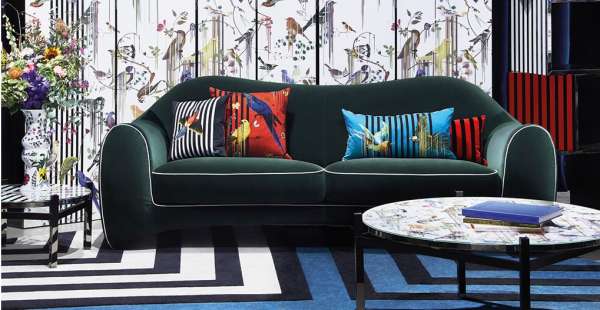 christian lacroix for roche bobois
http://www.rochebobois.com, http://www.christian-lacroix.com
---
installazioni/installations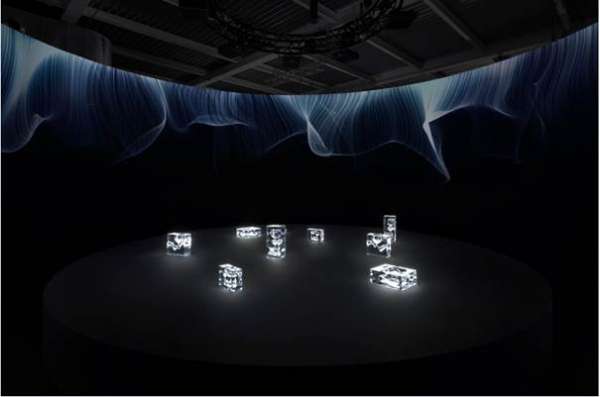 nendo, forms of movement, seven sliding cases and 'four-layer vase'. "even objects that are completely stationary can convey a feeling of movement"
---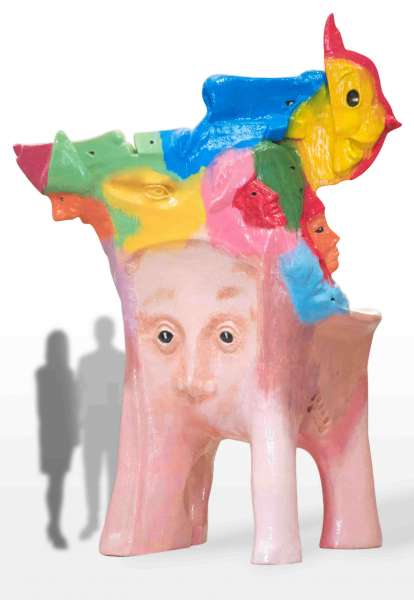 gaetano pesce. sedia porta ritratti
---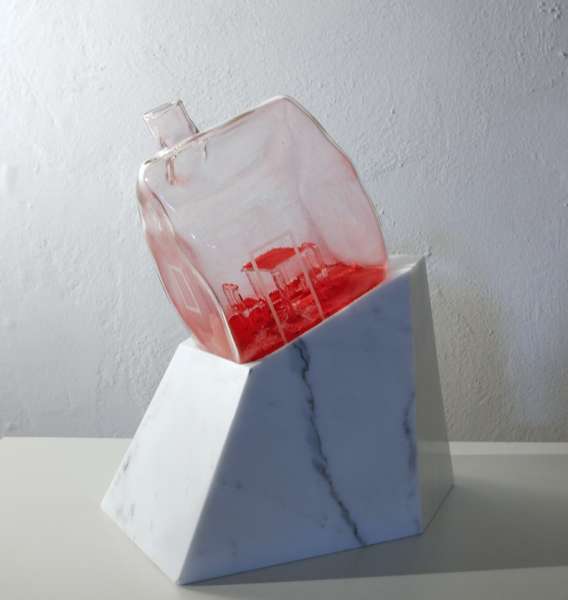 voci. vittorio corsini e comune di peccioli con fondazione peccioli. sei nuove installazioni permanenti. qui, il lato chiaro del diamante, galleria alessandro bagnai. ph bruno buchi
http://www.fondarte.peccioli.net
---
hotel, restaurants and bar
boat rooms on the fuchun river, mei cheng da dao, jiande shi, hangzhou shi, zhejiang sheng, china, the design institute of landscape and architecture china academy of art
---

left, new hotel in central leipzig of vienna house group, the vienna house easy leipzig
https://www.viennahouse.com/en.html
right, il nuovo ristorante gourmet le bellevue presso glion institute of higher education nel campus di montreaux
---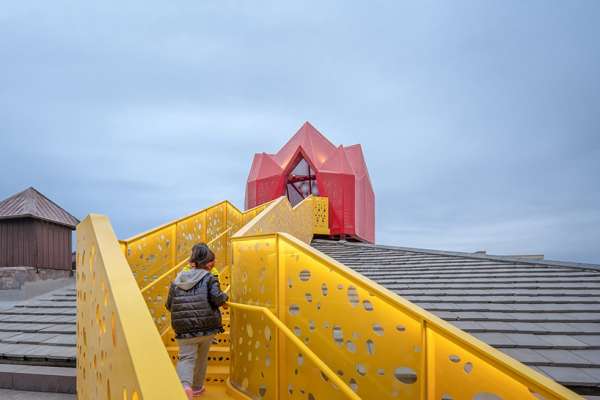 wutopia lab turns everyday life into 'magical reality' in kids' restaurant located in qinhuangdao, china. the studio designed the space as a magical neverland for kids, where each corner is waiting to be discovered. a circular dining hall and two private dining rooms are enclosed by polycarbonate panels while circular, diffused lighting. ph creat ar
https://www.archdaily.com/office/wutopia-lab
---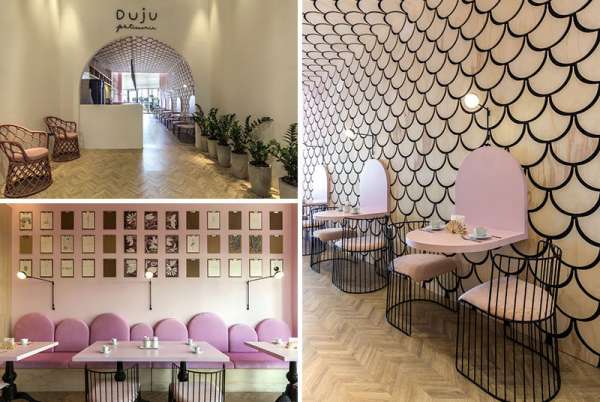 eduardo mederios arquitetura e design have designed the interiors of duju patisserie in goiania, brazil. drawing inspiration from the 'u' in the logo, the interior design features a variety of u-shaped elements. ph edgard cesar
https://www.eduardomedeiros.arq.br/
---
design

analogia project presents a tableware collection of handblown vessels in the shape of five animals: a snail, a chicken foot, a dolphin tail, a hedgehog, and a ram. the rhyton collection draws on ancient culture and the world of antique drinking rituals, where wine has always played an important role during sacred and symbolic moments in human life
---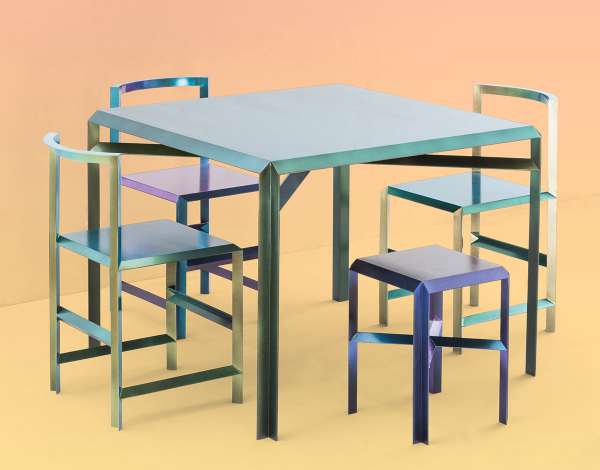 at a plus a gallery in venice, italy, there is m-l-xl's new furniture collection, inspired by everyday extruded metal l-profiles and painted with holographic car paint
---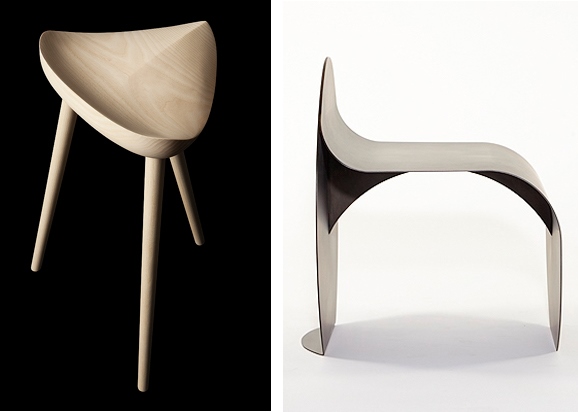 left, une nouvelle version du tabouret sela à la galerie mc selvini par ricardo graham et pp mobler
http://www.pp.dk/index.php?page=collection http://www.mcselvini.it/
right, flow est un jeu fusionnel de courbes et de lignes qui résume la philosophie de l'espace des deux jeunes designers uruguayennes estudio persona
http://www.estudiopersona.com/
---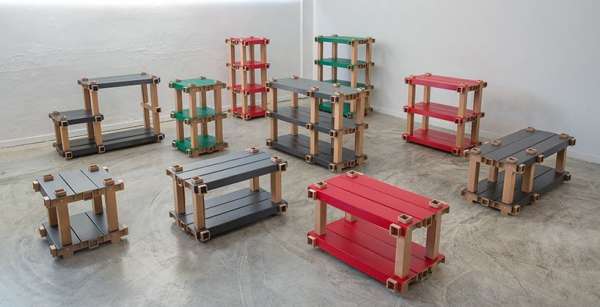 korea-based design studio pwsi reveals an extension for 2017 collection of side tables 'lumber' — the easier to assemble cardboard shelves join the series. called 'timber', the new piece explores the durability and expandability of cardboard
https://www.dezeen.com/2017/05/09/pesi-lumber-table-cardboard-furniture-milan-design-week/
---

left, the gap series designed by osko deichmann. http://www.oskodeichmann.com/
center, ola chair by zalaba design. https://zalaba.com/
right, mammamia chair by marcello ziliani for opinion ciatti. https://www.opinionciatti.com/it
---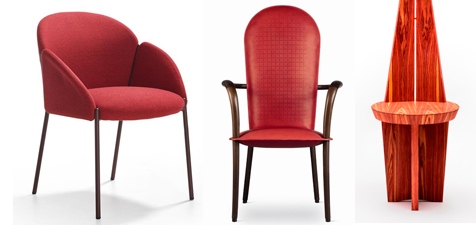 left, chair andrea by claesson koivisto rune for artifort. https://www.artifort.com/
center, atena poltroncina by alessandro zambelli per adele-c. https://www.adele-c.it/en/profile/
right, sedia povera by a.aricò for editmateria. http://www.editamateria.com/
---
left, poltroncina croistte by fermob. https://www.fermob.com/fr/
center, sedia master by artek. http://www.artek.fi
right, didier faustino, delete yourself chair, plus desigh gallery. https://didierfaustino.com/, http://www.plusdesigngallery.it/
---
libri/books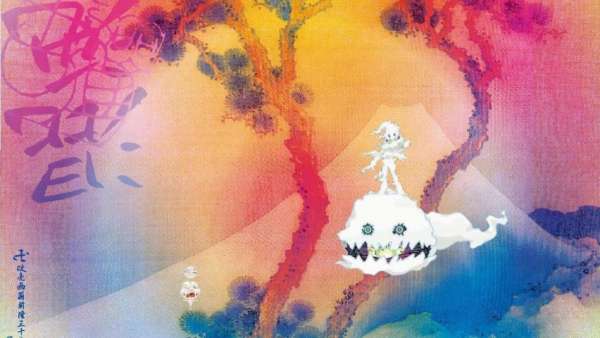 kanye west unveils takashi murakami designed album art for kids see ghosts
https://www.amazon.it/s/?ie=UTF8&keywords=takashi murakami&tag=amamitsp-21&index=aps&hvadid=80882855839311&hvqmt=p&hvbmt=bp&hvdev=c&ref=pd_sl_8nexyu9r8z_p
---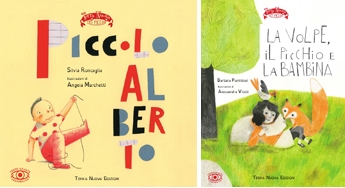 due libri della collezione terra nuova dei piccoli https://www.terranuovalibri.it/
---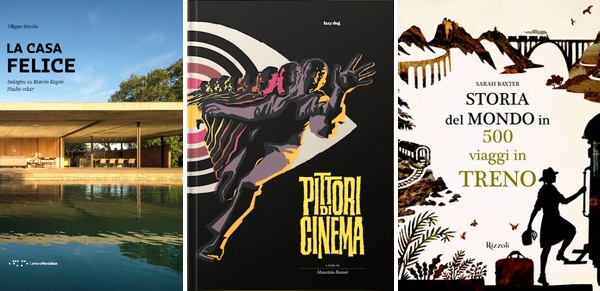 left, filippo bricolo, la casa felice, indagine su marcio kogan studio mk27. lettera ventidue. https://www.letteraventidue.com/it/prodotto/221/la-casa-felice
center, maurizio baroni, pigtori di cinema, lazy dog press. http://www.lazydog.eu
right, sarah baxter, storia del mondo in 500 viaggi in treno, rizzoli editore. http://www.rizzoli.eu/, http://www.electa.it
---
art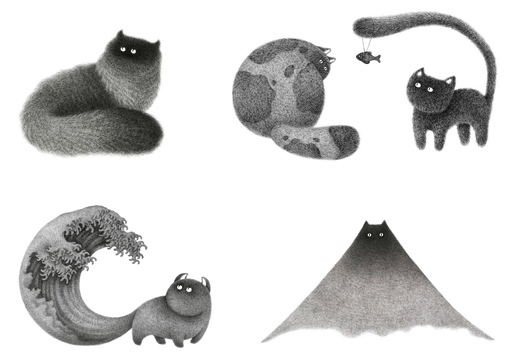 malaysian illustrator kamwei fong creates delicately drawn fantastical black cats as friends among a cast of characteristic and fluffy foxes, monkeys and goldfish
https://www.instagram.com/kamweiatwork/?hl=it
---
mediterraneo by cristina sammarco
---
moda/fashion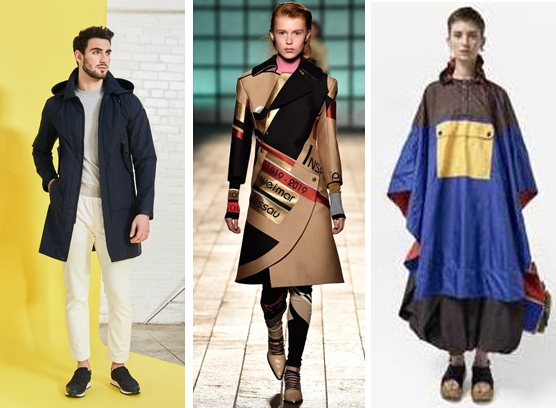 from left, nobis, mary katrantzou, marni

---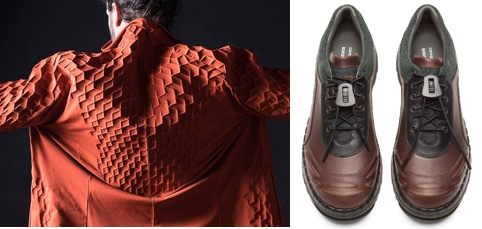 from left
lightweight and sturdy, flexible and abrasion resistant, the patronace's clothing processes the color and makes a functional, architectural structure. http://www.patronace.com/
kiko kostadinov for camper together, outdoor collection a/i 2018, ph gareth mcconnell. https://www.zalando.it/camper/ http://www.kikokostadinov.com/
---
mostre/exhibtions
left, paolo pibi, change, studio d'arte cannaviello
center, menu delle montagne, courmayeur, museo nazionale della montagna di torino
right, romero britto. da miami a milano, the blues, galleria deodato arte http://www.deodato.gallery, http://www.deodato.com
right, rebecca horn, passing the moon of evidence, studio trisorio, napoli
---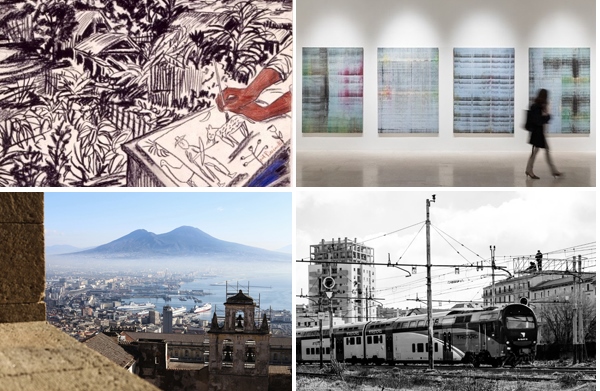 from top left, clockwise
pit piccinelli, le americhe, una coraggiosa empatia, galleria milano, milano
http://www.galleriamilano.com/
le "roto-pitture" di gianluigi colin, triennale di milano
gli scali ferroviari di milano, oggi prima di domani, ph marco intrini e francesco rodino, casa dell'energia e dell'ambiente, piazza po 3, milano
giuseppe di vaio, napoli timeless, la reggia designer outlet, marcianise (ce)
https://outlets.mcarthurglen.com/it/it/designer-outlet-la-reggia/
---

from left
giacomo piussi, camere con vista, galleria susanna orlando, pietrasanta http://www.galleriasusannaorlando.it
spatium a cura di angela madesani, 35 artisti in 6 comuni della panura bergamasca. http://www.artribune.com/mostre-evento-arte/le-stanze-del-contemporaneo-spatium/
michele guido, play in the garden, palazzo borromeo, milano. http://www.travelglobe.it/news/michele-guido-in-mostra-a-palazzo-borromeo-milano/
---
photos

left, silvia camporesi, mirabilia-museo guatelli (ozzano taro, parma), mlb home gallery
right, françois prost, faubourg series, superette gallery, paris
https://superette.tv/gallery-agenda/n/
---
et caetera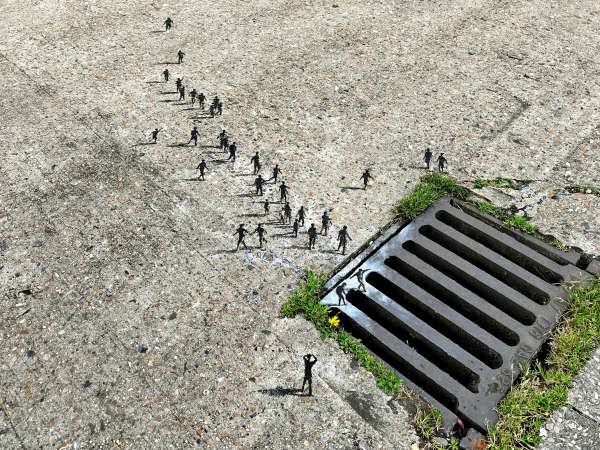 pejac, waterline
carnet de notes by paolo rinaldi
online weekly magazine 11/06/2018
(travel, viaggi, architettura, interni, design, hotels, ristoranti, bar, luce, arte, mostre, foto, fashion, installazioni, musei, teatro)
carnet de notes 439 has been sent to/
è stato inviato a 14895 recipients/indirizzi
and posted to social networks:
facebook, twitter, linkedin and viadeo
you are receiving this newsletter because you are in my professional mailing list and I send it to you as a free journalistic information
Se non volete più ricevere carnet de notes: Rimuovi xxxxemailxxxx dalla mailing list
If you don't want to receive carnet de notes: Unsuscribe xxxxemailxxxx from this mailing list
Ai sensi del D.Lgs. 196/2003 si precisa che le informazioni contenute in questo messaggio sono riservate e a uso esclusivo del destinatario. Qualora il messaggio in parola Le fosse pervenuto per errore, La invitiamo ad eliminarlo senza copiarlo e a non inoltrarlo a terzi, dandocene gentilmente comunicazione. Grazie.
Pursuant to Legislative Decree No. 196/2003, you are hereby informed that this message contains confidential information intended only for the use of the addressee. If you are not the addressee, and have received this message by mistake, please delete it and immediately notify us. You may not copy or disseminate this message to anyone. Thank you.
Our mailing address is:
paolo rinaldi
corso sempione 88
milano, MI 20154 Italy
Copyright © 2013 paolo rinaldi – All rights reserved.