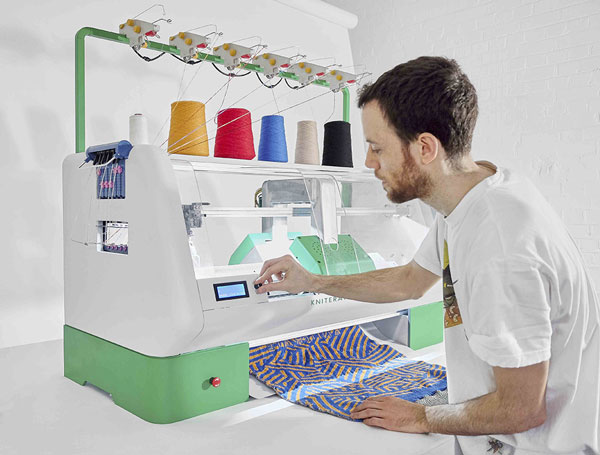 kniterate is a compact industrial knitting machine created for designers and entrepreneurs that facilitates the one-off creation of garments. built by london-based designer gerard rubio, kniterate is meant to act as a sort of 3d printer for knitwear, allowing you to create digital designs in photoshop and turn them into a wearable garments in just a few hours. the machine is capable of knitting scarves, sweaters, dresses, ties, or even the components of shoes
http://gerard.tv/, https://twitter.com/ge_rubio
---
carnet de notes 386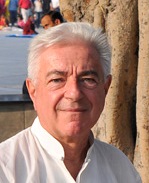 by paolo rinaldi, rinaldi.paolo@fastwebnet.it, 0039.3483577940
---
viaggi/travels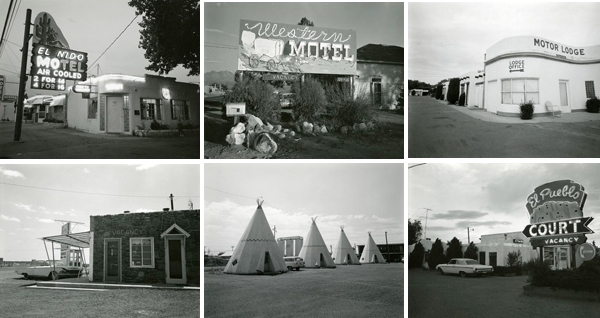 in the summer of 1973, john schott drove route 66 from the midwest to california and back, sleeping in his pick-up truck and photographing with an 8 x 10 inch deardorf view camera. among his subjects were the motels situated along this expanse of highway
http://www.josephbellows.com/#1
---
architettura/architecture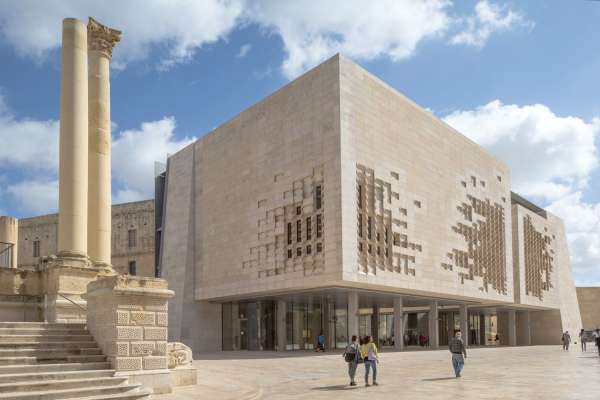 the recent election of mmalta to the presidency of the council of the european union—a position that will be held through June 2017—architectural photographer danica o. kus has created a photo series detailing renzo piano building workshop's valletta city gate in malta. completed in 2014, the project is composed of four parts: the valletta city gate and site, an open-air theater "machine," a parliament building, and landscaped space
https://www.danicakus.com/, http://www.rpbw.com/
info@visitmalta.it
---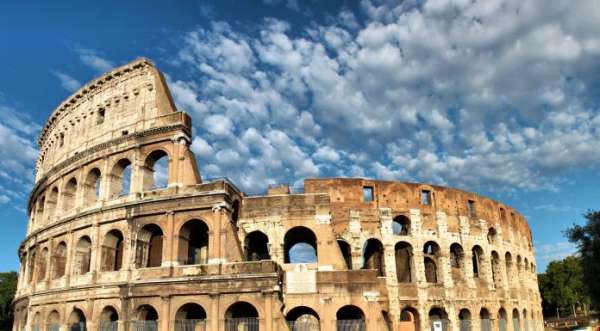 the colosseum, rome, italy
http://www.rome.info/colosseum/
---
interni/interiors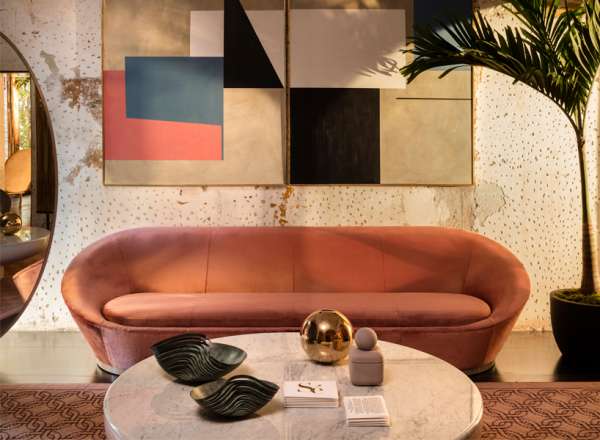 sé transforms galleria rossana orlandi into highly furnished apartment titled 'sé ensemble', the exhibition highlights the adaptability of their furniture collections, which were designed by damien langlois-meurinne, jaime hayon and nika zupanc
---
musei/museums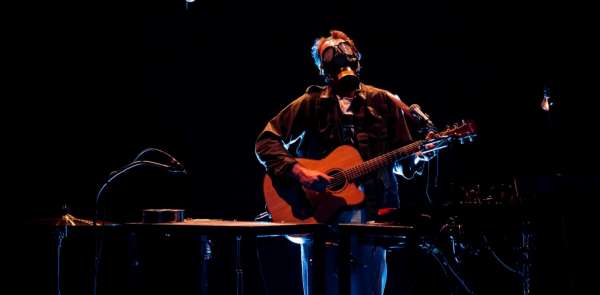 da sinistra, bacon, head; jean michel basquit, julius ceasar
a salò, il museo della follia accoglie i visitatori con capolavori dell'arte internazionale. la mostra, a cura di vittorio sgarbi, è itinerante
http://www.museodellafollia.it
---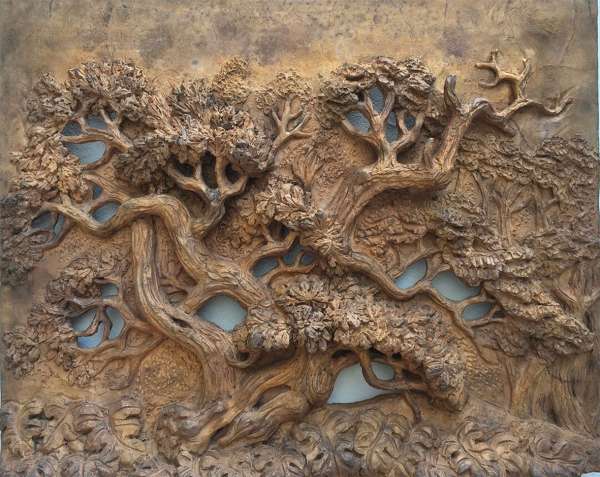 roberto fanari, il paesaggio dentro, musei di nervi, galleria d'arte moderna
---
hotels/restaurants/bars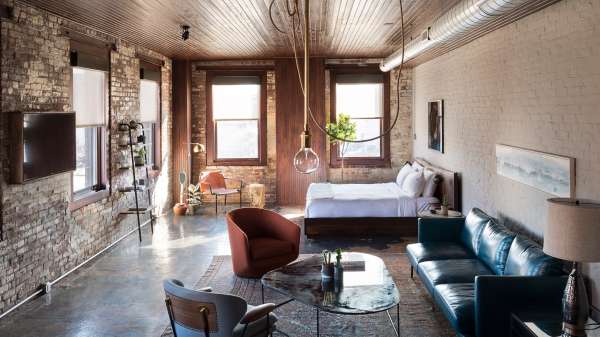 stokes architecture has retained the industrial character of this 19th-century whiskey factory in philadelphia during its conversion into an italian restaurant and boutique hotel
---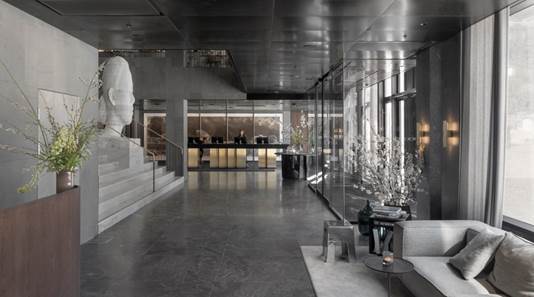 london-based architecture practice universal design studio has completed at six, a new 343 room hotel in stockholm's housing one of europe's most ambitious contemporary art collections within a hotel. at sx is owned and operated by petter stordalen of nordic hotels & resorts and curated by sune nordgren, formerly of the baltic centre for contemporary art. original artwork by jaume plensa, olafur eliasson, julian opie, sol le witt, tacita dean, spencer finch, richard long and marijke van warmerdam are displayed within the public spaces as well as individual artworks by kristina matousch in the guest rooms. works by swedish photographer dawid complete the hotel art collection
https://hotelatsix.com/, http://www.universaldesignstudio.com/
---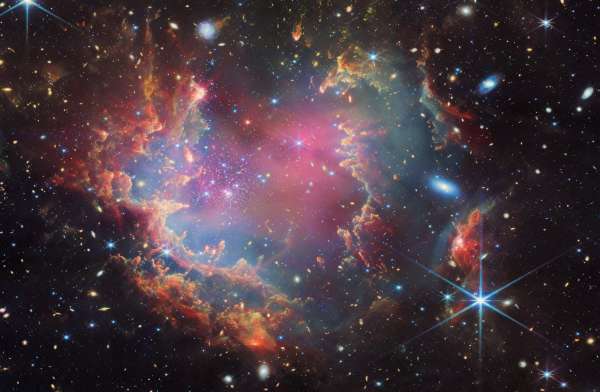 danish design space copenhagen, founded by signe bindslev henriksen and peter bundgaard rutzou has designed a new collection for stellar works, inspired by the chair they designed for restaurant 108 in copenhagen
http://spacecph.dk/, http://www.stellarworks.com/interim/
---
design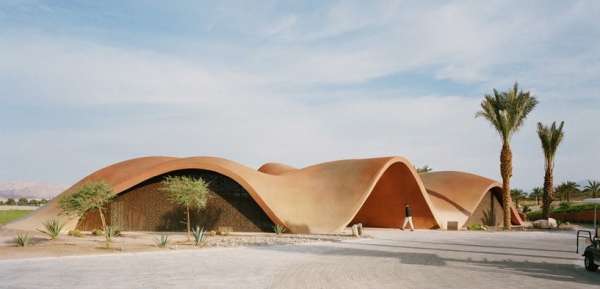 tables branch out of this eight-person sofa, designed by swedish studio front to offer a relaxed breakout space in bustling offices. Front created the furniture for swedish brand offecct. it is meant to inhabit the middle of a room, and function as both seating and a temporary workstation. each table has a usb charger and a hook for hanging bags or coats
http://www.designfront.org/, http://www.offecct.se/
---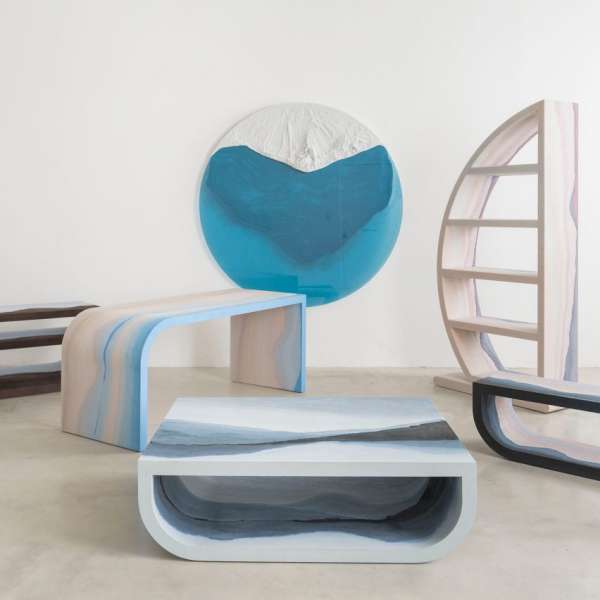 brooklyn artist and designer fernando mastrangelo has cast his latest collection of furniture to look like "three-dimensional landscape paintings".
https://www.fernandomastrangelo.com/
---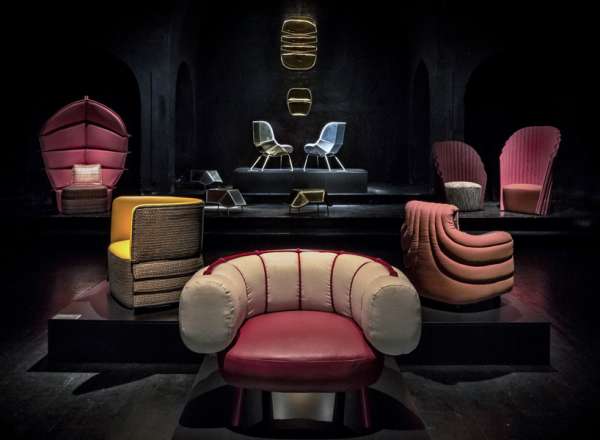 the swedish-french duo faerg & blanche explore the opposite attractions of hard and soft
---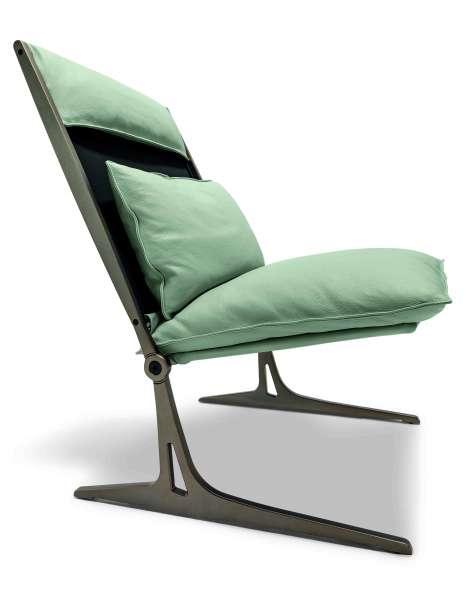 barracuda by giuseppe viganò for arketipo
---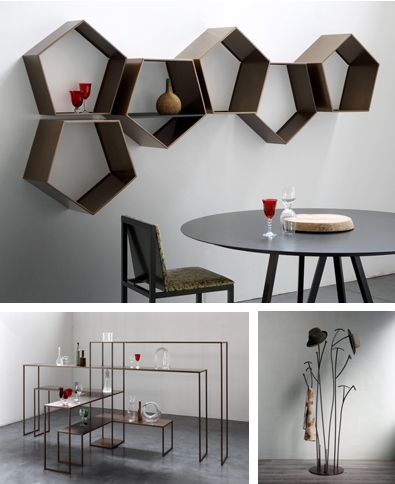 from top, clockwise
penta, rusty tree, easy bridge. tutto by zeus
---
showrooms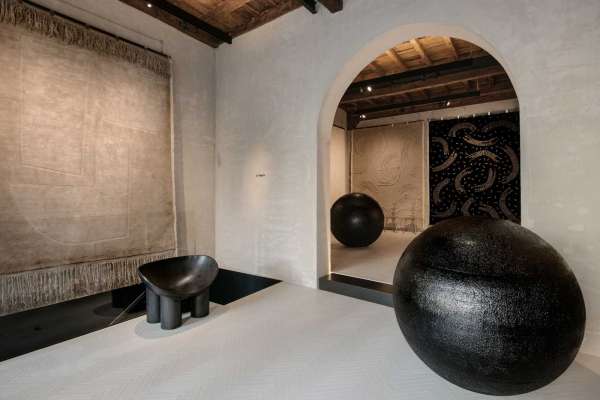 the new cc-tapis showroom in milan
---
installazioni/installations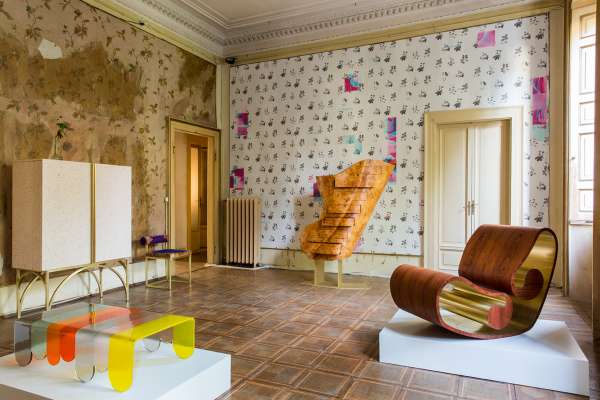 ladies and gentlemen by secondome. unplugged
poltrona a dondolovoluta e cassettiera settimio by stefano marolla; specchi risvolti disegnati da vito nesta; lampada disarmante by gio tirotto; coffee table lunapark by alessandro zambelli; contenitore by 4p1b and grandinetti; carta da parati glitch by millim studio
---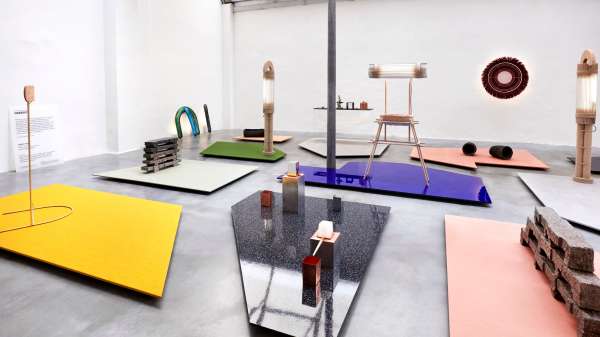 dutch invertuals, harvest. 10 designers offer a glimpse into how the human race will tackle future global issues.
http://www.dutchinvertuals.nl/
---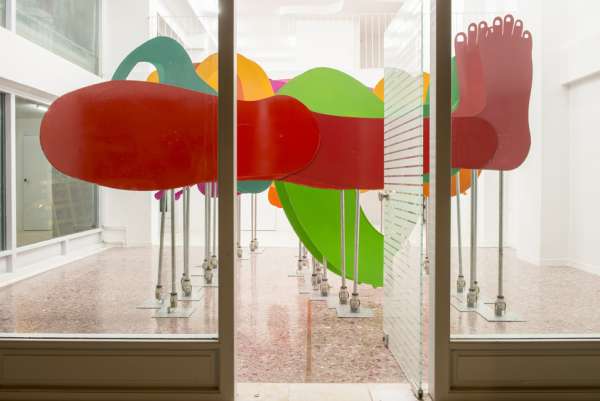 georgia sagri, dynamis, 2017, 28 sculptures and 10 breathing scores, installation view, tositsa 5, athens, documenta 14, ph angelos giotopoulos
http://www.documenta14.de/en/artists/992/georgia-sagri
---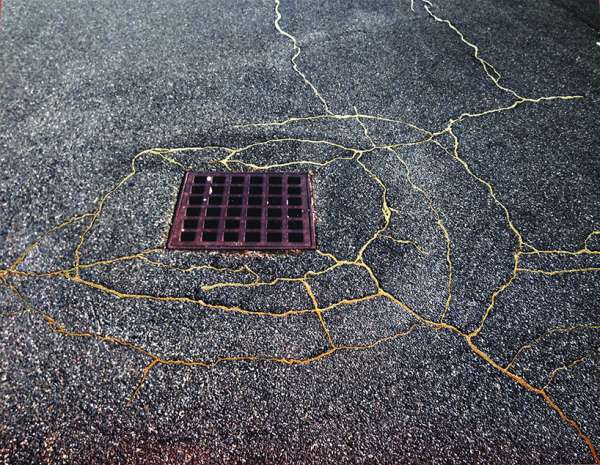 rachel sussman uses gold to 'repair' cracked sidewalks in homage to japanese 'kintsukuroi' art. 'kintsukuroi' is the ancient japanese art of repairing broken or cracked pottery with a powdered-gold dusted lacquer. philosophically speaking, the craft regards the process of breakage and repair as an element of the object's history, rather than an unattractive flaw to be concealed or disguised
---
luci/lumières

nendo' s new lightings "sawaru" and "gaku" for flos
left, "sawaru", a lighting consisting of two independent cylinders touching each other in a perpendicular direction. One plays the role as a light source, while the other acts as a base, and the projection angle can be altered into 3 stages: 25 degrees, 40 degrees and 60 degrees, by inserting the pin attached to the base
right, "gaku", A box used together with lamps and other objects,%u3000which gives a feeling almost as if it weresomething between accessories and furniture. An adjustable-height pending lamp hangs down inside of one box, while a second design features non-contact charging functionality to power a matching spot or luminescent lamp. Usually, the lamp is simply left on the charging dock, and then moved around freely when lighting is needed elsewhere. The directional lamp features a magnet that allows it to be placed at an angle, making it easy to adjust the direction of spot to be lighted
http://www.nendo.jp, http://www.flos.com/en/home
---
libri/books and reviews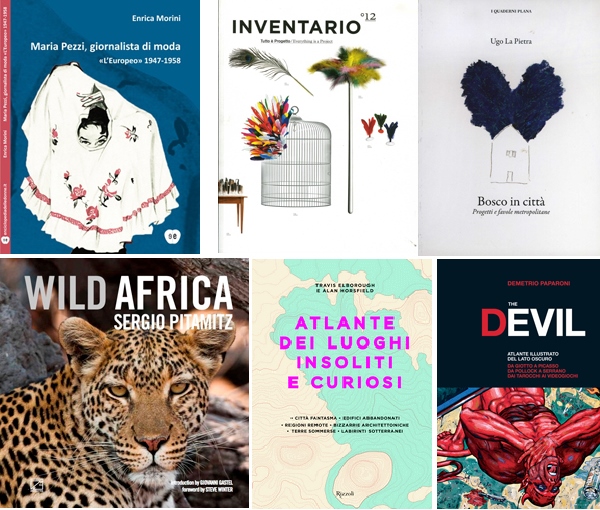 from top left, clockwise
enrica morini, maria pezzi, giornalista di moda, l'europeo 1947-1958, http://www.enciclopediadelledonne.it/; inventario n 12, http://www.inventario-bookzine.com/about.html; ugo la pietra, bosco in città, progetti e favole metropolitane, i quaderni plana; demetrio paparoni, the devil, atlante illustrato del lato oscuro, http://www.24orecultura.com/; travis elborough e alan morsfield, atlante dei luoghi insoliti e curiosi, http://www.rizzoli.eu/; sergio pitamitz, wild africa, edizioni03.com, http://www.publish03.com/preview.asp?i=170
---
arte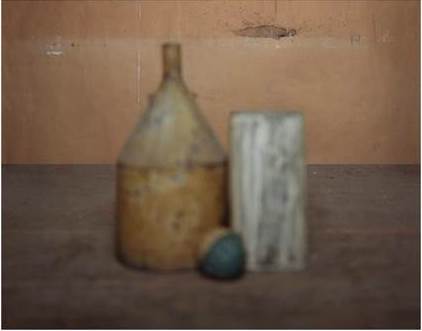 brigitte march niedermair, transition giorgio morandi, palazzo boromeo, milano
---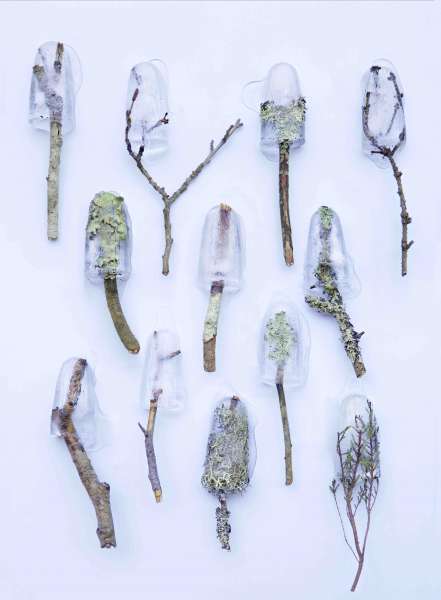 aalto university, nakuna, icicle all lavender. in occasione del 100′ anno di indipendenza della finlandia nel 2017, la aalto university school of arts, design and architecture ha onorato le sue origini partecipando alla milano design week con la mostra dedicata "nakuna", nudo in finlandese
http://www.aalto.fi, http://www.habitare.fi
---
mostre/exhibitions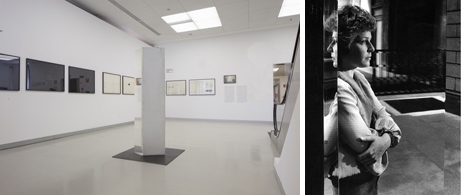 amalia del ponte, ritratto di ugo mulas, onde lunghe e brevissime, museo del novecento, ph emiliano biondelli, e studio museo francesco messina, milano
http://www.amaliadelponte.org/adp/
http://www.museodelnovecento.org, http://www.fondazionemessina.it/
---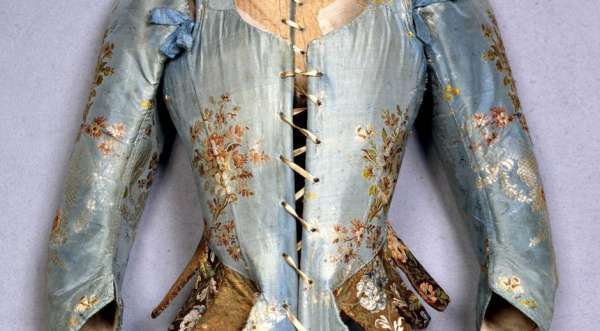 il capriccio e la ragione. eleganze del settecento europeo, dal 14 maggio al 29 aprile 2018. museo del tessuto di prato. allestita nella sala dei tessuti antichi del museo, la mostra è un viaggio nello stile e nel gusto della cultura artistica del settecento, attraverso la moda, il tessuto e le arti decorative
www.museo del tessuto.it/settecento
---
et caetera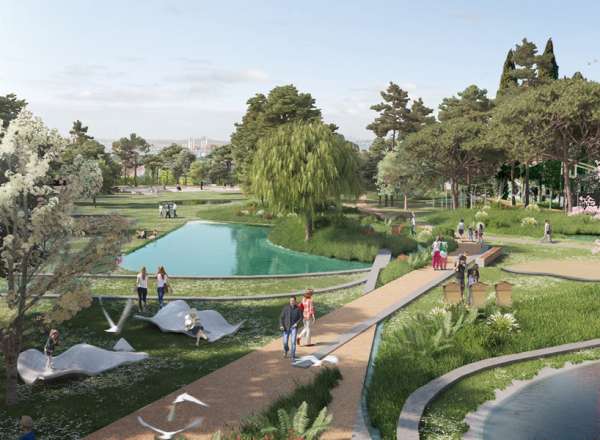 scali milano: international firms unveil plans to transform the city's disused railyards the project asked mad architects, stefano boeri architetti, mecanoo, miralles tagliabue embt, and cino zucchi architetti to develop plans for eights disused sites
carnet de notes by paolo rinaldi
online weekly magazine 08/05/2017
(travel, viaggi, architettura, interni, design, hotels, ristoranti, bar, luce, arte, mostre, foto, fashion, installazioni, musei, teatro)
carnet de notes 386 has been sent to/
è stato inviato a 12467 recipients/indirizzi
and posted to social networks:
facebook, twitter, linkedin and viadeo
you are receiving this newsletter because you are in my professional mailing list and I send it to you as a free journalistic information
Se non volete più ricevere carnet de notes: Rimuovi xxxxemailxxxx dalla mailing list
If you don't want to receive carnet de notes: Unsuscribe xxxxemailxxxx from this mailing list
Ai sensi del D.Lgs. 196/2003 si precisa che le informazioni contenute in questo messaggio sono riservate e a uso esclusivo del destinatario. Qualora il messaggio in parola Le fosse pervenuto per errore, La invitiamo ad eliminarlo senza copiarlo e a non inoltrarlo a terzi, dandocene gentilmente comunicazione. Grazie.
Pursuant to Legislative Decree No. 196/2003, you are hereby informed that this message contains confidential information intended only for the use of the addressee. If you are not the addressee, and have received this message by mistake, please delete it and immediately notify us. You may not copy or disseminate this message to anyone. Thank you.
Our mailing address is:
paolo rinaldi
corso sempione 88
milano, MI 20154 Italy
Copyright © 2013 paolo rinaldi – All rights reserved.