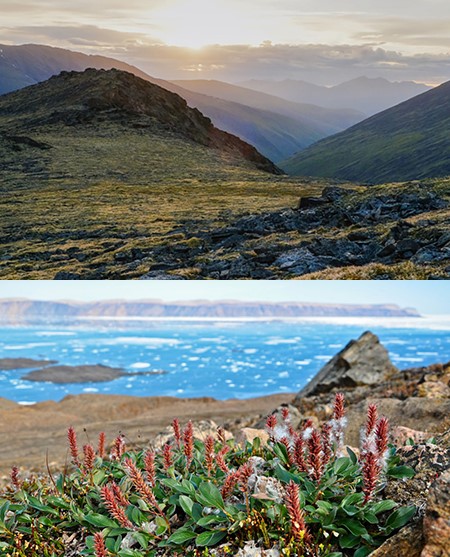 On ne peut pas dire que l'Arctique ne nous ait jamais habitués à une végétation luxuriante. Les étendues de glace, les plaines balayées par le blizzard, forment un environnement peu propice aux plantes. Les seuls végétaux capables de résister à ces froids extrêmes sont en général des arbustes de très faible hauteur. Or avec le réchauffement climatique, beaucoup plus intense dans les régions polaires que sur le reste de la planète, les petits arbustes se mettent à pousser, à croître et à se multiplier à un rythme effréné. Du jamais vu pour les chercheurs qui viennent de faire cette découverte. Une nouvelle qui va faire le bonheur des botanistes mais qui présente des risques majeurs (Alexandre Aget, Up-Magazine)
http://www.up-magazine.info/index.php?option=com_content&view=article&id=8049:l-arctique-verdit-il-se-couvre-de-plantes-a-un-rythme-inattendu&catid=174:climat-ressources&Itemid=827
---
carnet de notes 455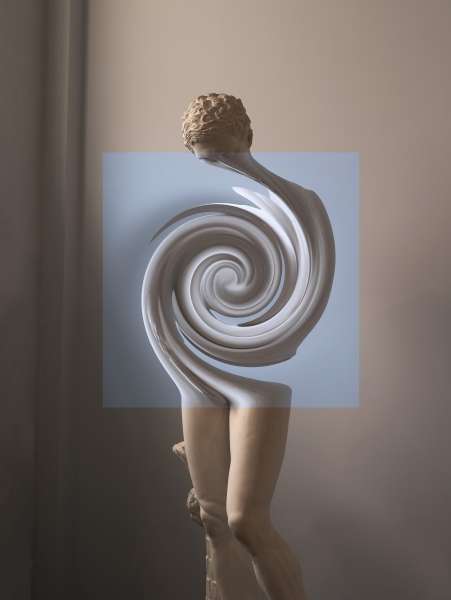 by paolo rinaldi, rinaldi.paolo@fastwebnet.it, 0039.3483577940
@paolorinaldi, https://www.facebook.com/paolrin
ph felice bucci
---
voyages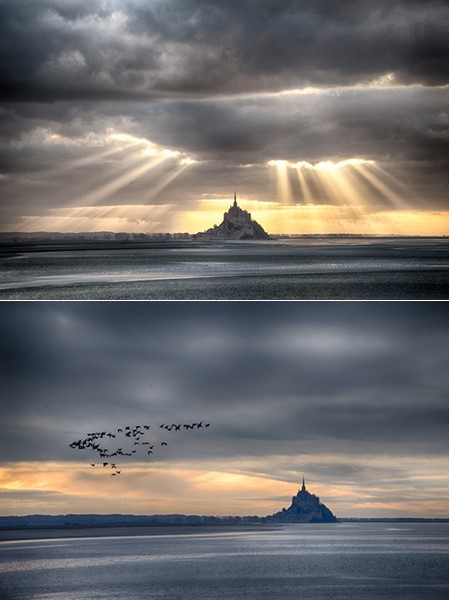 Mont Saint Michel. Photos by Jean Michel
"Even if Mont Saint Michel or the island of Tombelaine appear on most of these images, the idea that guided me in this photographic process was rather to discover the Bay by focusing on the skies and the soil while trying to be as graphic as possible".
http://it.normandie-tourisme.fr/la-normandia-si-presenta/citta-e-villaggi-della-normandia/citta-e-villaggi-da-non-perdere/mont-saint-michel-106-6.html
https://www.facebook.com/pages/category/Photographer/Jean-Michel-C-Fotograf%C3%ADa-y-Artes-Gr%C3%A1ficas-680846235334425/
---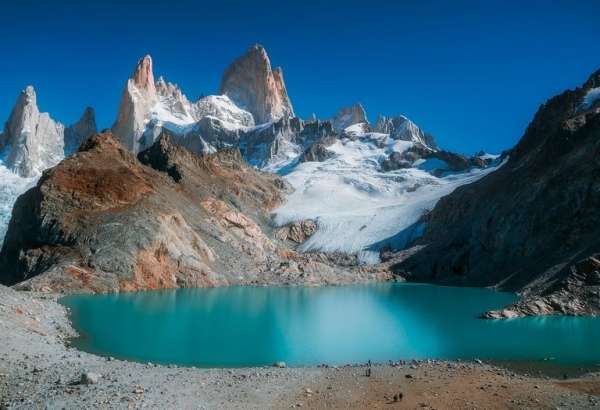 Un viaggio nell'immensa Patagonia cilena e argentina, per ammirare alcuni tra i luoghi e i paesaggi più affascinanti del nostro magnifico mondo.
Montagne ripide, lagune turchesi e ghiacciai millenari: con Adventure Overland per scoprire alcuni dei percorsi escursionistici più belli della Patagonia, regione caratterizzata da una grande varietà di paesaggi .Un viaggio che tocca due meravigliosi paesi dell'emisfero australe, l'Argentina e il Cile, accompagnato da Daniela Pulvirenti, amante della montagna e del trekking e autrice di guide turistiche.
https://adventuresoverland.com/
---
architecture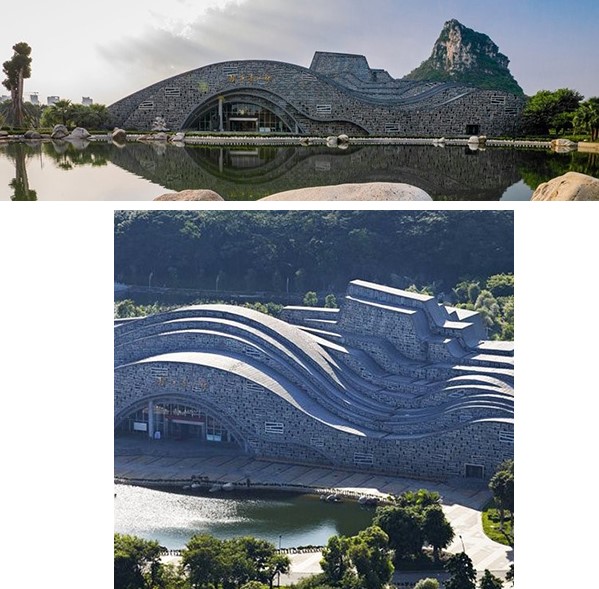 this sculptural hall in china mimics topography and movement
in the guangxi province of china is the ancient city of liuzhou, characterized by a dramatic topography carved away by the liujiang river. sited in liuzhou city is suiseki hall, behind which stand two mountains. while one mountain stands tall and steep, the other is much shorter and rounder. in this way, the two contrasting landforms exist in harmony. to echo this relationship, zhanghua architects conceived the project as a dichotomy of contrasting formal languages. the volume of the building is generated by the gradated negotiation between the angular rear face and the curving front face. zhanghua architects is a chinese architecture firm that has completed a range of large scale projects across the country. two of its most recognized designs are suiseki hall in liuzhou and a museum designed to honor the internationally-acclaimed artist, yu qingcheng.
https://www.gooood.cn/en/company/zhanghua-architects
---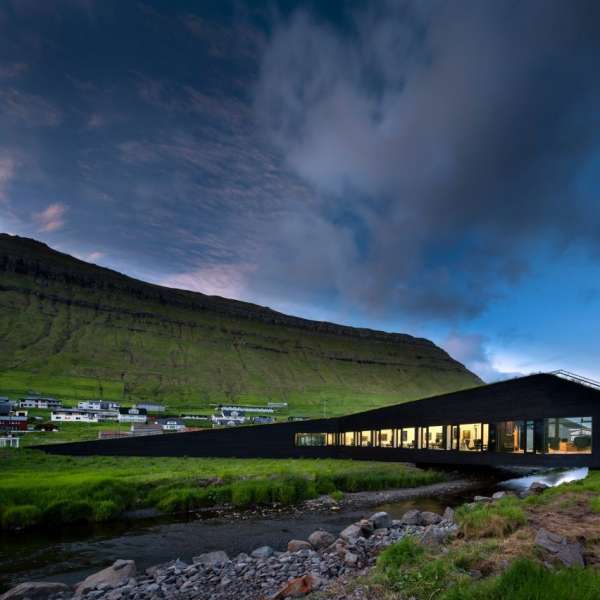 The Eysturkommuna Town Hall, designed by Scandinavian firm Henning Larsen, bridges across a river to physically and symbolically connect two formerly separate municipalities on the Faroe Islands.
Designed to serve the municipality of Eystur, the town hall is located in the small town of Nordragota on the eastern coast of the Faroe Islands – a self governing archipelago in the North Atlantic that is part of Denmark. This administrative area was formed by the merging of Leirvík and Gøta in 2009. The building stands across the mouth of the river that divided the two former municipalities. Pedestrians can cross the river using a walkway that leads across the building's green roof. Entered on the town side of the river, the single-storey building contains office space for the municipality's staff arranged along its landward-facing side. Meeting spaces and the reception are aligned along the building's seaward-facing side, with large glass windows giving views out across the water. The hall containing the town's council chamber is situated in a large room, which has a circular glass-cover opening in the floor, directly above the river.
---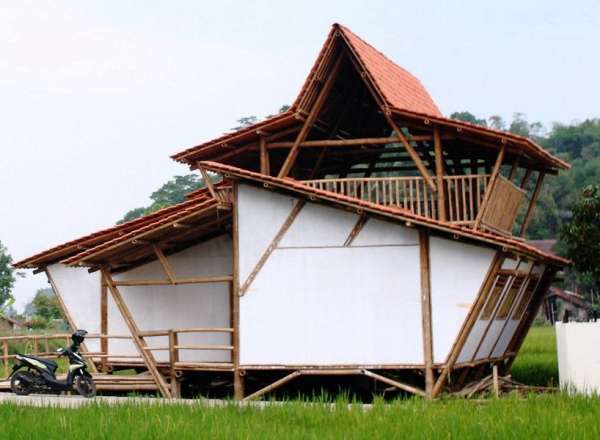 indonesian architects without borders build bamboo kindergarten on the rice fields of java
the non-profit organization has used the traditional material for economic and environmental reasons, but also due to its flexible nature.
https://www.withoutborderslk.org/
---
installazioni
Traditional Korean house installed above busy London street by Do Ho Suh
South Korean artist Do Ho Suh has built a replica of his childhood home and installed it above a road in the City of London. Called Bridging Home, London, the installation sees a traditional Korean dwelling built on top of a pedestrian bridge spanning Wormwood Street, a dual carriageway located near Liverpool Street station.The simple, decorative structure offers a striking contrast to the high-rise buildings that dominate the area. Its features include a curved gable roof, a timber frame, brick walls and shuttered windows.One of the house's walls is hanging over the edge of the bridge, suggesting that the makeshift structure could collapse at any moment.
https://www.designboom.com/art/do-ho-suh-bridging-home-london-09-24-2018/
---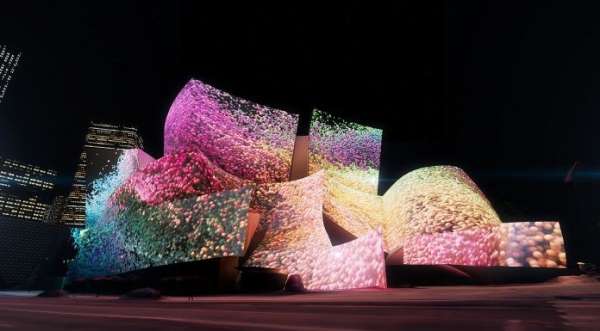 Refik Anadol animerà la facciata della Disney Concert Hall di Los Angeles
Una performance fatta di luci e colori trasfigurerà completamente la curvilinea facciata della Walt Disney Concert Hall disegnata da Frank Gehry.
http://www.refikanadolstudio.com/
---
events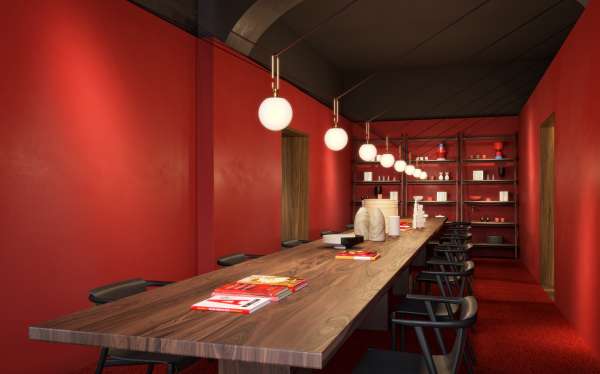 Con "Invisible Rooms", Elle Decor Italia presenta un progetto-installazione firmato dallo studio internazionale Neri&Hu, fondato da Lyndon Neri e Rossana Hu, nelle sale di Palazzo Morando – Costume Moda Immagine, Milano
IE' ispirato al tema del viaggio e della scoperta, filo conduttore del romanzo di Italo Calvino "Le città invisibili", pubblicato nel 1972, che vede Marco Polo in colloquio con Kublai Khan, imperatore dei Tartari. Testo-cult per generazioni di architetti e progettisti, diventa l'occasione per Neri&Hu di ricreare un mondo fantastico all'interno di un palazzo storico milanese con l'intento di stupire il viaggiatore del XXI secolo grazie alla narrazione, sviluppata a livello progettuale e visivo, che si integra alle funzioni dei diversi ambienti.
https://www.elledecor.com/it/design/a23503253/elle-decor-grand-hotel-2018-neri-hu/
---
Y Generation Festival – I linguaggi della danza, primo e unico festival in Italia dedicato alla danza e teatro danza per le nuove generazioni.
Promossa dal Centro Servizi Culturali S. Chiara, la III edizione volge l'attenzione su tre aree euopee specifiche, il nord dei Paesi Bassi, la zona di confine tra Austria e Balcani e l'area mediterranea con Italia e Spagna, invitando artisti e operatori di quelle zone per spettacoli, approfondimenti e confronti.Nelle quattro giornate in programma vedremo quindi oltre 15 compagnie di cui 3 in prima nazionale.Novità di questa edizione la sezione CollaborAction KIDS, nuova azione del network AnticorpiXL che ha l'obiettivo di offrire attenzione e visibilità alla produzione italiana di danza rivolta alle nuove generazioni, che proporrà 6 progetti in forma di studio, selezionati attraverso una call.
---
hotels, restaurants and bars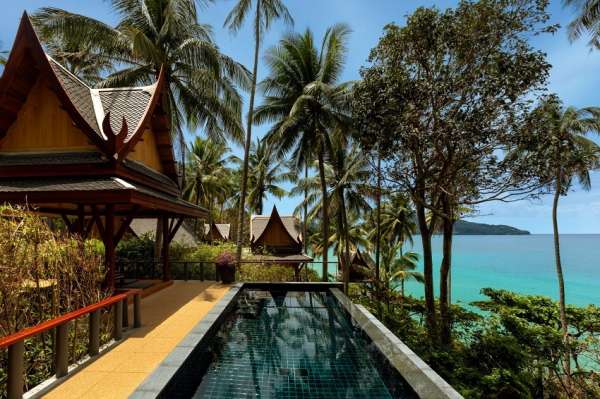 Amanpuri, Aman's first resort clebrates 30 years
---
Vintage Red Double Decker Bus Is Converted Into a Cool, Retro Hotel
For those looking to enjoy a bit of retro flair on their U.K. vacation, this vintage red double decker bus that has been converted into a hotel is just the ticket. Inspired by Agatha Christie's book At Bertram's Hotel, this tour bus evokes a fun 1950s design. Bertram's Hotel's two-story interior includes a plush purple lounge area, a classic cocktail bar and even a retro record player. The quirky Bertram's Hotel is located in the village of Hartland, Devon, just a four-hour drive from London. The bright red double-decker bus is located on a two-acre field surrounded by forest and various farm animals.
---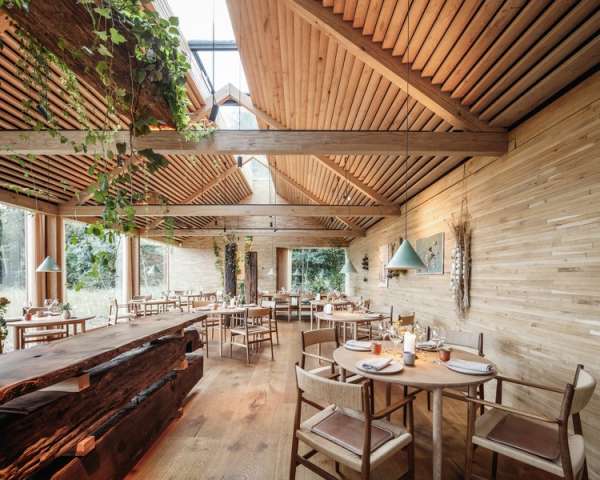 Bjarke Ingels Group has designed a cluster of buildings as the new home for Noma, one of the world's most acclaimed restaurants.
Situated between two lakes within the community of Christiania in Copenhagen. Built on the site of an ex-military warehouse once used to store mines for the Royal Danish Navy, the project is imagined as an intimate culinary garden village. With interiors completed in collaboration with Studio David Thulstrup, the project dissolves the restaurant's individual functions into a collection of separate yet connected buildings.
---
design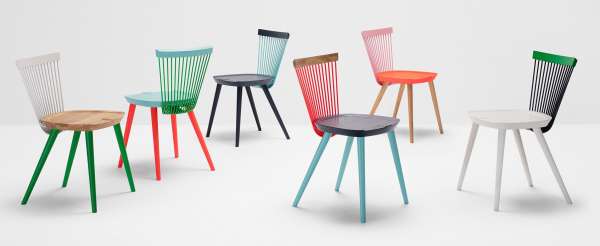 Crystal Barware for Vista Alegre. During this year's edition of Maison & Objet in Paris, in collaboration with Vista Alegre, Marcel Wanders presented a new collection of crystal barware.
With grace and beauty, this collection stands on its own and also combines harmoniously with the already launched Blue Ming collection. Made of the highest quality and functionality with sculptural elements, this set forges a new yet connected language of artistic contemporary expression of luxury.
https://www.marcelwanders.com/, https://vistaalegre.com/eu/
---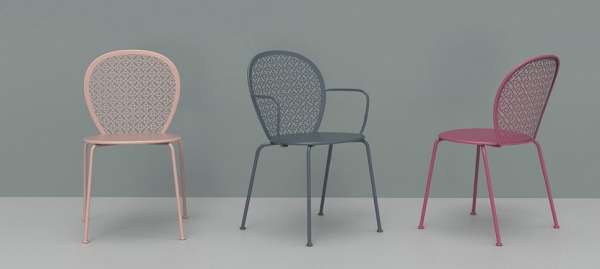 chaises Lorette by Frederic Sofia for Fermob
---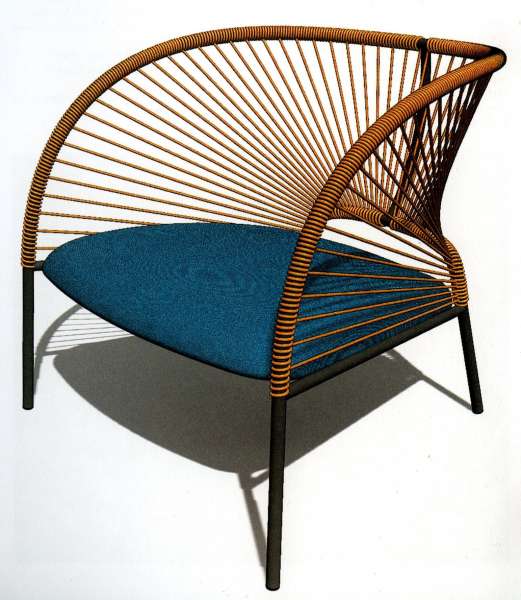 Iyumi Bentsen Design Associates for Moroso
---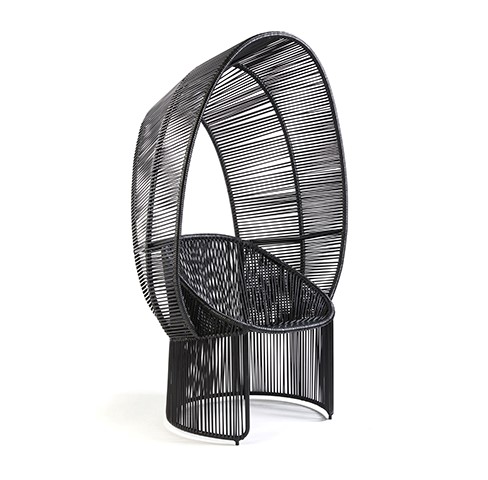 mobili La Che disegnati da Sebastian Herkner per Ames
Tecnica tradizionale delle Ande: con la nuova gamma di mobili LA CHE, ames porta in Europa un elemento particolare della cultura colombiana. I Laches erano una delle tante popolazioni indigene della Colombia che utilizzavano una tecnica omonima per produrre cesti, ancora prima che gli Spagnoli colonizzassero gran parte del Sudamerica. Insieme al designer Sebastian Herkner, ames riprende questa tecnica tradizionale tramandata di generazione in generazione nella città di Boyacá a 2.400 metri di altezza e fa produrre oggetti decorativi e tavolini nella piccola provincia delle Ande. Come materiale viene utilizzata la fibra di fique, una fibra naturale ottenuta dalle foglie dell'omonima pianta. La fibra di fique viene arrotolata a mano. Questa fibra viene tinta principalmente con colori naturali, ricavati da noci, radici e dalla corteccia degli alberi. La produzione di questi oggetti è molto laboriosa e necessità un certa abilità: i tempi di produzione di un mobile LA CHE possono durare anche fino a diverse settimane, a volte capita che siano addirittura due artesanos a lavorare a un unico oggetto.
https://www.ames-shop.de/en/products/side-tables/ames-la-che-pot
https://www.sebastianherkner.com/
---
luci/lumières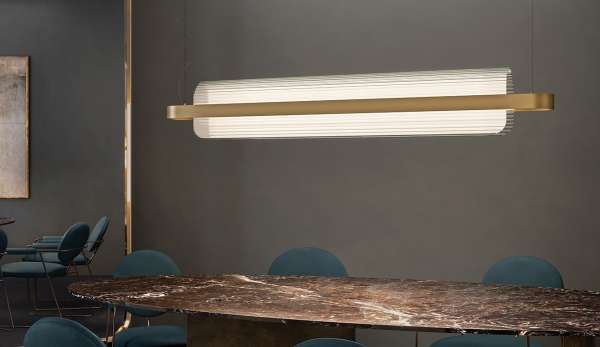 nomen omen by kundalini
Nomen omen dicevano i latini: di nome e di fatto, è il caso di Nami%uFEFF, creazione di Alberto Saggia e Valerio Sommella, il cui nome significa onda in giapponese. Il diffusore in vetro richiama la memoria del passato e crea onde luminose, mentre la cornice verniciata ottone lo racchiude.
---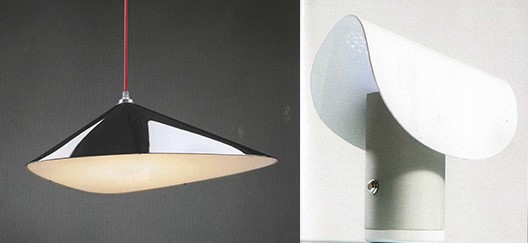 left, pendant lamp emily by daniel becker, http://www.danielbecker.eu
right, uoproduction design, university of oregon, lunar light
---
left, baku sakashita suki lighting, studiobaku.jp
right, Mila by Matthew McCormick.
"I created MILA as a study of balance between two pure and simple volumes" says McCormick. The simple yet expressive form of MILA is minimal in its elements, and designed to produce a light effect replicating the soft reflection of organic pearls.
https://www.matthewmccormick.ca/
---
mostre/exhibitions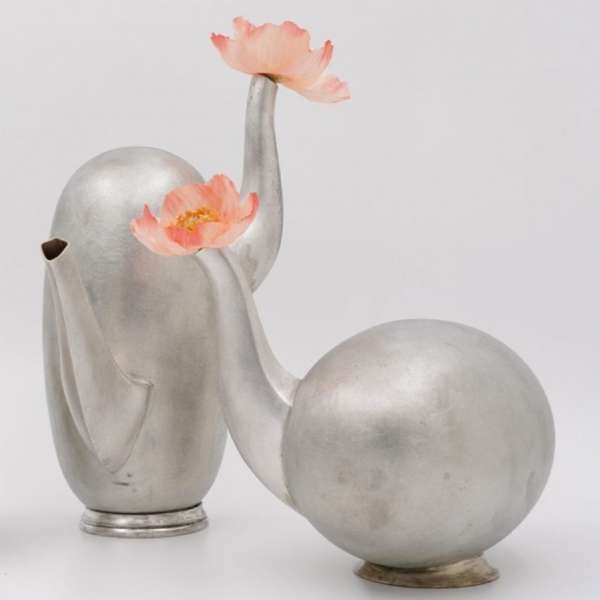 Chambers Fine Art is pleased to be participating at Art Shenzhen 2018. Artists presented this year include Fu Xiaotong, Wang Gongyi, Wu Didi, Wu Jian'an, Yan Shanchun and Yuan Song.
Born in Shanxi in 1976, Fu Xiaotong received her BA in Fine Arts from the Tianjin Academy of Fine Arts, Tianjin in 2000. After working at the Institute of Fine Arts, Hebei United University, she received her MA in Fine Arts from the Department of Experimental Art, China Central Academy of Fine Arts, Beijing in 2013.
http://www.chambersfineart.com
---

Fino al 6 gennaio 2019 a Palazzo dei Diamanti di Ferrara la mostra "Courbet e la Natura". Dopo 50 anni, in esposizione 50 opere provenienti dai musei del mondo. Vantaggi e sconti con il Consorzio Visit Ferrara.
Fiumi impetuosi, vallate lussureggianti, rocce e coste mediterranee, laghi e scogliere, paesaggi naturali vivi. Le opere di Gustave Courbet, tra i più apprezzati artisti dell'Ottocento, arrivano a Palazzo dei Diamanti di Ferrara con una grande esposizione, che celebra l'artista in Italia per la prima volta dopo 50 anni. Splendidi capolavori ispirati alla più cara protagonista dei dipinti di Courbet: la natura. La mostra "Courbet e la Natura", dal 22 settembre 2018 al 6 gennaio 2019, organizzata dalla Fondazione Ferrara Arte e Gallerie d'Arte Moderna e Contemporanea di Ferrara, è un percorso tra 50 tele, provenienti dai più importanti musei del mondo, che racconta i luoghi e i temi dell'appassionante rappresentazione dell'universo naturale da parte dell'artista francese.
https://www.visitferrara.eu/it/, http://www.palazzodiamanti.it/
---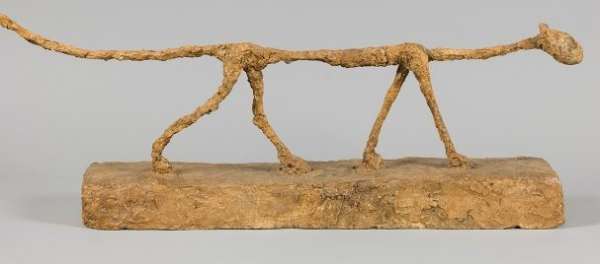 giacometti, retrospettiva, Museo Guggenheim Bilbao
"Ver, comprender el mundo, sentirlo intensamente y ampliar al máximo nuestra capacidad de exploración". Con estas palabras describe Alberto Giacometti (1901-1966) su impulso creativo. El Museo Guggenheim Bilbao presenta en octubre una gran retrospectiva dedicada a uno de los escultores-pintores más influyentes del siglo XX
https://www.spain.info/it/que-quieres/arte/museos/vizcaya/museo_guggenheim_bilbao.html
---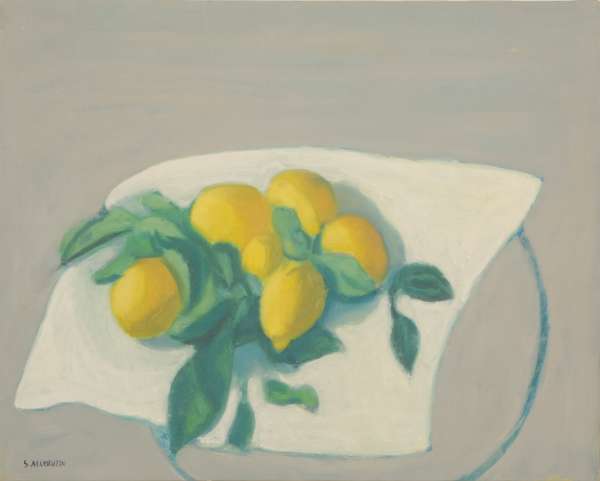 Santi Alleruzzo, galleria SpazioA, Pistoia
http://www.spazioa.it/index.php/saal_tuttalavita_exhib_views_2016/
---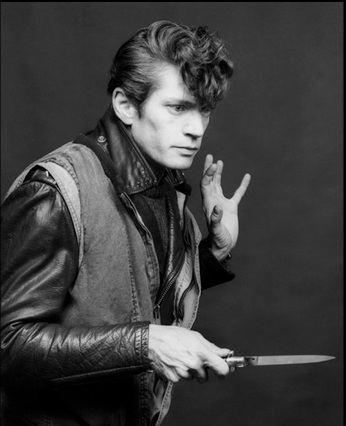 Robert Mapplethorpe, Serralves Museu de Arte Contemporànea
Robert Mapplethorpe criou algumas das imagens mais icónicas, polémicas e surpreendentes da fotografia contemporânea. Robert Mapplethorpe: Pictures, exposição organizada em estreita colaboração com a Robert Mapplethorpe Foundation, reúne 179 obras de toda a sua carreira, desde as primeiras colagens e polaroides até às fotografias de flores, nus, retratos e imagens de cariz sexual que fizeram de Mapplethorpe um dos fotógrafos mais notáveis do século XX.
https://www.visitportugal.com/it/content/museu-de-arte-contemporanea-de-serralves
---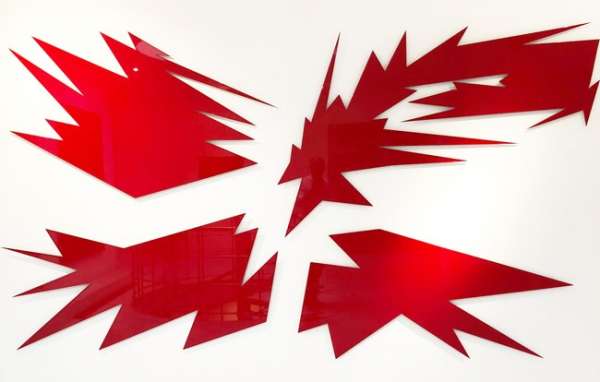 Nicolas Kozakis "Klash Ferrari Rosso Corsa, Mam, Mario Mauroner Contemporary Art Vienna
http://www.galerie-mam.com/index/index.php
---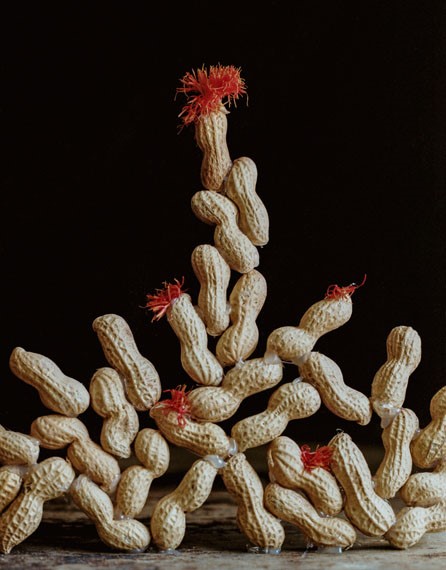 Kevin Osepa, Pinda (Altá di pinda), 2018, Kahmann Gallery
---
from top left, clockwise
La Maison belga Delvaux apre a Milano il suo primo flagship: una boutique icona che rielabora gli stilemi della grande tradizione meneghina, firmata dallo studio di architettura Vudafieri-Saverino Partners.
La grande libreria a parete contraddistingue la terza sala: alta oltre cinque metri, è ispirata a un edificio icona degli anni '60, progettato da Luigi Caccia Dominioni in Piazza Carbonari a Milano. Al suo interno sono ospitati gli accessori Delvaux, insieme a una preziosa collezione di vasi in ceramica del XX secolo di un'antica manifattura di Gant. "In questa nuova boutique abbiamo voluto celebrare i valori e l'heritage del brand, attraverso elementi che avessero un forte legame con il contesto artistico-culturale di Milano. Per questo il nostro punto di partenza sono stati nomi quali Caccia Dominioni, Gardella e Portaluppi, che hanno fatto la storia dell'architettura milanese e che sono da sempre dei riferimenti per il nostro lavoro" spiegano gli architetti Tiziano Vudafieri e Claudio Saverino.
https://www.delvaux.com/it/, https://www.vudafierisaverino.it/
il negozio di fiori di Michela Pozzato, progetto di Claudio La Viola
https://www.fiorimichelapozzato.com
http://www.claudiolaviolaarchitetture.com/
ristorante e bar milano roastery, lampade ferroluce
https://retro-it.ferroluce.it/, https://www.area-arch.it/le-lampade-di-ferroluce-per-la-milano-roastery/
La vetrina del negozio Carla Aprile di Modica (Ragusa)! dedicata a Taitù Home: i vasi della Bouquet collection, in abbinamento alle collezioni best-seller, come Freedom e Prati Italiani.
---
etc.
lampadario Bird Chandelier della collezione Bird Lamp di Sebastian Errazuriz, una collezione eccentrica e ironica di lampade e lampadari abbellita dalla tecnica della tassidermia, utilizzata per esporre gli animali nei musei di storia naturale.
carnet de notes by paolo rinaldi
online weekly magazine 08/10/2018
(travel, viaggi, architettura, interni, design, hotels, ristoranti, bar, luce, arte, mostre, foto, fashion, installazioni, musei, teatro)
carnet de notes 455 has been sent to/
è stato inviato a 15224 recipients/indirizzi
and posted to social networks:
facebook, twitter, linkedin and viadeo