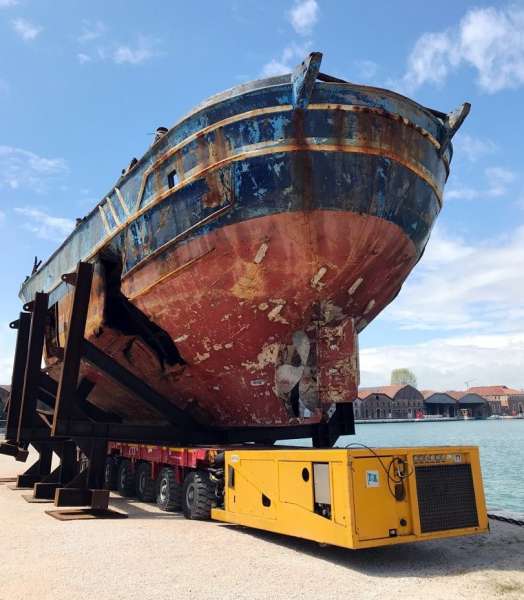 In memoria di un naufragio. A Venezia il barcone-monumento di Christoph Büchel
L'artista Christoph Büchel ha trasportato in Biennale il barcone carico di migranti, affondato nel 2015 tra le acque del Canale di Sicilia e trasformato in opera d'arte pubblica. Lungo e complesso l'iter burocratico che ha portato al compimento del progetto. Anche grazie all'impegno del compianto Assessore ai Beni Culturali Sebastiano Tusa, scomparso nel recente incidente aereo in Kenya.
swiss-icelandic artist christoph büchel has brought the remains of a deadly fishing boat, which on 18 april 2015 sank off the coast of libya killing at least 800 refugees, to the 58th venice art biennale. titled barca nostra, the vessel is presented as part of the ralph rugoff-curated international exhibition in the historic arsenale, the site where venetian ships for cultural and religious wars were once produced.
---
carnet de notes 486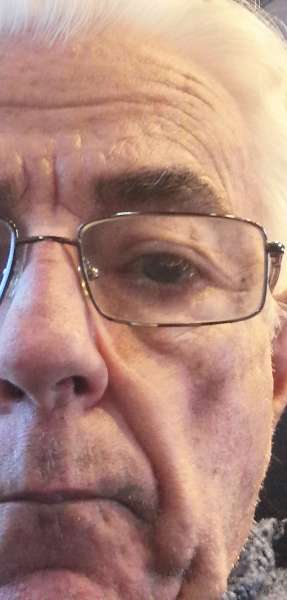 carnet de notes by paolo rinaldi, rinaldi.paolo@fastwebnet.it, 0039.3483577940, @paolorinaldi, https://www.facebook.com/paolrin
---
voyages
parigi. ph henry cartier-bresson
---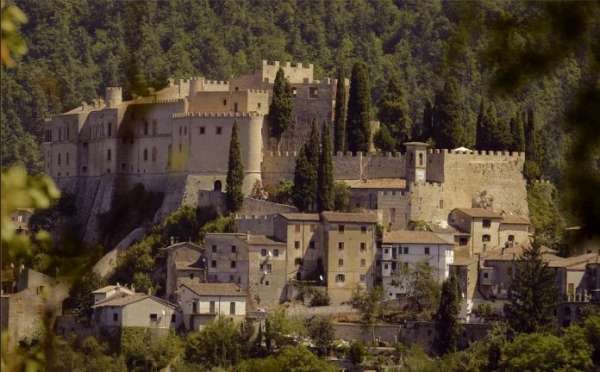 Castello di Rocca Sinibalda
L'imponente castello medievale sorge nella Valle del Turano, presso Rocca Sinibalda, a 70km da Roma, uno dei borghi più belli del Reatino. Opera di Baldassarre Peruzzi, oggi monumento nazionale, è stato riaperto dopo i restauri di Claudio Silvestrin. E' residenza artistica di Endecameron, dal 30 giugno al 6 luglio
http://www.castelloroccasinibalda.it/
---
architecture
A Zurigo riapre il Pavillon Le Corbusier e diventa la terza sede del Museo für Gestaltung
Questo edificio, interamente diventa la terza sede del Museo für Gestaltung la più importante istituzione di design e di arte visiva in Svizzera con la sua collezione di oltre 500mila opere. Da non perdere, oltre al rinnovato Padiglione in riva al lago, nelle altre due sedi del Museo, la mostra dedicata a Sebastião Salgado, fino al 23 giugno, e la permanente "Collection Highlights" dove si possono ammirare icone del design svizzero quali il pelapatate Rex, il coltellino dell'esercito svizzero firmato Victorinox e anche il celeberrimo font "Helvetica". Grazie alla linea del tram numero 4, tutte le sedi del Museo di arti figurative sono collegate tra di loro.
https://www.zuerich.com/it/visitare/attrazioni-turistiche/pavillon-le-corbusier#internal
https://pavillon-le-corbusier.ch/en/
---

The Guggenheim Foundation has revealed that its Frank Gehry-designed art museum in the United Arab Emirates is "on track" to complete in four years time. The museum will be located on Saadiyat Island alongside buildings by Jean Nouvel and Zaha Hadid.
---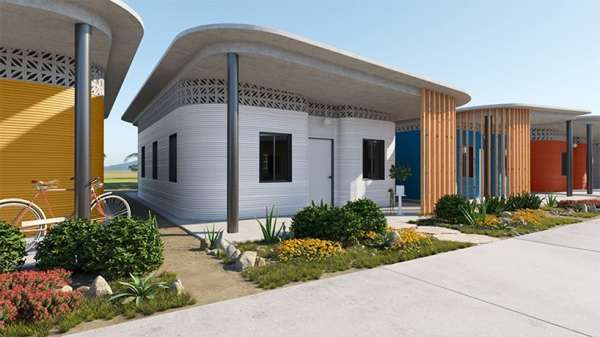 in latin america, yves béhar and fuseproject aim to build the world's first 3D-printed community with each home fabricated in just 24 hours. the project looks to offer safe housing to shelter vulnerable populations from both environmental and physical danger. as opposed to how those in need are typically the last to benefit from innovations, the studio enhances 3D-printing technologies as a new yet highly powerful tool for major construction.
---
interiors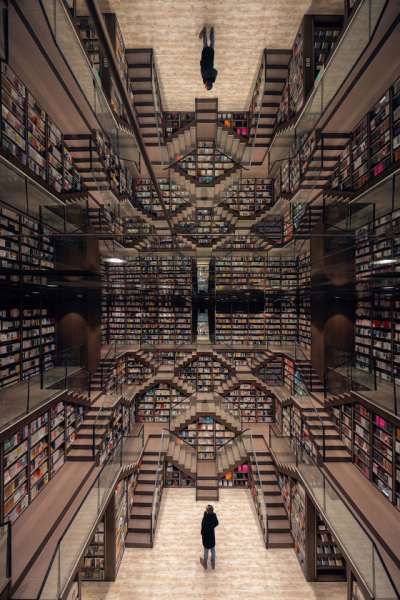 x living, chongqing zhongshuge bookstore
http://www.xl-muse.com/index.asp
---
interstudio, copenhagen
https://www.mdfitalia.com/it/newsroom/news-ed-eventi/interstudio-in-danimarca-apre-due-nuovi-showroom
---
hotels and restaurants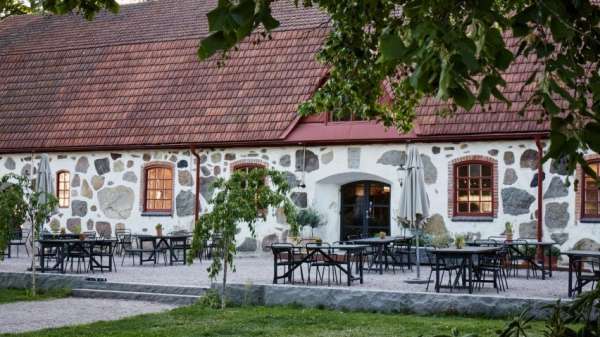 Wanas hotel and restaurant opens in converted 18th-century cow barn and horse stable. A pair of stone barns on a castle estate in southwest Sweden have been turned into a boutique hotel and restaurant with interiors designed by Kristina Wachtmeister. The two low stone buildings face each other across a gravel path and area of grass at the centre of the 15th-century Wanas estate and organic farm, 70 miles north-east of Malmö.
http://www.wanasrh.se/home, https://www.facebook.com/search/top/?q=Kristina%20Wachtmeister
---
Monteverdi Hotel avoids "folkloristic approach" to restoration of medieval Tuscan hamlet. Crumbling buildings have been transformed into the boutique Monteverdi Hotel in Tuscany, which includes rustic bedroom suites and a cavernous spa. Monteverdi Hotel is the brainchild of American italophile Michael Cioffi, who has spent years reviving the hamlet in Val d'Orcia – a UNESCO World Heritage Site in central Italy. Monteverdi's most recent expansion added six new suites and enhanced spa facilities. The project was designed by Rome-based artist and interior designer Ilaria Miani
https://monteverdituscany.com/ilaria-miani/
---

Architecture is by Heliotrope Architects, interior design is by Price Erickson, and construction is by Dovetail. The Spheres are the centerpiece of Amazon's Seattle campus: glass-enclosed domes containing workplaces and cloud forest conservatories with thousands of flora from throughout the world. A theatre of cooking infuses the atmosphere, with chefs visible in the open kitchen. ph Kevin Scott and Aaron Leitz
http://heliotropearchitects.com/
---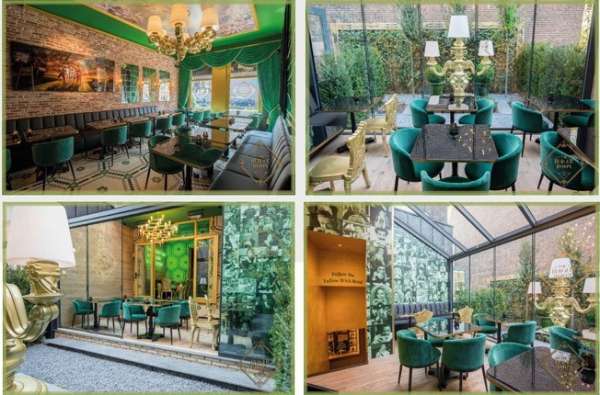 the fairy atmosphere of wizard of oz pervades the burger room, new restaurant and cocktail bar in amsterdam, by gordon heuckeroth and slide.
http://slidedesign.it/en/progetti/, https://www.facebook.com/Gordon.Official.Fanpage/
---
design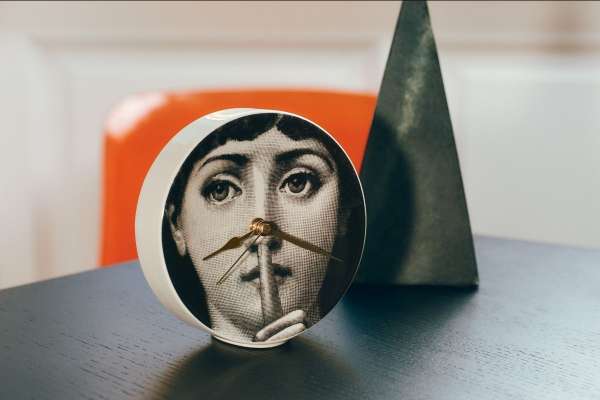 new designs by barnaba fornasetti
---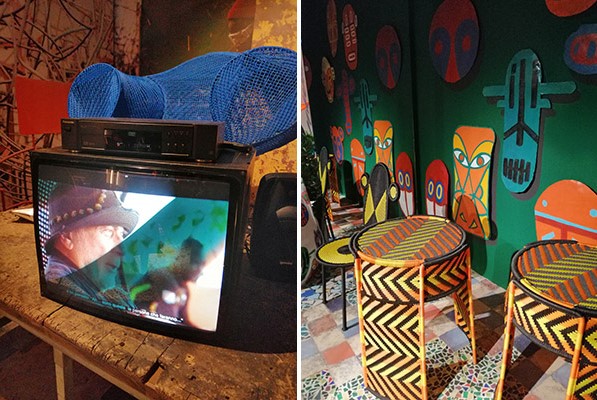 moroso and ron arad
https://moroso.it/, http://www.ronarad.co.uk/home/
---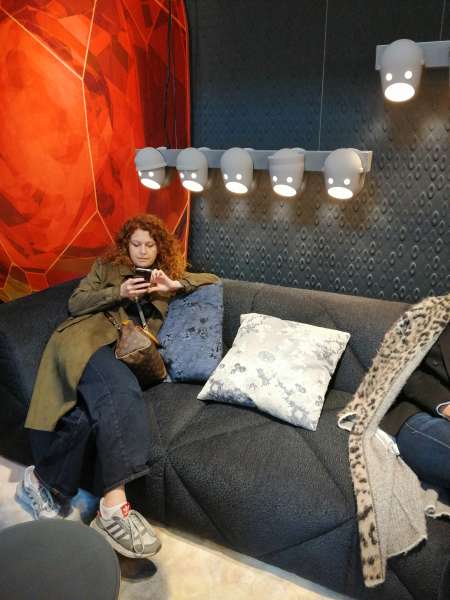 lamps by mooi
---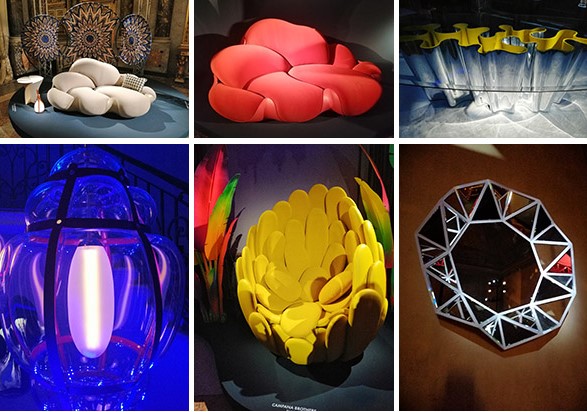 louis vuitton, objets nomades
https://it.louisvuitton.com/ita-it/homepage
---
william sawaya designs 5.PM chair with bull-like horns for sawaya & moroni
---
installazioni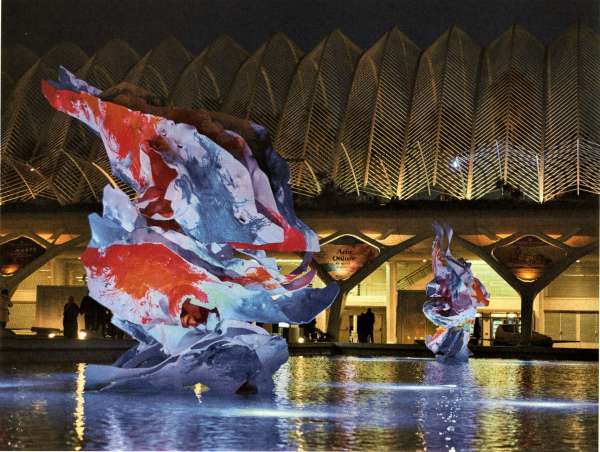 My secret garden-Valencia, Ramosissima, installazione in acrilico e alluminio di Arne Quinze, in dialogo con le architetture di Calatrava, a Valencia
---
euroluce
from top left, clockwise
lampada home-pigreco by davide groppi, https://www.davidegroppi.com/home-pigreco/; lampada cilindri by elisa ossino for depadova, ph tommaso sartori, https://www.depadova.com/it/; lampada-cerchio ecliss by william planta for nahoor, http://nahoor.com/it/; lampada by resident, http://www.resident.co.nz; lampada margot by carpyen, https://www.carpyen.com/; lampada by florencia costa for pollice illuminazione, https://www.polliceilluminazione.it/contatti/
---
art
Venice: Studio Drift in dialogue with Mantegna's St Sebastian in Ca d'Oro. Presented by Carpenters Workshop Gallery in partnership with Lombard Odier
https://www.carpentersworkshopgallery.com/
---
mostre/exhibitions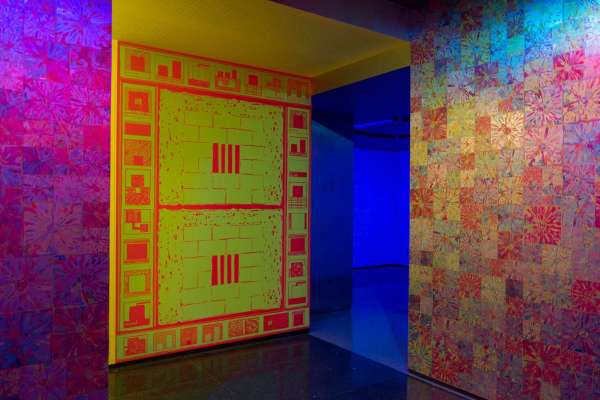 Peter Halley: "Heterotopia I"
The Venice Academy of Fine Arts and Flash Art present a solo show by the artist at Magazzini del Sale 3
https://www.greenenaftaligallery.com/
---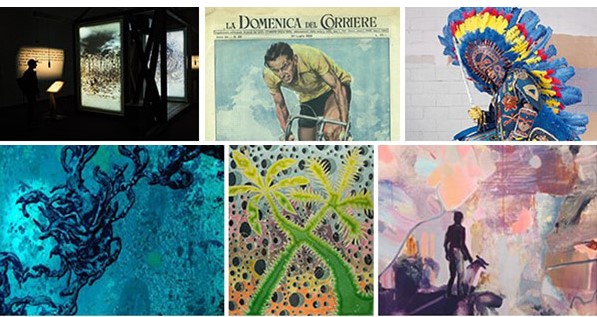 from top left, clockwise
leonardo, la macchina dell'immaginazione, un progetto di Studio Azzurro promosso da Treccani, Comune di Milano-Cultura, Palazzo Reale, http://www.palazzorealemilano.it/wps/portal/luogo/palazzoreale/mostre/inCorso/LEONARDO_LA_MACCHINA_DELL_IMMAGINAZIONE; boom! italia 1950-1966. i vent'anni dell'entusiasmo, palazzo salmatoris, cherasco, https://www.comune.cherasco.cn.it/index.php/mostre-palazzo-salmatoris; Cimarron de Charles Fréger exposée à Nantes, https://www.9lives-magazine.com/51038/2019/03/27/cimarron-de-charles-freger-exposee-a-nantes/, http://www.chateaunantes.fr; Hao Wang presenta allo Studio d'arte Cannaviello un nuovo ciclo di lavori, http://www.cannaviello.net; La Galleria Poggiali presenta Soulmate / Cellmate, prima mostra personale a Milano, la terza con la galleria, del poliedrico artista Zhivago Duncan, https://www.galleriapoggiali.com/it/mostre-milano; Fiordiluna", solo show by Paolo Brambilla at dimora artica, http://www.dimoraartica.com
---
photos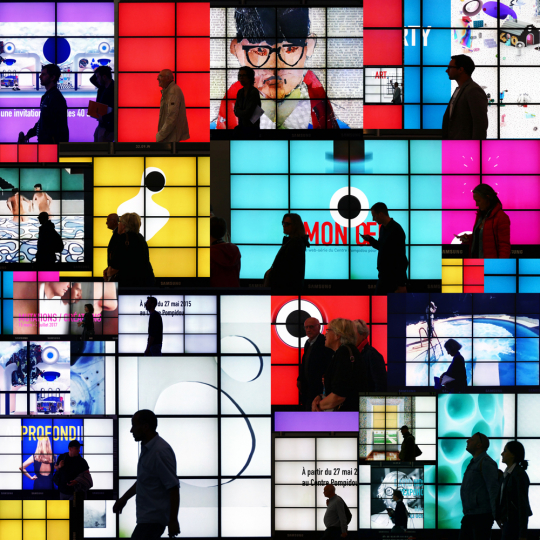 f22 foto space presents Wing Chan's 'Urbanmontage' exhibition
---
eventi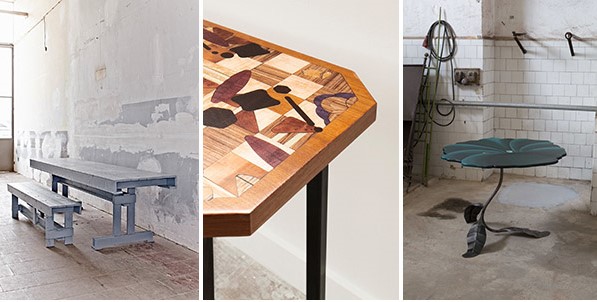 edit napoli is an innovative fair created to support and promote independent designers, it will premiere from June 6-9th 2019 in Naples, a capital in the Mediterranean circuit of culture with its rich history of talented craftspeople, local manufacturing industry, and prestigious art scene. Edit Napoli will take over the Complesso di San Domenico Maggiore in the heart of historical city centre
Leading designers and manufactures will exhibit pieces through a series of creations conceived exclusively for EDIT Napoli. These include, among others, French product and interior designer Constance Guisset; Nika Zupanc and her eccentric elegance; Italian glass artist Simone Crestani, and the design exploration of Andrea Anastasio. Dutch research will be represented by names such as maker Dirk vander Kooij, and the intuitive and spontaneous design of Max Lipsey. Among the artisans and established companies that will take part in the June's showcase, are GHIDINI1961, a world reference in brass production; the research and metal craftsmanship of De Castelli; and Italian ceramic tradition by Bitossi Ceramiche.
---
books
---
etc.
carnet de notes by paolo rinaldi
online weekly magazine 20/05/2019
(travel, viaggi, architettura, interni, design, hotels, ristoranti, bar, luce, arte, mostre, foto, fashion, installazioni, musei, teatro)
carnet de notes 486 has been sent to/
è stato inviato a 16503 recipients/indirizzi
and posted to social networks:
facebook, twitter, linkedin and viadeo