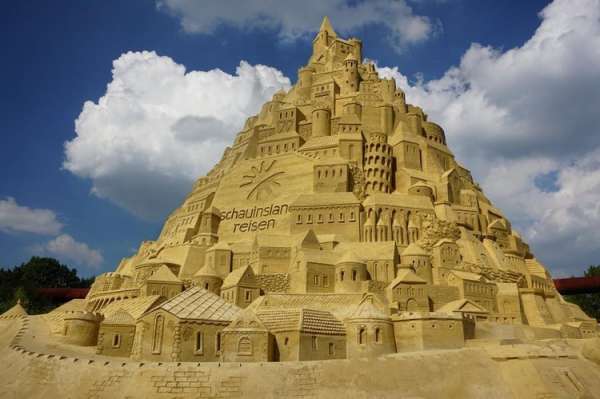 World's Largest Sandcastle Rises in Landlocked German City
---
carnet de notes 541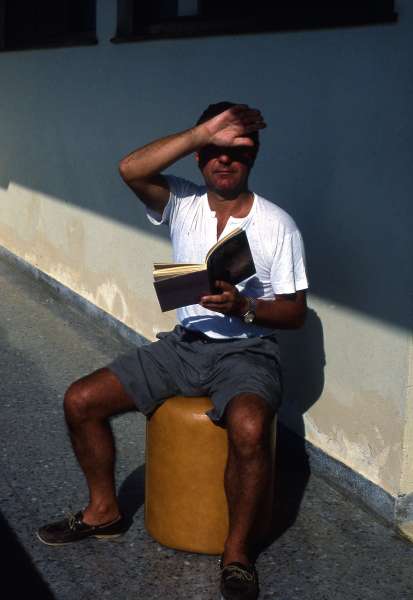 carnet de notes by paolo rinaldi, rinaldi.paolo@fastwebnet.it,
0039.3495087344, @paolorinaldi, https://www.facebook.com/paolrin
---
voyage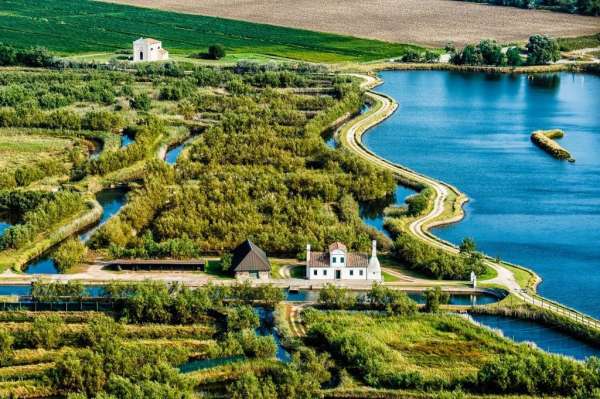 in houseboat nella laguna veneta
Le barche si muovono su fiumi, canali, laghi e lagune protette: dal Delta del Po fino a Trieste, passando per Venezia, Murano, Burano; attraversano la natura delle campagne costiere da Chioggia a Treviso e a Padova, permettono di fare escursioni in bicicletta nei borghi o tra i vigneti del trevigiano, e di visitare le Ville del Palladio
---

malcesine sul lago di garda
https://www.visitmalcesine.com/it
---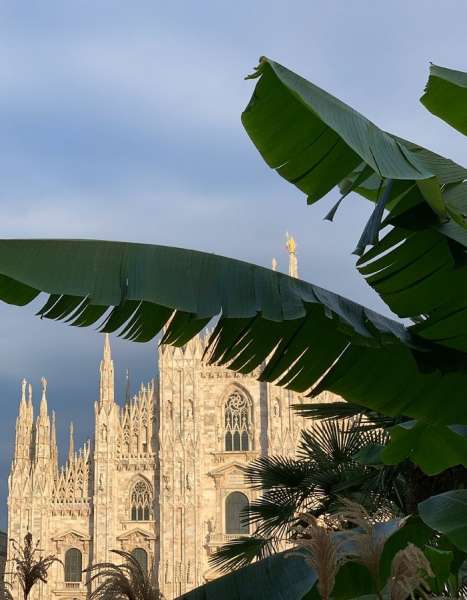 milano
visite e itinerari guidati: http://www.scopriremilano.it
---
architecture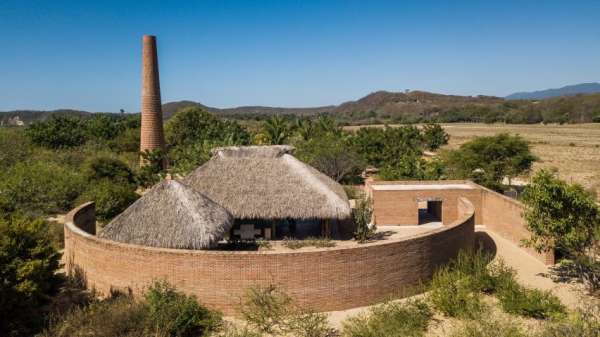 A curved brick wall encloses the open-air complex for ceramics that Portuguese architect Álvaro Siza designed as part of the artist retreat Casa Wabi in Puerto Escondido, Mexico. The Pritzker Prize-winner was tasked by Casa Wabi Foundation founder Bosco Sodi to build the pavilion as a space for children who live in the area to learn the local clays techniques of Oaxaca. It also hosts artists on Casa Wabi's residency programme
http://www.alvaroleitesiza.com
---
One of the Three Heritage Houses in Puerto Varas, Chile. Architects: Moraga-Höpfner Arquitectos. Waiting for more than ten years to be rebuilt, remained these three dismantled houses, that where part of the main axis of the heritage area of %u200B%u200Bthe city of Puerto Varas, in southern Chile. ph Nacho Almonacid
---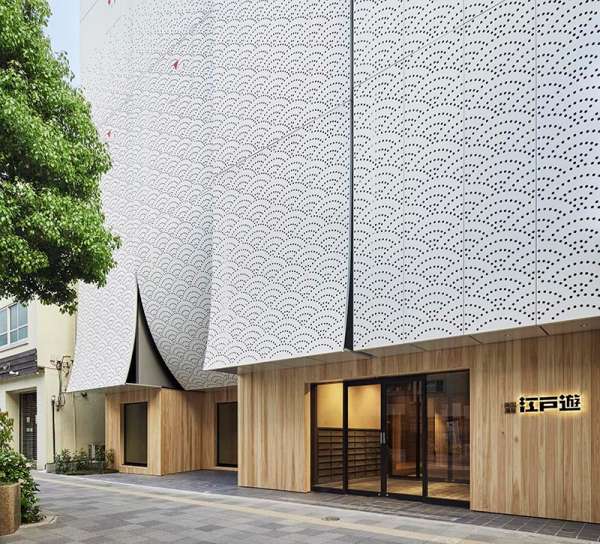 Kubo Tsushima Architects has designed Ryogoku Yuya Edoyu, a spa facility in Tokyo, Japan, that showcases an artistic facade that references traditional bathhouse noren, also known as the split curtains that hang outside a bathhouse entrance.
---
interni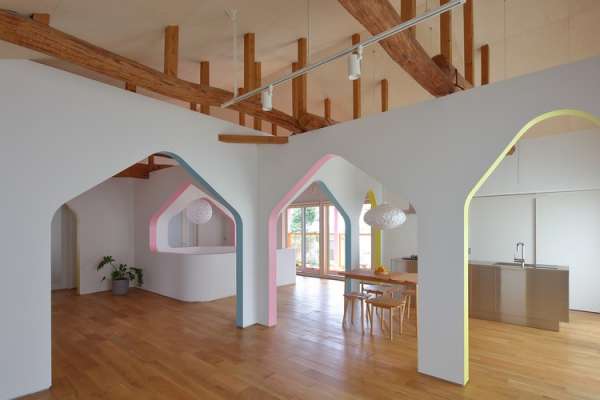 House of Many Arches is a gut renovation of a 35-year-old house in Kobe, Japan. Originally built with a function of four rentable apartment units and small office, the house went through a series of renovations after the Great Hanshin-Awaji Earthquake in 1995, transforming into a work-live space. Architects: 24d-studio (Fumio Hirakawa Marina Topounova). ph Kei Sugino
---
hotels, restaurants and bars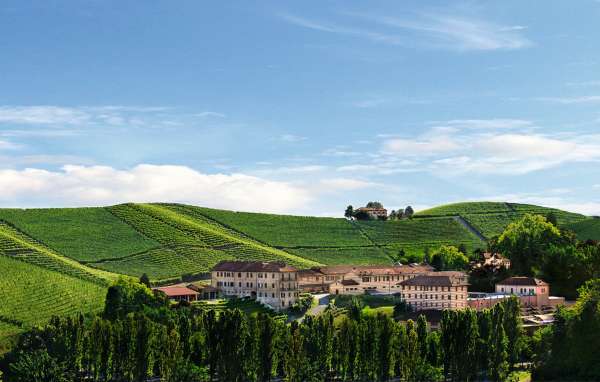 Villaggio Fontanafredda: meta enoturistica nel cuore delle Langhe patrimonio Unesco
http://www.fontanafredda.it/site/villaggio/
---
bistrot due camini la calce a borgo egnazia
https://www.ristoranteduecamini.it/puglia/la-calce/
---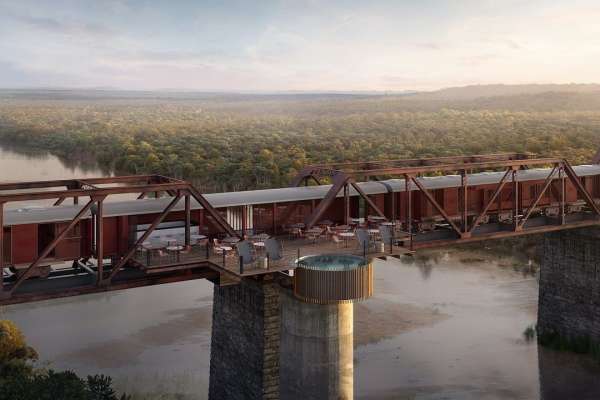 Kruger Shalati: The Train on the Bridge spans the Sabie River. Suspended over one of the most biodiverse rivers in South Africa, the elevated accommodation nods to the park's history and will open later this year
---
design

Marco Zanini, Wendy Wheatley, Design / Miami Basel 2020 / Shop_Caterina Tognon
https://www.caterinatognon.com/
---
from top left, cloockwise
Azoic is the series of one-of-a-kind, hand-blown Murano glass by Babled Edition presented at Virtual Design Variations. Virtual Design Variations
The Traipse pitcher was designed by Kalen Kaminski of New York brand Upstate and produced by Grace Whiteside in her Urban Glass studio kalen@youreupstate.com
Canestrella, design Gumdesign for Pecorella Marmi Intrecci Toscani
photo Laura Fiaschi. http://www.gumdesign.it/gum/index.html
chalice, gumdesign for pittarello, http://www.gumdesign.it
Blue Moon Vase by Martina Guandalini, ladymartybegooddesign@gmail.com
Acid Camo Vessel by Raina Lee, rainaleeshop@gmail.com
---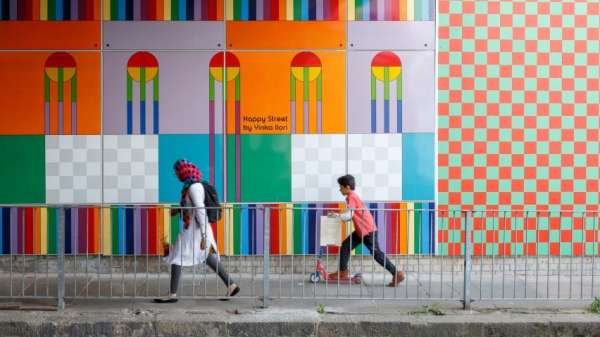 Designer Adam Nathaniel Furman has picked out 10 projects that represent the New London Fabulous movement of "designers who resolutely seek out beauty, complexity and joy"
http://www.adamnathanielfurman.com/
---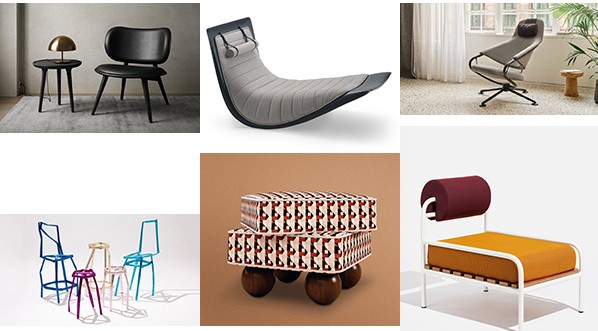 from top left, clockwise
mater, the lounge chair by space copenhagen, http://www.nordictrends.com
Rider, della nuova collezione Back to emotions di Zanotta https://www.zanotta.it/
Citizen lounge chair by Konstantin Grcic for Vitra, https://www.vitra.com
armchair by Ateliers J&J, https://ateliersjetj.com/
madonna stool by malabar, https://malabar.com.pt/portfolio/madonna-stool/
Yeon Jinyeong aims to express "contradictory beauty" with Aluminum Anodized series, https://www.dezeen.com/2020/06/28/yeon-jinyeong-aluminum-anodized-furniture-collection/
---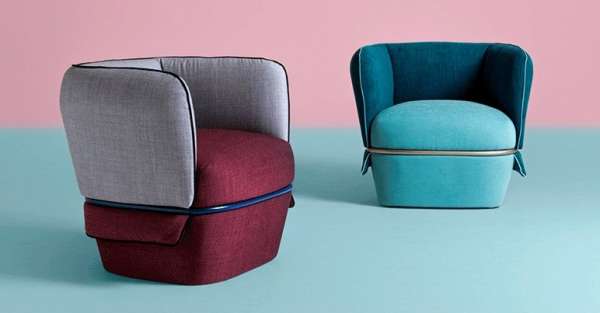 my chemise, design studio lido. ph massimo gardone
---
from top left, clockwise
saragossa, coffee table and side table by alain gilles for ligne roset https://www.ligne-roset.com/us/designer-alain-gilles
Heel è una famiglia di coffee table dal carattere ironico, design Fratelli Boffi Studio. http://www.fratelliboffi.it/
tavolini stack by living divani, https://livingdivani.it/it/homepage/
tavolo dai piedi regolabili, design ignazio gardella, 1915/1918, riedizione by tato. https://www.tatoitalia.com/
Gallery Gosserez: table by Lebanese designer Georges Mohasseb from Studio Manda. http://www.galeriegosserez.com
---
arte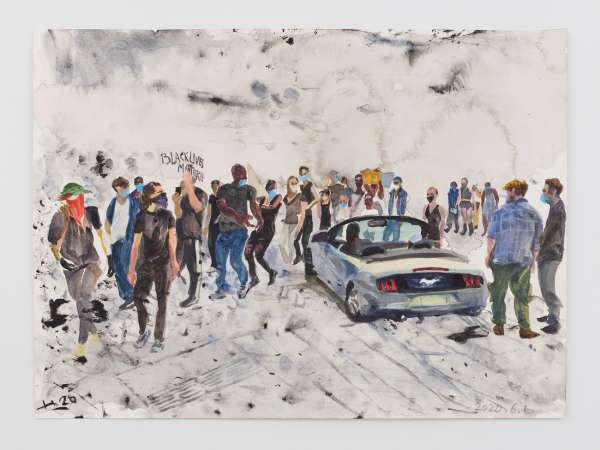 Liu Xiaodong, At my Doorstep, 2020. Watercolour on paper. © Liu Xiaodong
Liu Xiaodong, the usually itinerant Chinese painter, has been situated in New York City under lockdown since the middle of February, unable to travel back to his home in Beijing. From a small New York apartment, the artist has made a series of watercolour paintings documenting the changing landscape of the city over the past four months. lisson gallery
---
body ornaments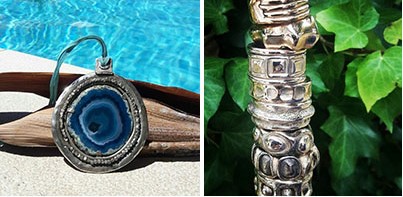 design giorgio brunelli
https://www.casalatorre.com.br/experiencia/Exposicao-de-Joias-e-acess%C3%B3rios
---
mostre/exhibitions

left,
---

left, arte e luce, collettiva di opere luminose, valmore studi d'arte
right, Beguiling Bronzes! Vessel Gallery
https://www.vesselgallery.com/
---

left, helen flockhart beasts, arusha gallery
https://www.arushagallery.com/
right, calixte d'annunzio, golden birds, galerie goutal
http://www.galerie-goutal.com/?lang=it
---

left, noise of color, gianluca patti, copernico gaibaldi
right, henri matisse, la tristesse du roi, Centre Pompidou – Musée national d'art moderne – Centre de création industrielle (Paris)
https://www.centrepompidou.fr/cpv/resource/ckX4b8q/rzk56G
---
libri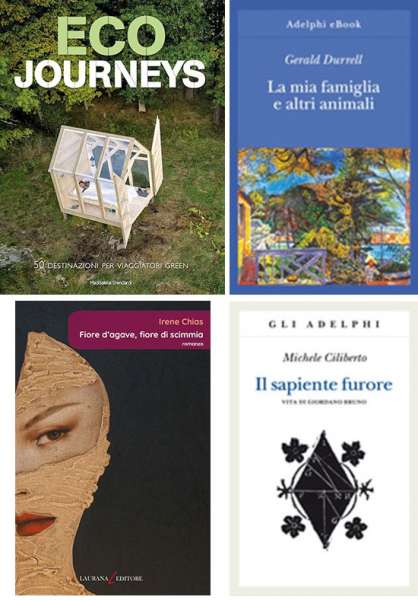 from top left, clockwise
maddalena stendardi, eco journeys, 50 desinazioni per viaggiatori green white star
gerald durrell, la mia famiglia e altri animali, adelphi
michele ciliberto, il sapiente furore, vita di giordano bruno, adelphi
irene chias, fior d'agave, fiore di scimmia, laurana editore
---
musei
il museo della ceramica mondovì di germagnano
Il Museo è situato nel settecentesco Palazzo Fauzone di Germagnano e ospita collezioni di ceramiche nelle 17 sale dei piani nobili. Le sale espositive, ricche di affreschi, stucchi, tappezzerie, specchiere e camini si affacciano su Piazza Maggiore, sulle Alpi Marittime e sulle colline delle Langhe. Sono esposte oltre seicento opere distribuite su quasi 600 metri quadrati, mentre duemila pezzi sono custoditi nei depositi del museo
https://www.museoceramicamondovi.it/museo.php?id=120
---
eventi

left, La Treves Blues Band torna in concerto a Milano, sabato 25 luglio 2020 alle ore 21.30 nella cornice del Castello Sforzesco
http://www.trevesbluesband.com/
right, Dal 12 luglio ad Alghero (Ss) la terza edizione della rassegna JazzAlguer: otto appuntamenti in cartellone fino al 3 settembre
---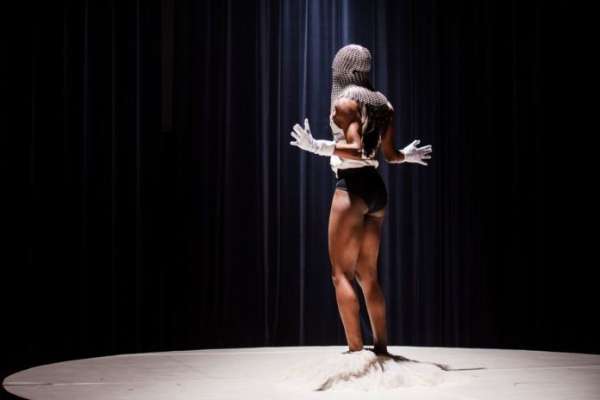 Fraslab Mei 2017. Cherish Menzo. Photo Bas de Brouwer
Dal 15 al 19 luglio va in scena l'atto primo di Santarcangelo festival 2050, "Futuro fantastico", all'insegna del corpo politico e delle forme di contatto (e contagio) fra attore e spettatore
https://www.santarcangelofestival.com/
---
photos
from top left, clockwise
torre allianz by isozaki, bosco verticale by boeri, grattacielo pirelli by gio ponti, torre velasca by studio BBPR
photo by paolo monga, http://www.arcgallery.it
---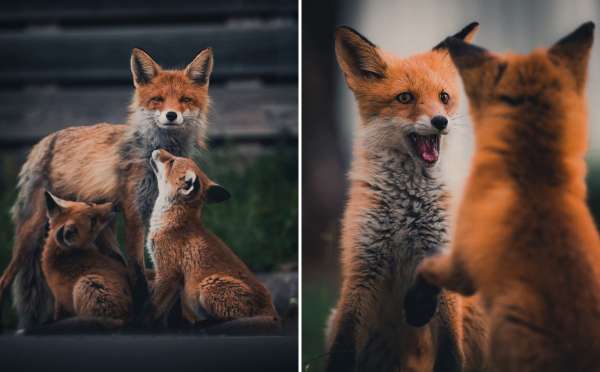 All images © Konsta Punkka, shared with permission
Each spring, Helsinki-born photographer Konsta Punkka stakes out dens, showing he's as clever in strategy as the foxes he's hoping to encounter. This commitment to hours lying on cold, wet ground for hours on end has afforded a splendid array of photographs depicting the furry creatures
Punkka shares many of his candid images on Instagram
---
showrooms and shops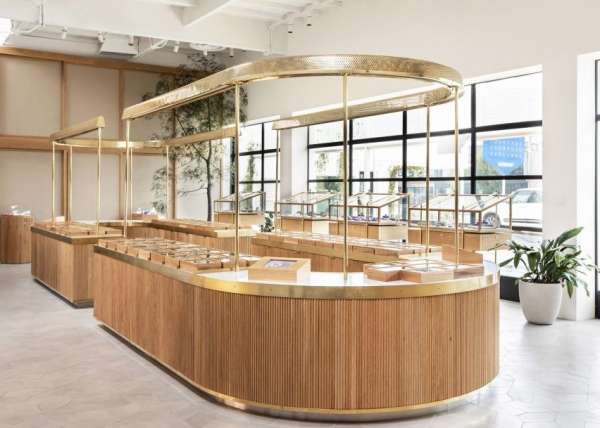 Oak and brass display cabinets fill this cannabis dispensary in Los Angeles that local studio Commune designed to look like a jewellery store. Commune designed the store for Portland brand Serra that sells and produces cannabis products, from caramel treats to pre-rolled joints
https://www.communedesign.com/
---
etc.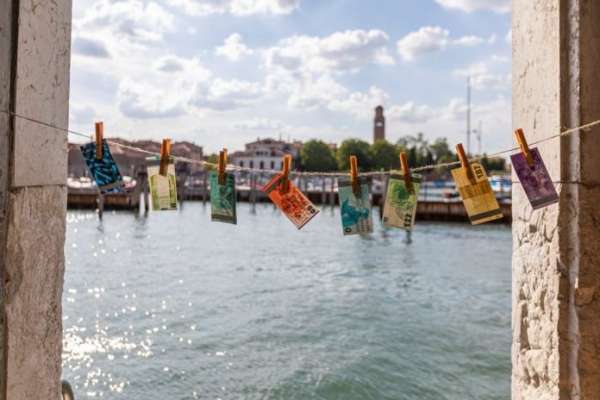 Money Must Be Made, banconote d'artista
La crisi economica non sta risparmiando Venezia, ma Venezia non si arrende e tenta di mettere in mostra le proprie competenze e potenzialità: in questa cornice nasce Money Must Be Made, ideato da una rete di studi grafici, coordinati da Grafiche Veneziane, l'unica tipografia rimasta attiva nel centro storico
https://www.moneymustbemade.eu/
---
carnet de notes by paolo rinaldi
online weekly magazine 13/07/2020
(travel, viaggi, architettura, interni, design, hotels, ristoranti, bar, luce, arte, mostre, foto, fashion, installazioni, musei, teatro)
carnet de notes 541 has been sent to/
è stato inviato a 17833 recipients/indirizzi
and posted to social networks:
facebook, twitter, linkedin and viadeo