---
carnet de notes 347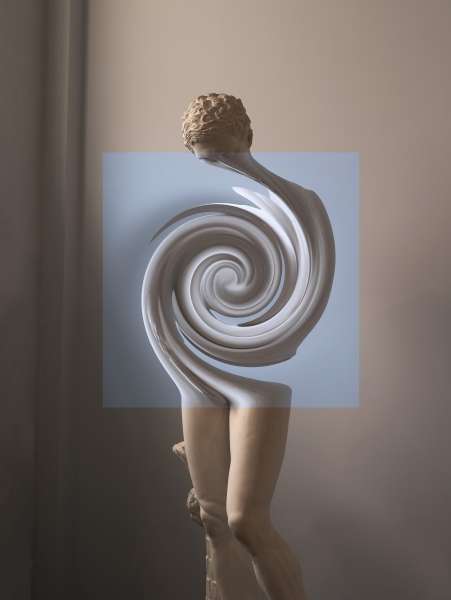 by paolo rinaldi
premio chi è chi award 2014, best weekly online magazine
---
voyages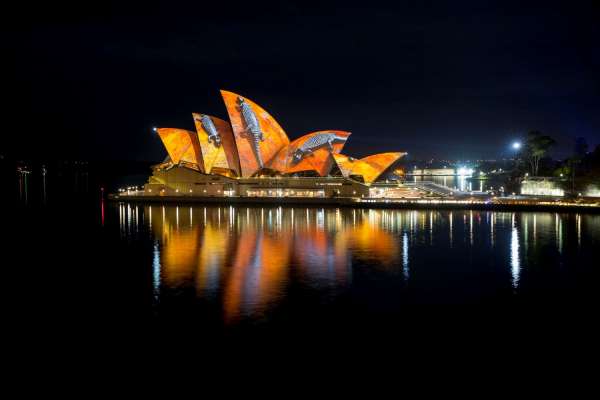 australia's iconic opera house is lit up with an art installation called 'songlines' on the opening night of vivid sydney, an festival of light, music and ideas
http://www.sydneyoperahouse.com/About/presenters/Opera_Australia.aspx
---
architecture

vitra schaudepot, project herzog & de meuron, ph bettina matthiessen
http://www.design-museum.de/en/exhibitions/current-exhibitions.html
---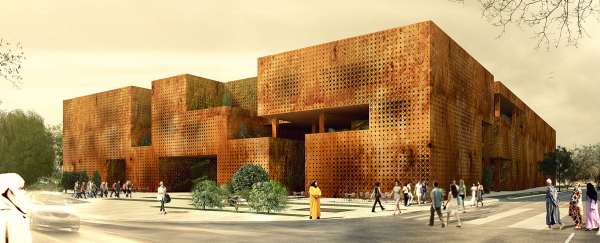 istanbul-based practice tabanlioglu architects has revealed plans to built a robust stone congress center in the moroccan city of marrakesh. the scheme has been developed to respect both the site's historic context through its deployment of materials, pattern, and color. the design is enveloped in a robust natural stone façade
---
interiors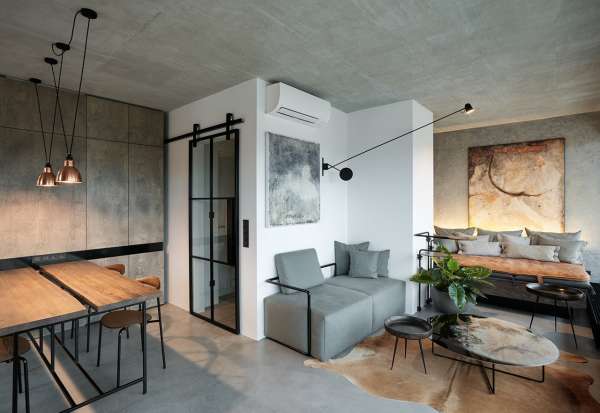 loft hrebenky is an 85 square meter (approx. 915 square feet) flat in a new building in prague, which formafatal was tasked with designing. a complicated floor plan required the architect to design 44 pieces of furniture to work with the unconventional layout. to complete the look, additional pieces were added, most of which were from the 1950s
http://www.formafatal.cz/loft-hrebenky
---
hotels et restaurants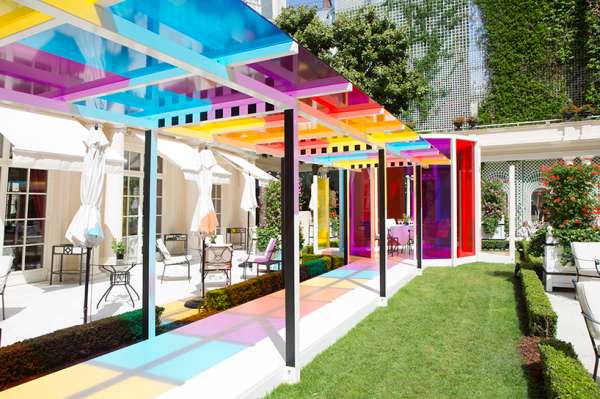 in the pristine gardens of le bristol paris hotel, french artist daniel buren has created a chromatic and luminous landscape for guests and visitors to experience. 'une pause colorée'
http://www.lebristolparis.com/fr/home/
https://it.wikipedia.org/wiki/Daniel_Buren
---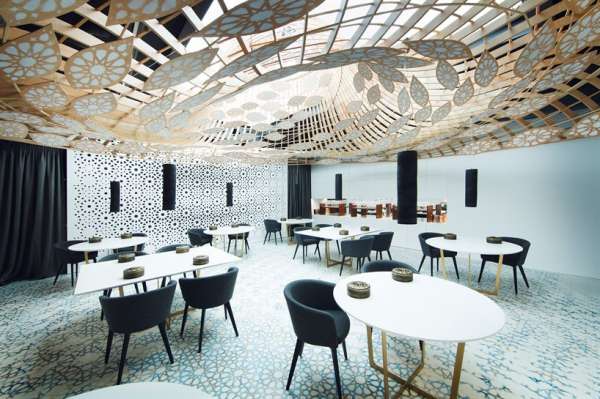 gg architects design andalusian noor restaurant in córdoba, spain, not conceived as a usual dinning area but as a 'cultural project' which would provide customers with a gastronomic experience
http://www.gg-architects.com/, http://noorrestaurant.es/
---
design
hands on design specialized in craft production presents a coffee set from the cadecam tableware range manufatured by 224m 0poircelain in japan, design studio minale maeda
---
hattern is a south korean design studio that focuses on making products with the help of upcycling. they set out to make a seat in a new way as part of their zero per project, with the plan of having almost no waste produced during the making of the product, by combining resin and wooden offcuts
https://www.facebook.com/hattern/
---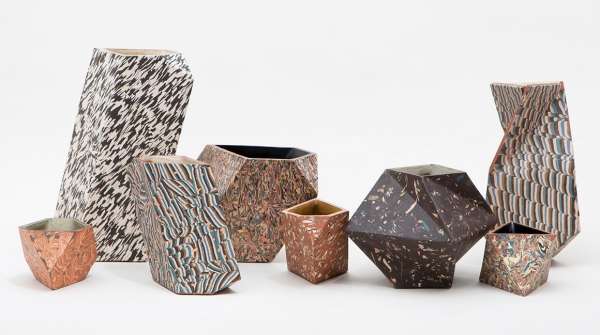 cody hoyt, fossil record. utilizing the method of inlaid clay patterning, the surfaces of hoyt's ceramics reveal how the walls of each form have been sliced and opened up, uncovering the system of pattern inside, whether geometric or incidental like strata
---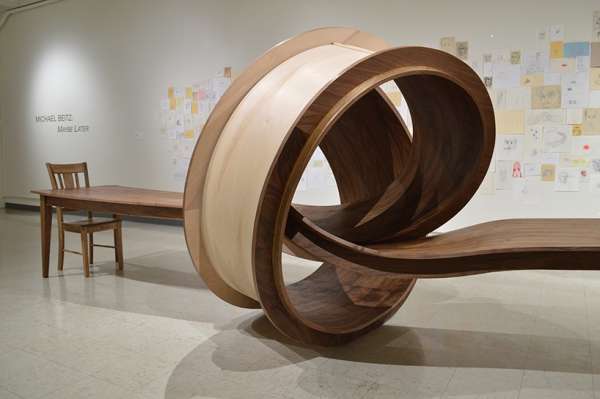 michael beitz turns familiar objects into twisted sculptural scenarios
---
art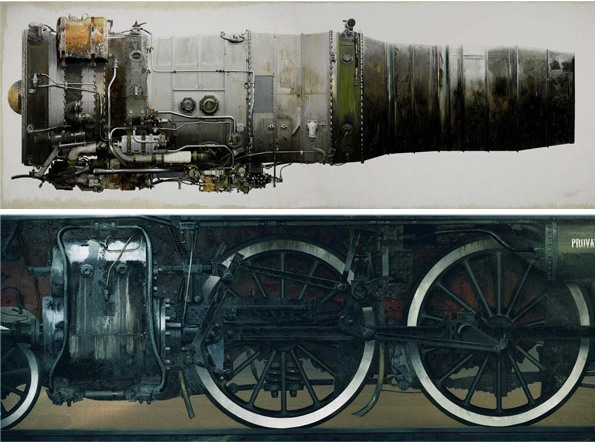 alessandro merlanti, opere-scultura tratti dal tema dell'archeologia industriale
https://www.facebook.com/the.art.of.alessandro.merlanti/
https://www.linkedin.com/in/alessandromerlanti
---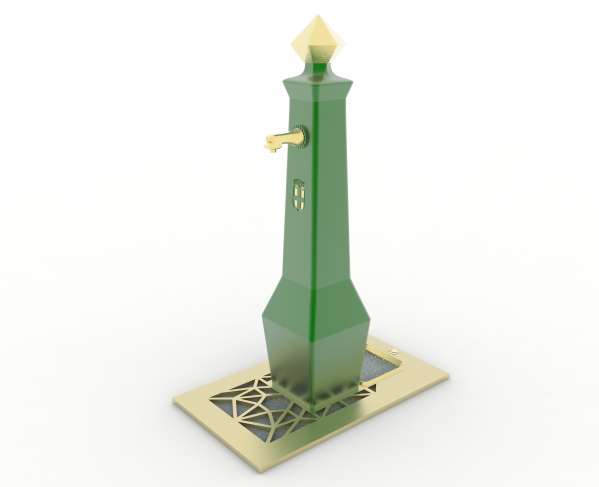 'the new vedovella of milan', autori sono rita mathe, pablo valls pascual, joan guivernau bartra
---
lumières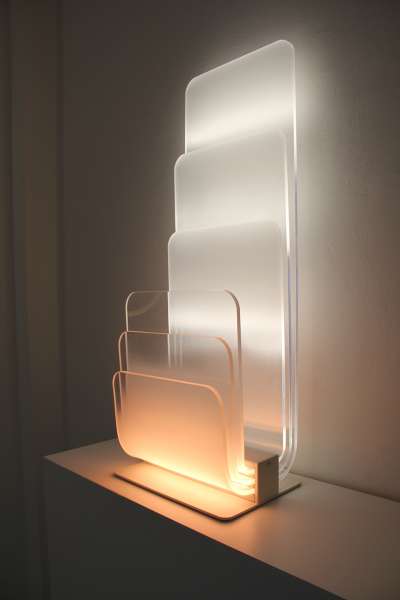 quasar by giorgia zanellato at luisa delle piane gallery
http://www.gallerialuisadellepiane.it/
---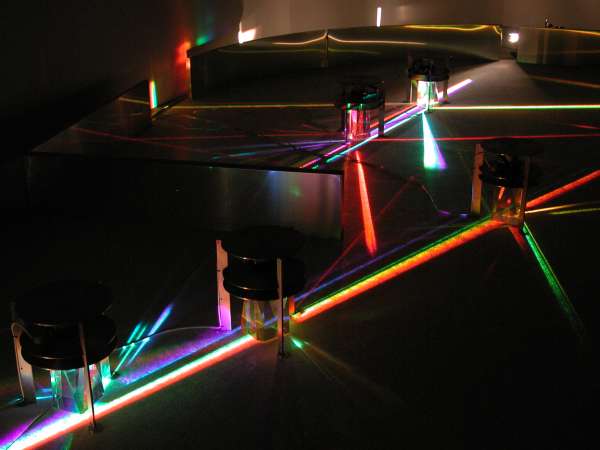 alberto biasi, light prism, grande tuffo nell'arcobaleno, palazzo pretorio, cittadella (pd) , until 6 november 2016
http://www.fondazionepretorio.it
---
livres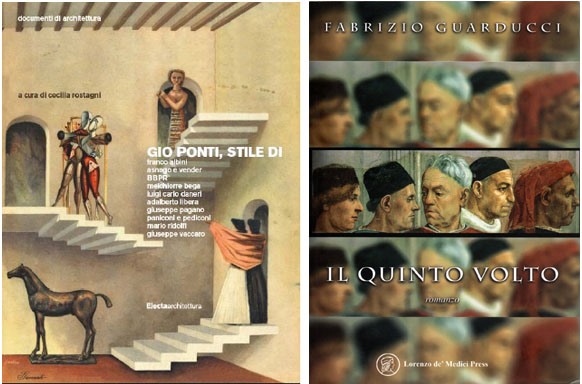 left, gio ponti, stile di a cura di cecilia rostagni, electaarchitettura.
right, fabrizio guarducci, il quinto volto, lorenzo de medici press
http://lorenzodemedicipress.it/
---
exhibitions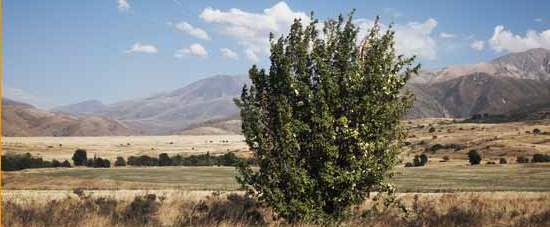 le foreste di meli selvatici del tien shan, premio internazionale scarpa per il giardino, fondazione benetton, treviso
http://www.fbsr.it/paesaggio/premio-carlo-scarpa/
---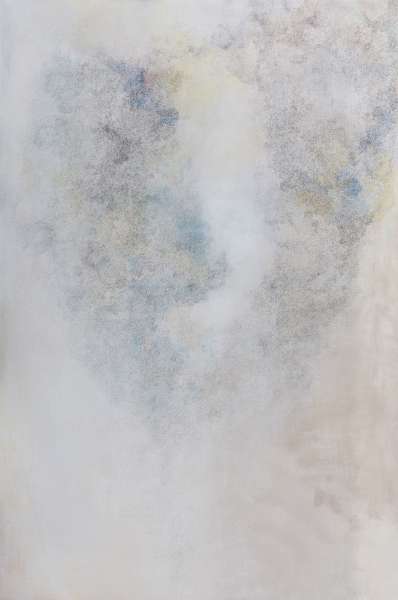 katia dilella, segni e racconti, eroici furori galeria
http://www.furori.it/project/katia-dilella/
---
photos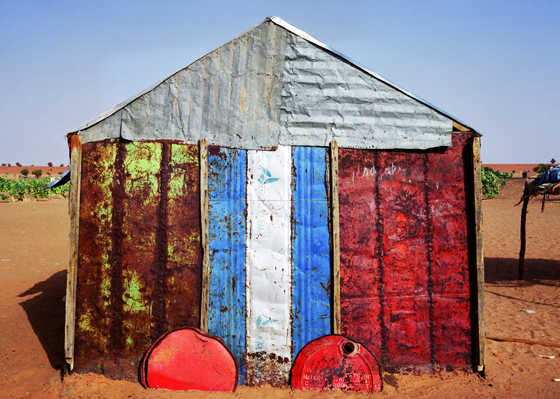 photo by deidi von schaeven
http://www.deidivonschaewen.com/
---
tapis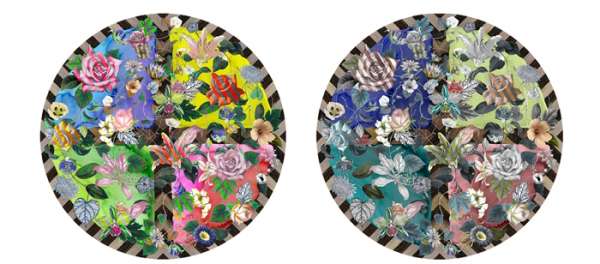 christian lacroix for mooi & mooi carpets
---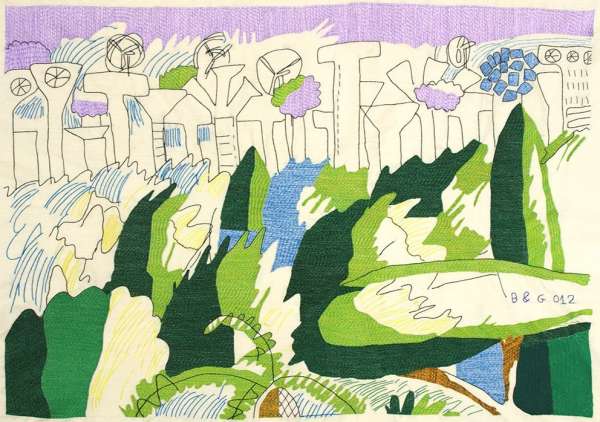 caturegli formica, chromosome p.c2, at nilufar gallery
http://www.caturegliformica.com/
http://www.nilufar.com/prodottiDesigner.php?idDesigner=125
---
tissus

left, flower power, velvet fabric by nuala goodman
right, dutch wall textile co. commissioned bo reudler to design a feature collection of six wall textile designs. these designs formed the centrepiece of the company's debut collection of wall textiles, entitled bloom inks
---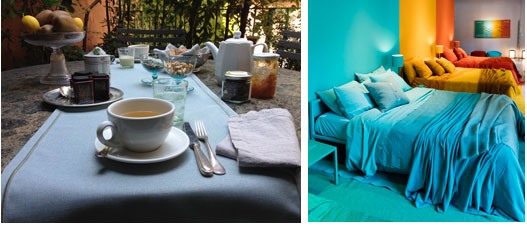 left, marina c, easy runner azzurro
right, mimesis by society limonta
http://www.societylimonta.com/
---
mode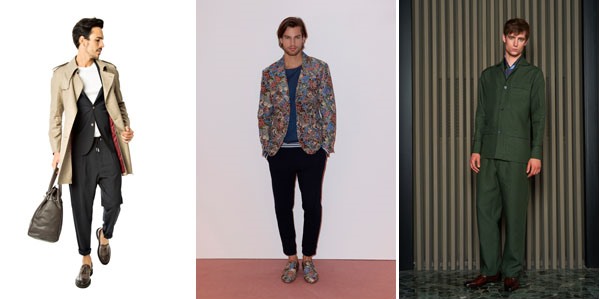 from left
eleventy, http://www.eleventy.it/
ermanno scervino, http://www.ermannoscervino.it/it/
larusmiani, http://www.larusmiani.it/
---
shoes

skirts-shoes by nendo, ph akihiroyoshida
---
et caetera
carnet de notes by paolo rinaldi
online weekly magazine 20/06/2016
(voyages, architecture, interiors, design,
restaurants, lumières, art, espos, photos)
carnet de notes 347 has been sent to/
è stato inviato a 34255 recipients/indirizzi
and posted to social networks:
facebook, twitter, delicious and viadeo
you are receiving this newsletter because you are in my professional mailing list and I send it to you as a free journalistic information
Se non volete più ricevere carnet de notes: Rimuovi xxxxemailxxxx dalla mailing list
If you don't want to receive carnet de notes: Unsuscribe xxxxemailxxxx from this mailing list
Ai sensi del D.Lgs. 196/2003 si precisa che le informazioni contenute in questo messaggio sono riservate e a uso esclusivo del destinatario. Qualora il messaggio in parola Le fosse pervenuto per errore, La invitiamo ad eliminarlo senza copiarlo e a non inoltrarlo a terzi, dandocene gentilmente comunicazione. Grazie.
Pursuant to Legislative Decree No. 196/2003, you are hereby informed that this message contains confidential information intended only for the use of the addressee. If you are not the addressee, and have received this message by mistake, please delete it and immediately notify us. You may not copy or disseminate this message to anyone. Thank you.
Our mailing address is:
paolo rinaldi
corso sempione 88
milano, MI 20154 Italy
Copyright © 2013 paolo rinaldi – All rights reserved.