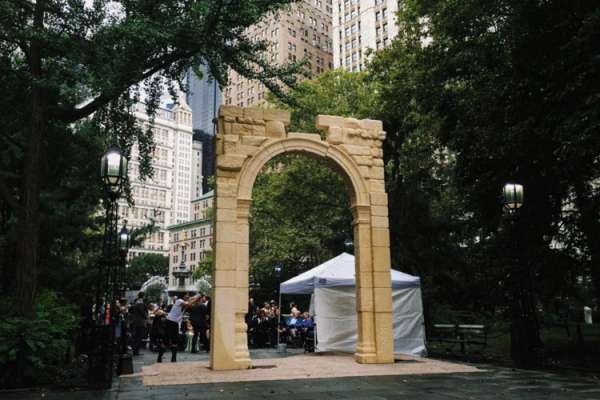 3d printed replica of syrian arch destroyed by isis erected in new york city
---
carnet de notes 359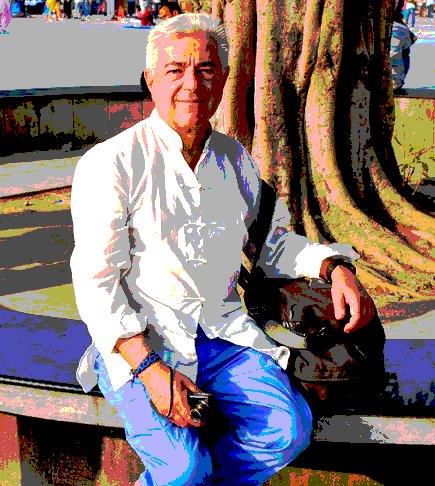 by paolo rinaldi
premio chi è chi award 2014, best weekly online magazine
ph fausto giaccone, elaborazione manfredi bellati
---
voyages

soggiorni sulle coste della svezia
http://www.westsweden.com, http://www.gothenburg.com
http://www.vastsverige.com/en/shellfish-experiences/


architecture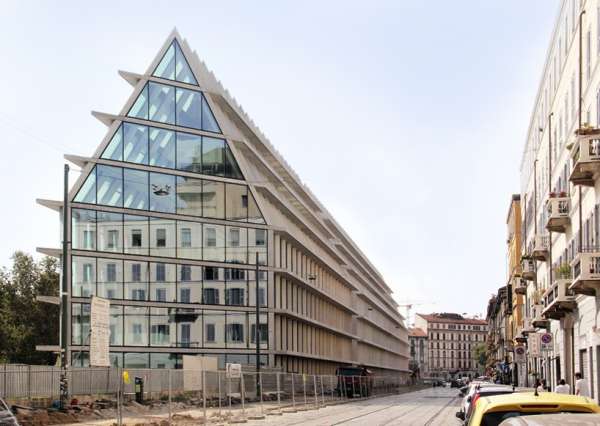 the long-awaited fondazione feltrinelli designed by swiss-firm herzog and de meuron is set to open in the porta volta area, milan. the master-plan sees the realization of a set of buildings, separated at one point, but consistent in their linear and angular form which is wrapped in a concrete brace. the site runs along viale pasubio, with a narrow gap which slices through the two volumes determine the foundation building between the development's other offices
https://www.herzogdemeuron.com/index.html
---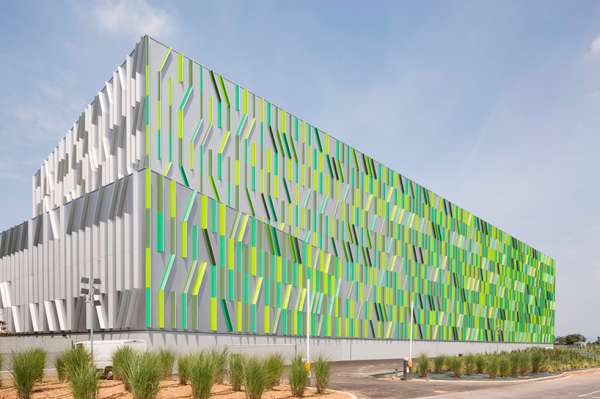 pedrali has opened 'fili d'erba', an automated warehouse in northern italy designed by architect cino zucchi. alluding to its agricultural context, the building's name translates as 'blades of grass', a motif referenced on the warehouse's façades. extruded aluminum profiles generate a visual pattern formed by a combination of vertical and oblique lines. like gigantic blades of grass, this gesture gives rhythm, scale, and measure to the otherwise plain surfaces
http://www.zucchiarchitetti.com/home.html
---
interiors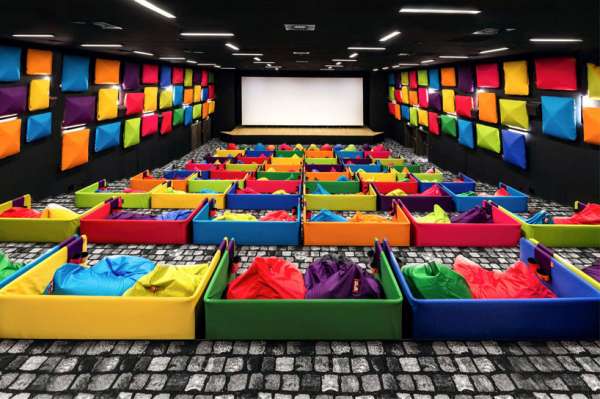 'tulikino', translating from slovak as 'snuggling cinema', is a 100 seat theatre designed by michal staško for x-bionic® sphere multiplex in samorín-cilistov, slovakia. as innovative as it is relaxed, the cinema is decorated with bright colored tuli brand beanbags, along with a collection of acoustic wall panels and cubicles of similar taste
http://www.stasko.sk/uvod/, http://www.xbionicsphere.com/en/home
---
installations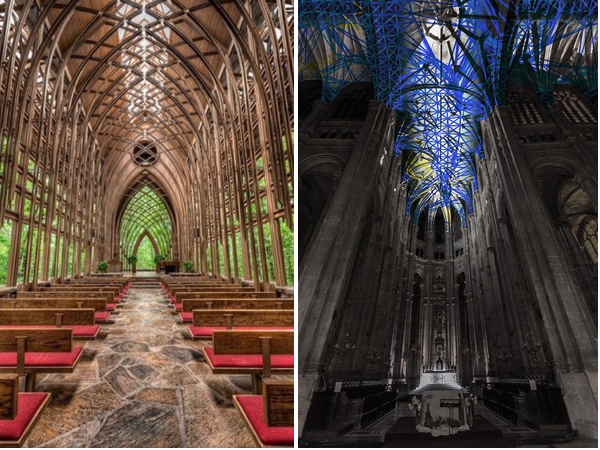 left, chapelle en verre dans les bois, arkansas
right, miguel chevalier, voûtes célestes 2016, installation de réalité virtuelle générative et intéractive, église de saint-eustache, paris, france
http://www.miguel-chevalier.com, http://www.saint-eustache.org
---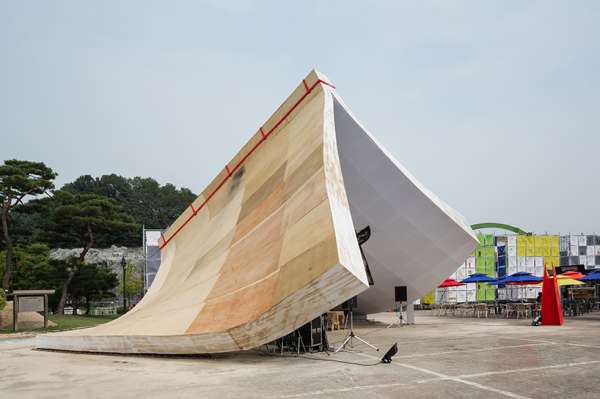 outside the cheongju art centre in korea, ron arad has installed the 'jikji pavilion' as part of an exhibition celebrating the world's first book printed with metal moveable type. an immersive display of architecture, art, design, and digital media explores the impact of printed word since the creation of the document 'jikji' in korea in 1377 — 78 years before gutenberg's bible was printed in germany
---
hotels et restaurants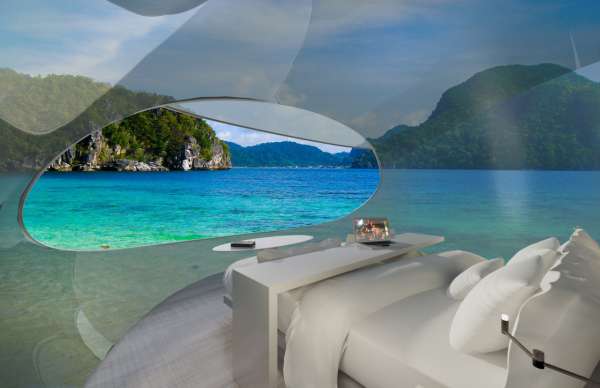 imagine being able to take a vacation anywhere in the world, unconstrained by the limits of sea, air or land. you'd be able to visit unspoiled landscapes not yet touched by anyone else, either because it was unexplored or unreachable. that is the idea behind "driftscape," a concept designed by global design firm hok canada as a mobile, self-sustaining hotel that uses drone technology to take travelers to remote locations around the world
http://www.hok.com/design/region/canada/
---
design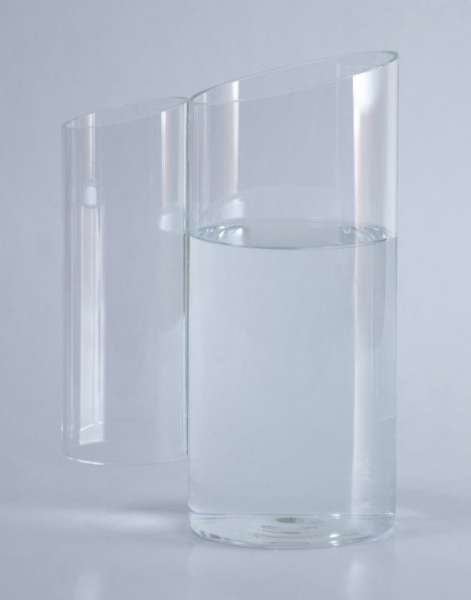 brocca in vetro to-be, design alessandro marelli
http://www.alessandromarelli.it
---
‎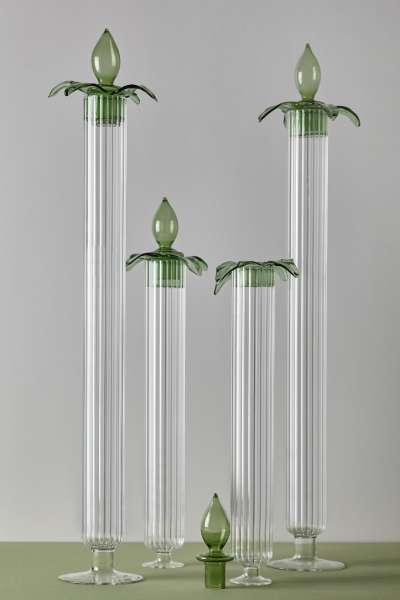 vasi in vetro soffiato borosilicato progettati da gupica e realizzati da soffieria villa
---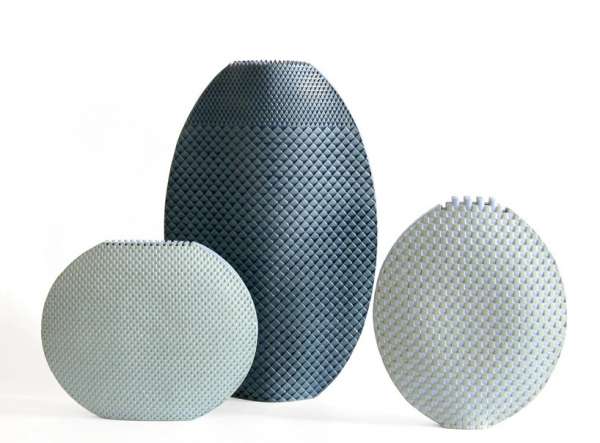 hélène morbu handcrafts ceramic vases with surfaces mimicking textiles
---
musée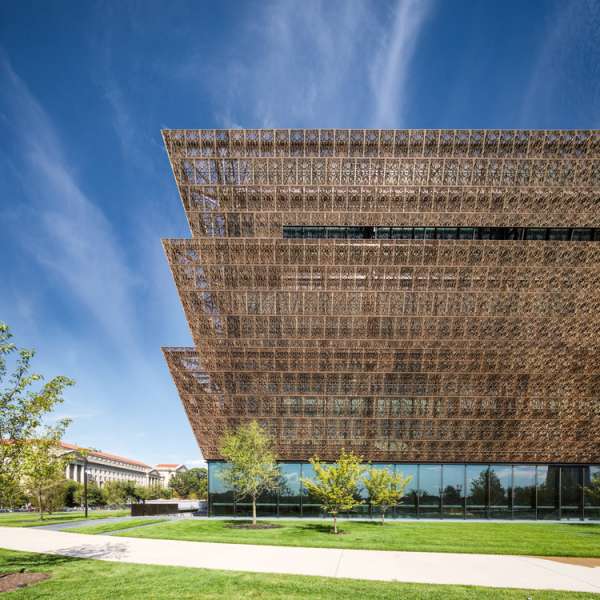 the smithsonian national museum of african american history and culture
a century since the founding of the national memorial association and the start of a campaign by african-american war veterans for a monument of african american culture, the national museum of african american history and culture will finally be opened on september 24th. ph.darren bradley
http://www.adjaye.com/, https://nmaahc.si.edu/
---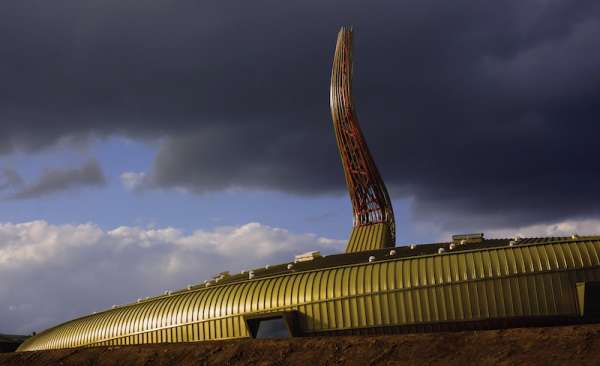 i nuovi ambienti del centro pecci sono distribuiti lungo il volume dal profilo
anulare che abbraccia la struttura esistente, rifunzionalizzandola. l'intervento
di nio si salda alle due estremità del complesso originario. si sviluppa su due
livelli: quello inferiore ospita le funzioni ricettive e si apre verso la città attraverso una cortina vetrata che corre ininterrottamente da un'estremità all'altra dell'anello; quello superiore è destinato alle esposizioni e si offre all'esterno con un rivestimento metallico color bronzo. l'anello, oltre a ospitare nuove funzioni, offre alla struttura preesistente l'occasione di raddoppiare e diversificare i suoi percorsi. ph mario gianni
http://www.centropecci.it/, http://www.nio.nl/
---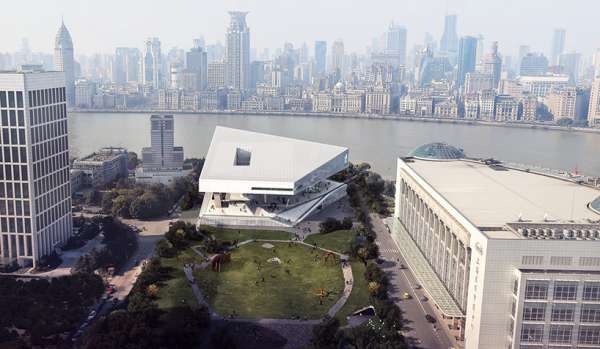 open architecture has revealed its proposed design for the pudong art museum in shanghai, china
---
livres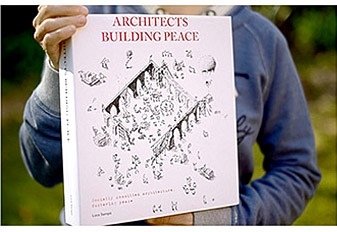 architects building peace. the book seeks to answer the question "what can architecture do to eradicate poverty? how can architecture assist in dealing with the scarcity of resources? how can architects work in the presence of ethnic violence?
https://www.boundaries.it/news/architects-building-peace-the-book/
---
lumières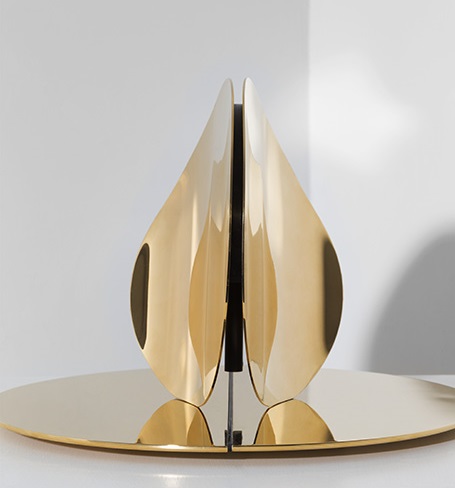 helmet, table lamp by formafantasma
http://www.formafantasma.com/filter/home/news
---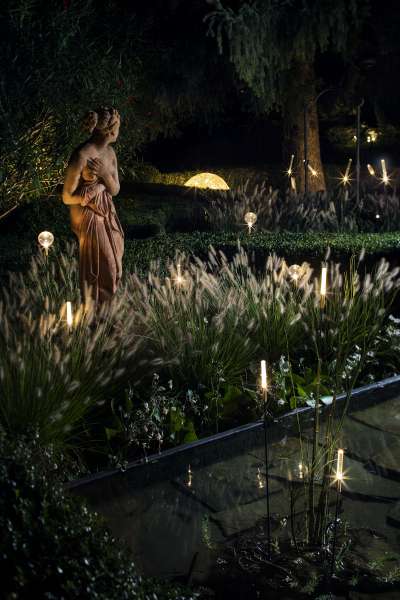 catellani & smith torna a bergamo per i maestri del paesaggio e illumina, per il secondo anno, il giardino di casa tresoldi, nel cuore di città alta
http://www.catellanismith.com/
---
art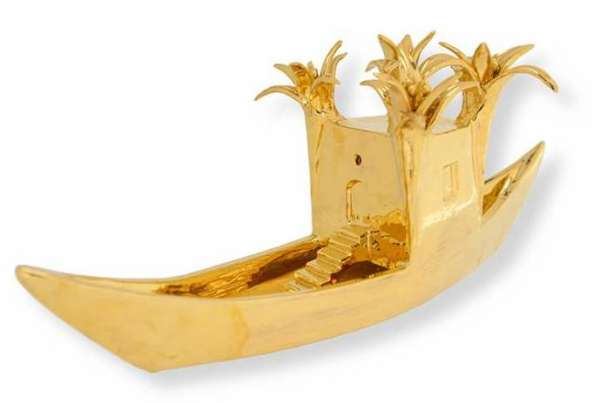 tarshito, il viandante innamorato, muzej lapidarium, novigrad-cittanova
http://www.muzej-lapidarium.hr/, http://www.tarshito.com/
---
street art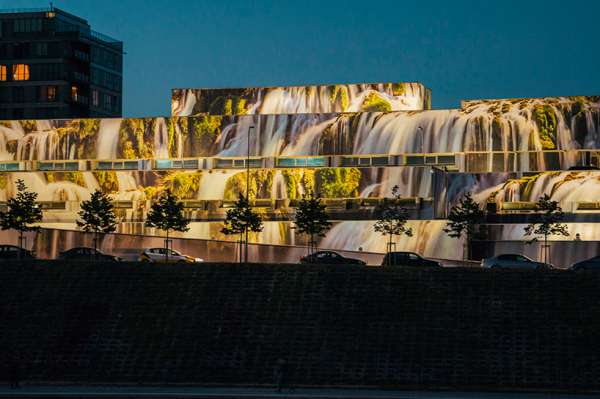 architect ignas lukauskas has turned a former soviet garage in lithuania's capital city into a monumental waterfall. the project considers the ways in which street art can be integrated into an urban landscape, and, in turn, use architecture to positively affect its citizens. on the façade of an 'eye-sore' building by the river
http://ilblog.weebly.com/kontaktai.html
---
photos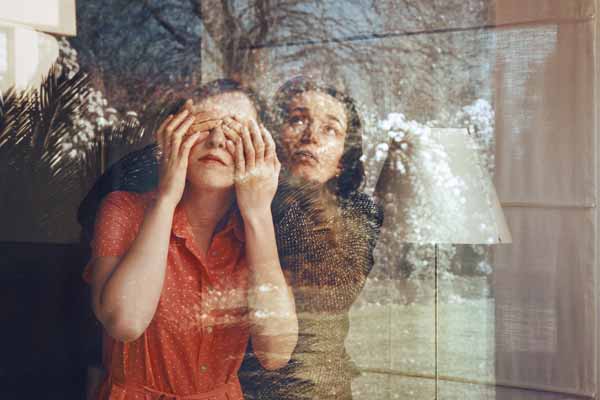 anna di prospero, self portrait with my mother, l'altro sguardo, fotografe italiane 1965-2015, triennale, milano
---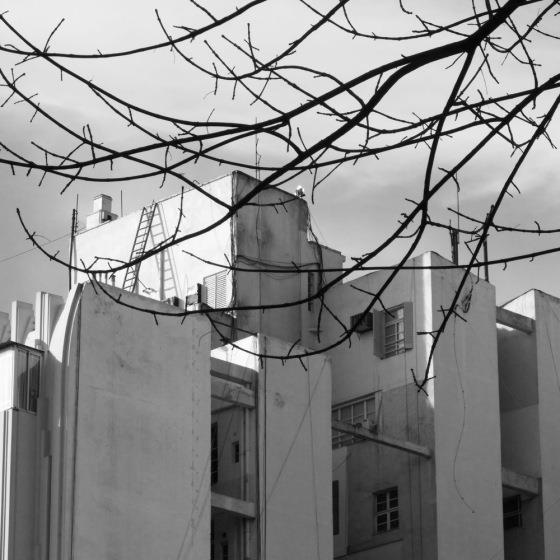 michele molinari, callao
https://michelemolinari.info/about/
---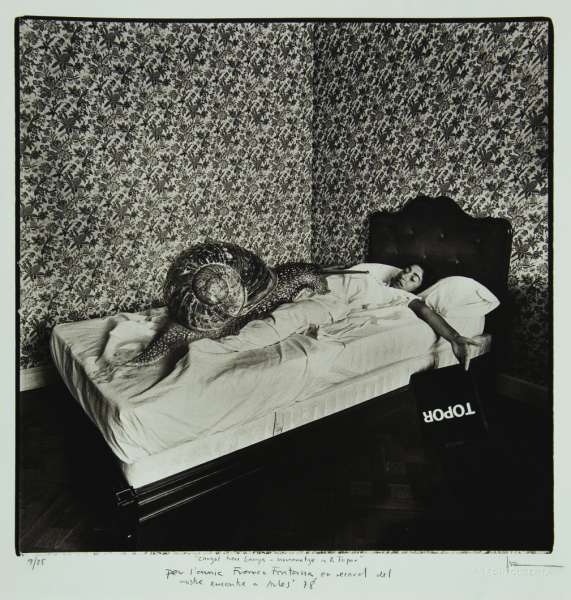 versus, la sfida dell'artista al suo modello in un secolo di fotografia e disegno, galleria civica di modena, until january 8
http://www.galleriacivicadimodena.it
---
exhibitions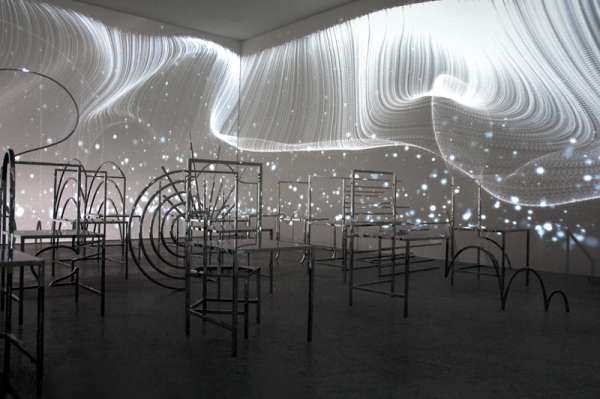 50 manga chairs by nendo at friedman benda gallery new york
http://www.nendo.jp/en/, http://www.friedmanbenda.com/
---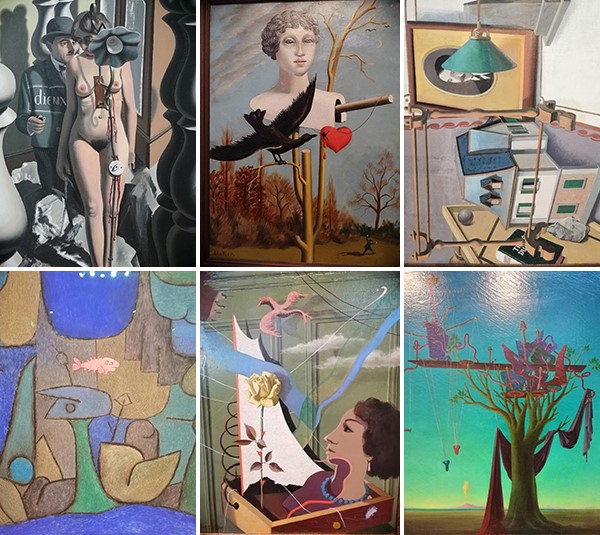 left, museo lac lugano. right, ilya & emilia kabakov
lo spazio -1 collezione giancarlo e danna olgiati ospita una mostra dedicata a ilya & emilia kabakov che vede la coppia di artisti in dialogo con opere delle avanguardie storiche appartenenti alla collezione olgiati. l'esposizione at lac lugano arte e cultura, lugano, switzerland precede di un anno la grande retrospettiva che la tate modern di londra consacrerà ai due grandi artisti russi nell'ottobre 2017
---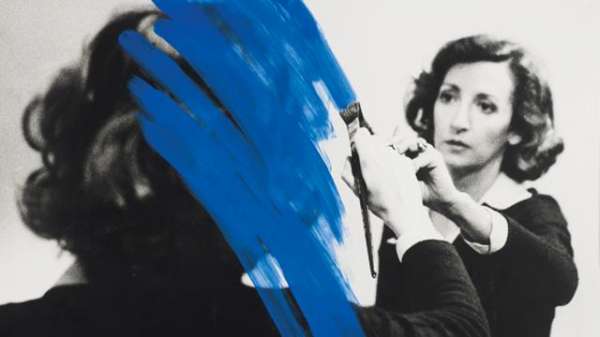 helena almeida, museu de serralves, porto, portogallo
---
kishio suga, situations, soft concrete, pirelli hangarbicocca
---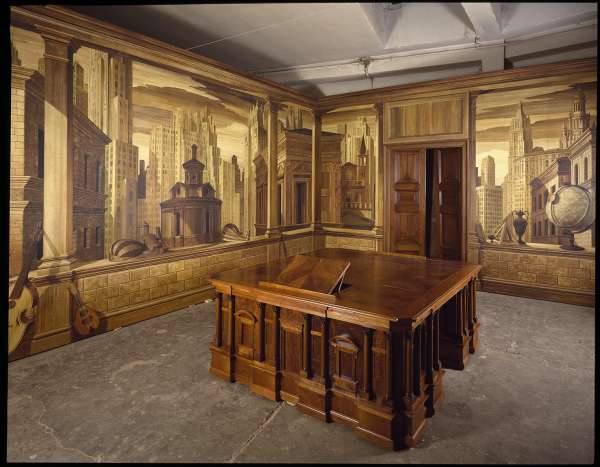 omaggio a renzo mongiardino (1916-1998) architetto e scenografo, sala del tesoro del castello sforzesco, milano
http://www.milanocastello.it/node/381
http://www.comune.milano.it/graficheincomune
---
et caetera
orti fioriti a city life, milano
carnet de notes by paolo rinaldi
online weekly magazine 03/10/2016
(voyages, architecture, interiors, design,
restaurants, lumières, art, espos, photos)
carnet de notes 359 has been sent to/
è stato inviato a 35218 recipients/indirizzi
and posted to social networks:
facebook, twitter, delicious and viadeo
you are receiving this newsletter because you are in my professional mailing list and I send it to you as a free journalistic information
Se non volete più ricevere carnet de notes: Rimuovi xxxxemailxxxx dalla mailing list
If you don't want to receive carnet de notes: Unsuscribe xxxxemailxxxx from this mailing list
Ai sensi del D.Lgs. 196/2003 si precisa che le informazioni contenute in questo messaggio sono riservate e a uso esclusivo del destinatario. Qualora il messaggio in parola Le fosse pervenuto per errore, La invitiamo ad eliminarlo senza copiarlo e a non inoltrarlo a terzi, dandocene gentilmente comunicazione. Grazie.
Pursuant to Legislative Decree No. 196/2003, you are hereby informed that this message contains confidential information intended only for the use of the addressee. If you are not the addressee, and have received this message by mistake, please delete it and immediately notify us. You may not copy or disseminate this message to anyone. Thank you.
Our mailing address is:
paolo rinaldi
corso sempione 88
milano, MI 20154 Italy
Copyright © 2013 paolo rinaldi – All rights reserved.