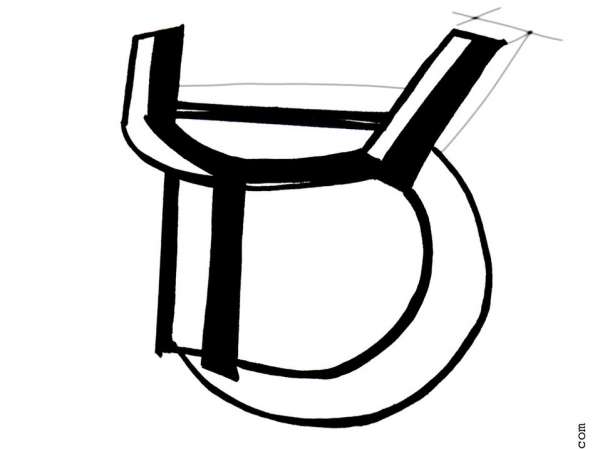 Il Toro, 20 Aprile-20 Maggio, by Maria Cristina Vimercati
Il Toro e' socievole, concreto, sano. Esprime la gioia di vivere in tutte le sue manifestazioni, soprattutto creative. La vostra voce è un canto. Coltivate la contemplazione. Non distraetevi, non siete il bersaglio né il supporto inequivocabile di nessuno. Chi è nato all'inizio del segno invoca il progresso. Cambiamenti spettacolari con la congiunzione di Urano, sarete sbalorditi nell'essere tanto rapidi. Attenzione, la quadratura di Saturno non parla di una disfatta, ma di crescita. Chi sta al centro, sente riecheggiare la vita. Ponete fine a certi capitoli della vostra esistenza con coraggio, perche' comunque è inevitabile: ci siamo! Il desiderio di tornare alle vostre origini e' una vocina che vi spinge interiormente da parecchio. A chi è nato alla fine del segno, finalmente la vita sorride, i progetti vanno in porto, venite accolti, ascoltati. All'improvviso tutti si accorgono di voi. Vietato disperdersi. Mens sana in corpore sano, e' tutto lì.
cri1959@gmail.com
---
carnet de notes 531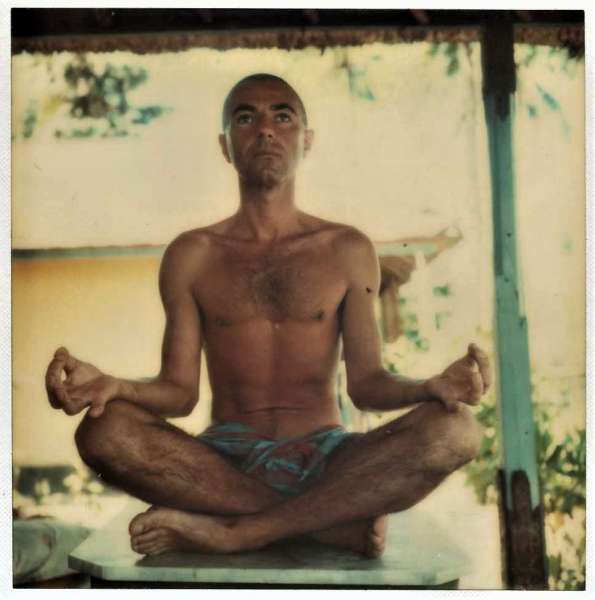 carnet de notes by paolo rinaldi, rinaldi.paolo@fastwebnet.it,
0039.3483577940, @paolorinaldi, https://www.facebook.com/paolrin
---
architecture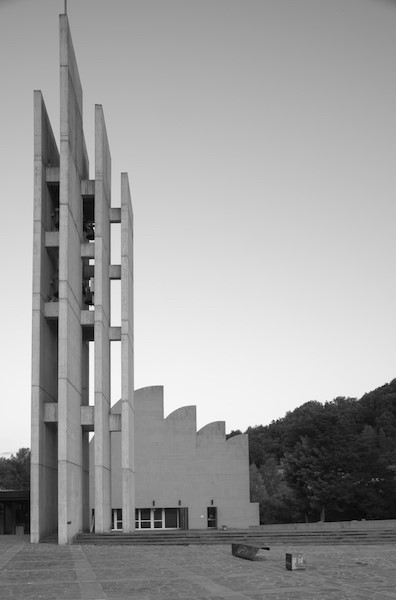 La chiesa Santa Maria Assunta progettata da Alvar Aalto, foto Luca Massari
Nel Comune di Grizzana Morandi, nell'ambito della parrocchia di Riola di Vergato, sorge l'unico esempio in Italia di architettura ecclesiastica progettato dal grande architetto finlandese Alvar Aalto: la chiesa di Santa Maria Assunta. Una storia straordinaria e anche un po' bizzarra, svoltasi tra la seconda metà degli anni '60 e il 1980, che vede protagonisti Aalto, il Cardinale Giacomo Lercaro e una comunità attiva. Ancora oggi. Tanto che nel 2019 l'artista e architetto Grelo – Lorenzo Gresleri con Raimonda Zizzi Bongiovanni hanno creato un archivio, con l'obiettivo di farlo diventare Museo, che racconti e documenti questa vicenda
https://www.atlantearchitetture.beniculturali.it/chiesa-di-santa-maria-assunta/
---
Vy Anh House is conceived as a retreat where the client can enjoy their own peace after a busy working day. This idea leads to a louver system that completely covers the façade, except for an emergency exit door in the front. Though armored on the outside, the house features a lively atrium filled with sun-kissed, lush greenery. Architects: Khuon Studio, Ho Chi Minh (Saigón), Vietnam
https://www.archdaily.com/office/khuon-studio
---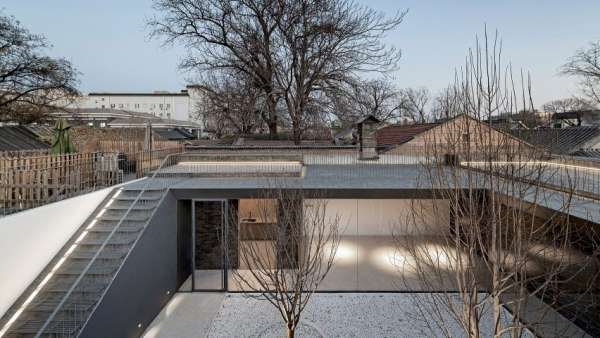 Arch Studio reconnects a series of neglected Beijing houses with rooftop walkways
Chinese practice Arch Studio has completely rebuilt a group of old brick and concrete structures in Beijing, joining them together with a "folding" circulation route that reimagines their flat roofs as walkways. Divided into five blocks built by recycling the original building's bricks and arranged between green yards, the building – called Folding Courtyard – now provides spaces that can be rented for use as work or events spaces
https://www.chinese-architects.com/archstudio-chaoyang-district-beijing
---
hotels, restaurants and bars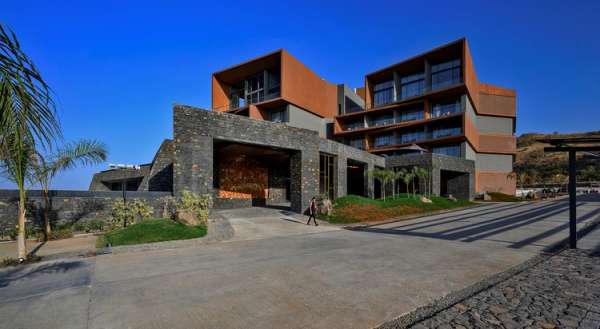 Aria Hotel, Sanjay Puri Architects, Nashik, India. ph Dinesh Mehta
Over fifty percent of the walls are built with natural black basalt stone available in close proximity of the site. All the circulation spaces are naturally lit & ventilated rendering the building energy efficient. Solar panels on the rooftop, over the banquet kitchen & parking areas generate fifty percent of the electrical energy required for the hotel
http://www.sanjaypuriarchitects.com/nx/home.aspx
---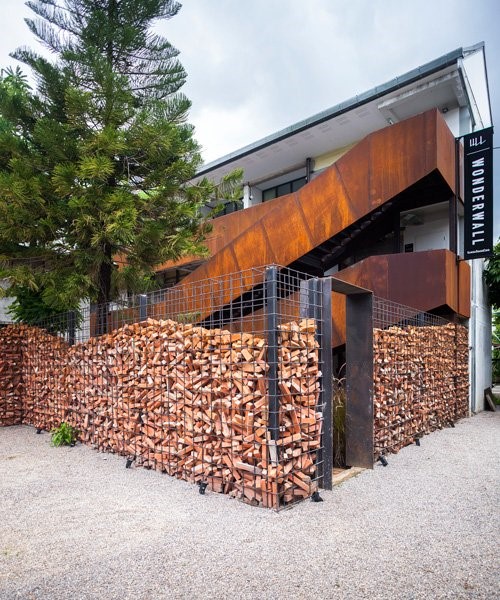 blankstudio encloses wonderwall hotel in thailand using wall of disarranged bricks
http://www.blankstudio.co/practicing
---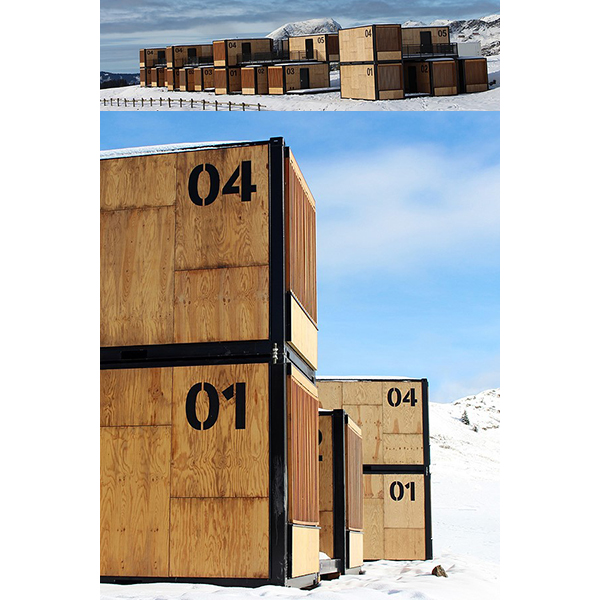 Flying Nest Hotel by Ora ito with Accor
A traveling hotel, capable of settling upon any natural site, be it at the foot of the slopes, by the beach or on location for a sporting event or a festival. The Flying Nest is a nomadic concept hotel designed by Ora ito for Accor
https://press.accor.com/accorhotels-launches-a-new-ephemeral-and-mobile-accommodation-concept/?lang=en
---
gardens
I giardini pensili di Marqueyssac, nella regione francese del Perigord
https://marqueyssac.com/?lang=it
---
design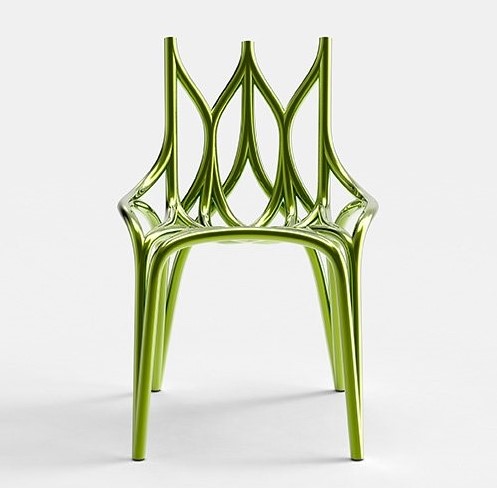 eugeni quitllet envisions a chair left out in the wild & taken over by nature
---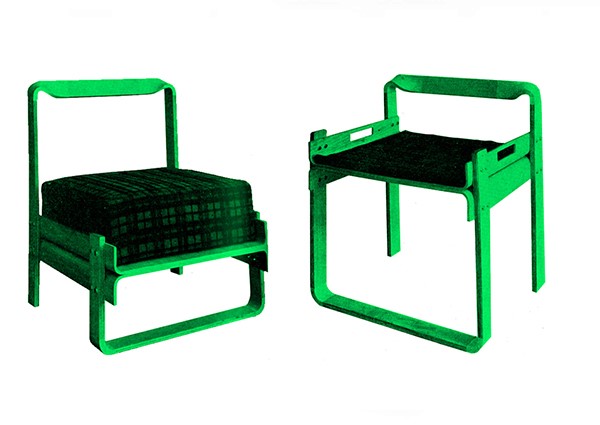 rafael moneo, ramon esteve estudio
http://rafaelmoneo.com/en/home/, http://www.ramonesteve.com
---
thea chair, fendi casa by luxury living group
https://www.luxurylivinggroup.com/it/fendi/
---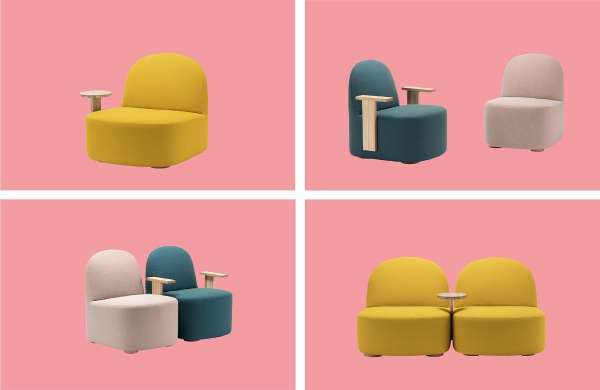 The Japanese brand Karimoku New Standard introduces a new versatile lounge chair by Swiss designer Moritz Schlatter. The design language of the Polar Lounge Chair is based on clear, round and soft shapes, balanced with straight lines and geometric elements
https://www.karimoku-newstandard.jp/en/?noredirect=en_US
---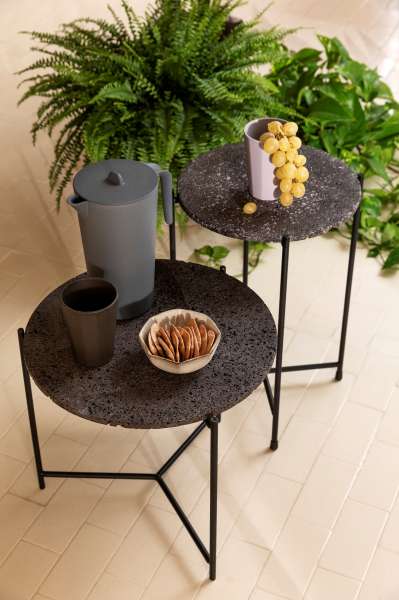 Cultura artigianale italiana, passione e ricerca incontrano il design nei tavolini in pietra lavica. Un nuovo prodotto, meglio definito "Pietra Lavica maiolicata".
---
poltrona mouse di plinio il giovane
https://www.plinioilgiovane.com/
---
art
At Moma, inspired by Henri Matisse's The Swimming Pool, the poet le thuy diem thuy reflects on a world without papers
---
ballet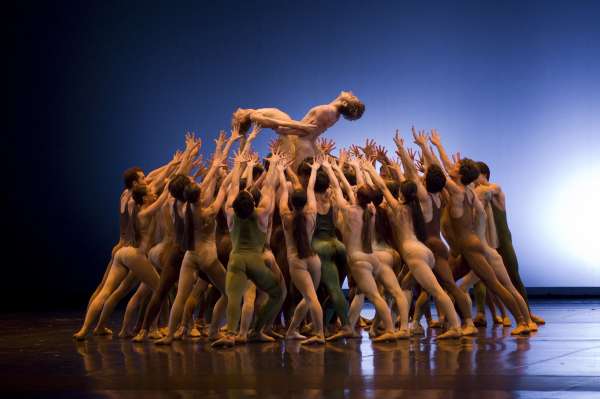 Swieto wiosny, la sagra della primavera, choreografia Maurice Béjart, Polski Balet Narodowy, ph Ewa Krasucka
Dance Bites racconta i grandi della danza attraverso pillole video
https://www.centroartemente.it/dance-bites/
---
body ornaments

o-pistilli, bronze earrings
http://www.elisabettacipriani.com/
---
lumières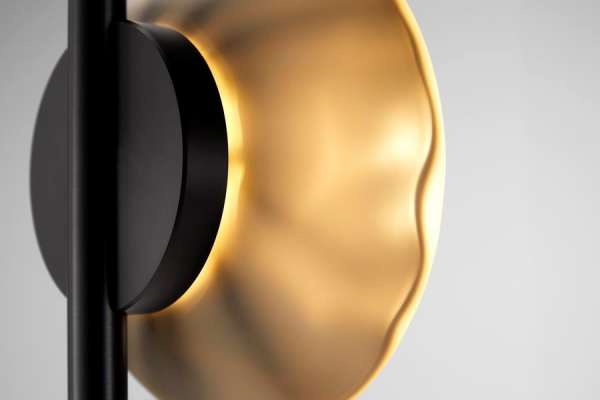 Lamp from the Ceto Lighting Collection by Ross Gardam
https://www.rossgardam.com.au/
---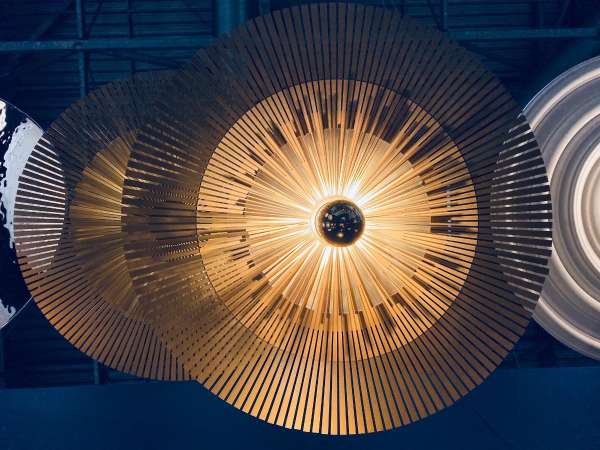 Porta la firma di Bastien Taillard, giovane designer francese che proviene da una famiglia di iper-creativi, la nuova lampada Lafayette di Radar
https://www.archiproducts.com/it/designer/bastien-taillard
---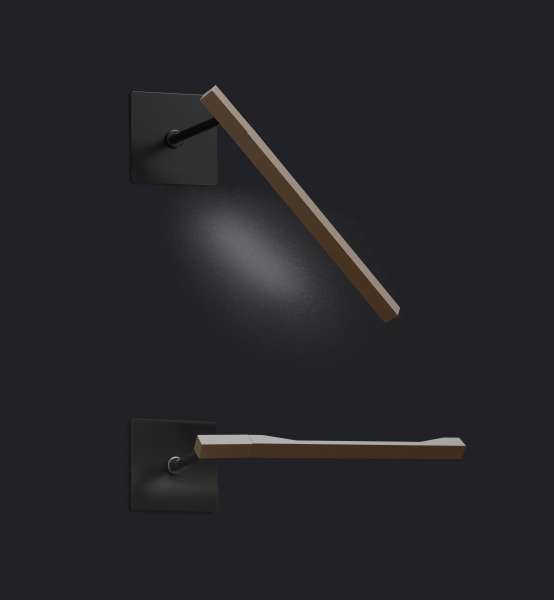 Ilo a parete è fissata al muro attraverso una placca quadrata, snodandosi grazie ad un perno che ne permette l'orientamento in tutte le direzioni, offrendo differenti interpretazioni sia estetiche che illuminotecniche, grazie anche al corpo illuminante ruotabile di 90°. by Oluce
---
books and magazines
from top left, clockwise
maria crisina vimercati, ritratto, la figura di saturno, om edizioni; vittorio del tufo, torino magica, editore neri pozza; jan-philipp sendker, la memoria del cuore, editore neri pozza; joanna courtney, regina di sangue, lady macbeth, superbeat
---
etc.
Nasce Pausa Caffè MuseoCity, podcast dedicato al mondo dei musei, in collaborazione col MUMAC – Museo della macchina per il caffè di Gruppo Cimbali
https://www.museocity.it/museo-city/
carnet de notes by paolo rinaldi
online weekly magazine 04/05/2020
(travel, viaggi, architettura, interni, design, hotels, ristoranti, bar, luce, arte, mostre, foto, fashion, installazioni, musei, teatro)
carnet de notes 531 has been sent to/
è stato inviato a 17889 recipients/indirizzi
and posted to social networks:
facebook, twitter, linkedin and viadeo